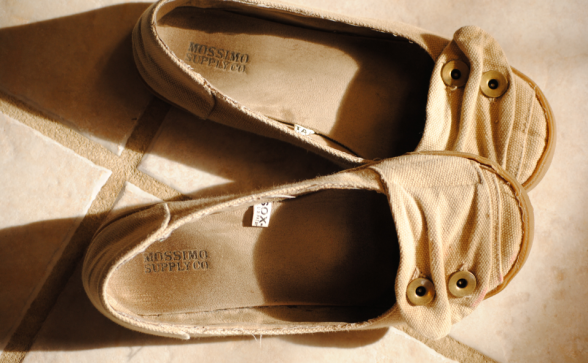 Written by monthly contributor, Natalie Didlake.
As each one has received a special gift, employ it in serving one another as good stewards of the manifold grace of God. (I Peter 4:10 NASB)
As each has received a gift, use it to serve one another, as good stewards of God's varied grace: whoever speaks, as one who speaks oracles of God; whoever serves, as one who serves by the strength that God supplies–in order that in everything God may be glorified through Jesus Christ. To him belong glory and dominion forever and ever. (I Peter 4:10 ESV)
Funky, Chunky Shoes
I am almost 30 years old. I finally know what kind of shoes I like.
Flat shoes.
Wide shoes.
Casual, comfy shoes.
No-Heel shoes.
Funky, chunky, spunky shoes.
I don't do boots. I don't do heels. I don't do tennis shoes (every day). I don't do trendy shoes. I don't do dressy shoes. For years I've been trying them all, and none of them were "me." Nothing wrong with heels or boots. They're just for not me.
I'm ready to be me. In my kind of shoes.
Within the last year, I've started recognizing a pattern in the shoes that I love to wear. Now, I know exactly what to look for…and exactly what to eliminate. I got rid of all the reject shoes in the back of my closet, given to me by other people, or purchased on a whim. I quit thinking someday I might start loving and wearing them, and said "bye-bye" to them forever. I'm ready to say breezily, "Thanks! But they're just not my style."
"Each One Has Received A Special Gift"
I think spiritual gifts are a lot like knowing your shoe style.
I have a friend who is gifted in organization, administration, and the ability to teach skills of practical knowledge, and strives to maximize her life to serve well.
She knows what kind of "shoes" she likes to wear!
I, on the other hand. Not so good at those things. I work sooo hard to be a good homemaker. And rightfully so! It's part of my calling as a wife and mother. But I will never be the organizational and practical gal as my friend is. So, I do the best I can.
And I'm ok with that. Because those spiritual gifts are not my "style."
Because there are other things that make my heart sing.
When I explain the Trinity to my toddlers, my soul feels on fire.
When I craft a blog post, cutting and pasting scriptures from the internet tabs I have open to 6 different passages in my online Bible, I feel especially useful and close to God.
When I talk theology with my husband and we talk hours on a tough topic, I revel in the meeting of our minds, in what a marvelous match we are!
When my girlfriends call me for help understanding some deep issue, I know I'm specially crafted by God to meet unique needs in the people I love.
I love to teach. I love to encourage. I love to exhort. I love to write. I love to dig with my mind and my words and my heart.
I love wearing my own "shoes," if you know what I mean.
Some Principles for Practice
Don't ask other people to wear your shoes.
I need to safeguard against expecting others to love the things I love to do. Not everyone will have such a thrill at searching out a matter as I do.
However…
Wear your own shoes, loud and proud!
I can usually flesh things out pretty well on my own. So why not make the effort to do it myself, share it, and view it as a gift God is giving them, through me?
Appreciate and enjoy boots and heels, too.

First and hardest: Admit your weaker areas.
Second, and more fun: Gratefully receive what others have to offer, and allow it to supplement your own strengths and gifts.
I am always checking various organizational and homemaking blogs, and with friends for great recipes, homemaking ideas, homeschooling units and lessons, and such. I basically steal other people's homemaking skills! Just because I may not be particularly gifted in organization and homemaking, doesn't mean I shouldn't strive to glean from others and grow in this area as well.
Result: You will develop into a pretty well-rounded beautiful person! God designed us all differently so that we ought to mooch off each other, be humbled by our limitations, enjoy giving of our strengths, and all grow closer in the process! Let us all prayerfully evaluate where God has uniquely gifted us and strive to utilize those gifts for His glory!
A Final Thought: This post wasn't designed to be theologically exhaustive. In fact, no matter what you believe about gifts, we can all agree that each person is built somewhat differently. I'm simply reflecting on how we can maximize our own strengths and help others do the same, so that we all give and take in thriving, loving relationships. Please refrain from creating theological debates and discussions. Above all, keep comments kind and encouraging.
________________________________________________________________________________________

On another note, in light of the topic last month that Natalie wrote on Intimacy in Marriage, Natalie has written a follow-up post on her blog addressing the question raised concerning those women who have a higher sex drive than your husband and how to graciously deal with that. She addresses the topic here.