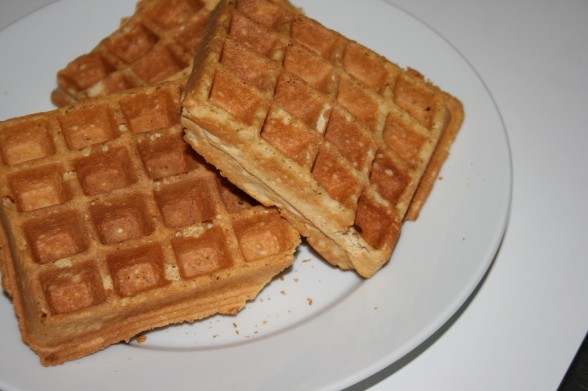 We had a lovely waffle dinner the other night with family and friends in our community group and it was fun to be able to meet the needs of some of our food sensitive friends with this scrumptious variety that is completely gluten and dairy free. They are mighty tasty! They turn out light and fluffy so you cannot even notice the difference. Even if you are not sensitive to these foods, its a nice recipe to have on hand if you run out of your other  grain choices. Plus, I am becoming more and more convinced that having a good variety in your diet is very beneficial!
This recipe is made with the simple use of your blender. No grain grinder is necessary. You can soak the batter overnight for increased benefits (as brown rice has a small amount of phytates, learn the benefits of soaking here), or simply skip that and proceed with the recipe. Soaking also helps to break down the grain so it is softer, otherwise it will add a bit more crunch to your waffles, which is yummy too. I often prepare this recipe for last minute pancakes if I forget to soak my standard whole grain blender recipe.
Ingredients:
1 1/2 cups coconut milk, rice milk or hemp milk, or coconut milk kefir/water kefir (I prefer canned coconut milk and water it down 1/2 and 1/2 otherwise it is a bit thick. It adds the best flavor and texture to the waffles. If you use other options, make sure to increase grain choice by 1/4-1/3 cup so the batter is not too thin.)
1 1/2 cups whole raw brown rice and millet (I like to do half and half of each grain, but you can also do all brown rice or all millet. You can also use gluten-free rolled oats or quinoa, which are also wonderful additions.)
2 Tablespoons coconut oil or olive oil (preferably extra virgin cold-pressed)
2 teaspoons vanilla extract
2 eggs (preferably pastured farm fresh)
2 teaspoons baking powder
1 teaspoon sea salt
1/2 teaspoon baking soda
Directions:
1. In a blender, combine your choice of milk, grain, oil and vanilla extract. Blend on high for 1-2 minutes until the grain is broken down into tiny little bits.
2. Cover and soak overnight (about 8-12 hours).
3. After soaking, add eggs and blend again for 1-2 minutes, until the batter is smooth. You may have to add a 1/8-1/4 cup water to get the batter blending in a vortex.
4. Add the baking powder, salt, and baking soda and pulse briefly just until blended.
5. Prepare waffle iron or pancake griddle. I use olive oil on my Krups waffle iron for best results and grease generously between each waffle.
6. Cook for approximately 4 minutes on the waffle iron. If making pancakes, rotate when lightly brown and fry on other side till fully cooked.
Top with your favorite maple syrup and berry sauce (recipe to come)! You can get organic maple syrup at Amazon for only $16.83 with the Subscribe and Save option. A great deal!
Yields: 3-4 waffles, 20+ pancakes
For my standard whole grain waffle recipe, visit here.