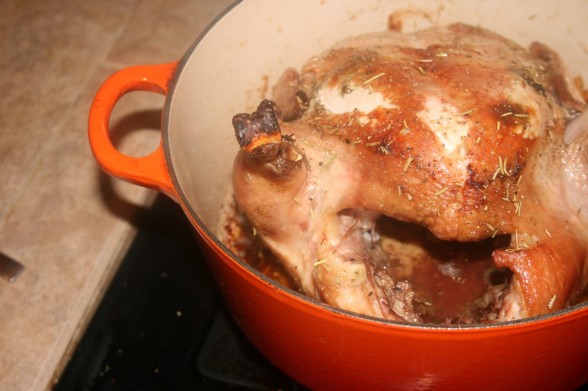 Every year our family purchases 12 lovely pastured chickens from a local farm. Chickens that have enjoyed the great outdoors to their hearts content makes the most nutritious bird. Only 12 chickens? Yes, I use one chicken each month and make it stretch for at least four or more meals for our family of four. It is a great frugal way to get the most value and nutrition by purchasing them whole. You get all bones which make fabulous broth! Here I am today to share our method of preparing multiple meals from one chicken at one time.
Roasted Chicken
The first step is to thaw the whole chicken and prepare it into a scrumptious roast while a batch of mashed potatoes, gravy, and a side salad!
Ingredients:
1 large chicken (4-6 pounds)
2 Tablespoons softened butter or coconut oil
2 Tablespoons melted butter, coconut oil, or olive oil
2-3 garlic cloves, minced
1 teaspoon parsley, oregano, or basil (or combination)
sea salt and pepper
Rosemary
Directions:
1. Wash and pat dry the exterior and interior of your chicken. Remove any giblets that may be in the cavity and set aside for your broth.
2. Combine the 2 Tablespoon butter with garlic and parsley/oregano/basil seasonings. Carefully peel back the skin at the back of the neck and rub the butter seasoning mix all around the meat, between the skin and meat. This will give the meat a wonderful moist texture. You can skip this step if you are in a hurry and the meat will still be fabulous with just the outside oil and seasoning!
3. Place chicken in a roasting pan, dutch/french oven, or any oven safe pan you may have. Preferably the more fitted the container the better for keeping all the juices together. Place the chicken breast side down into the pan.
4. Cover chicken with half the melted butter/oil and season with salt, pepper, and rosemary as desired.
5. Place uncovered in a 350 degree oven for 1 hour.
6. After 1 hour, rotate the chicken and sprinkle on the remaining butter/oil and season as desired and return to oven for an additional 1 hour.
7. Chicken is done when the legs pull away from the body of the chicken and if you cut in between the leg and body and the juice runs clear.
8. Allow to sit for 5-10 minutes before slicing and serving.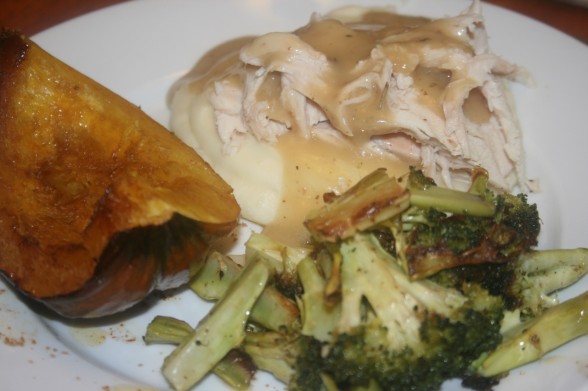 We slice up this chicken and serve with this yummy gravy:
Chicken drippings
1 Tablespoon arrowroot powder
1/2 cup dry white wine
salt and pepper to taste
1. Combine all ingredients in a small saucepan over medium heat and whisk together till smooth and thickened. Season to taste.
We don't eat a lot of meat at any given meal, but make it stretch further by eating more vegetables. As you can see in the photo, I serve the roast chicken over mashed potatoes with a side of broccoli and squash. This really helps to get the most amount of meals from one chicken.
After we have this fabulous chicken for dinner, I place the entirety of the remaining chicken in the fridge overnight. In the morning I prepare the following two dishes at once, because it saves time and energy. Sometime the next day, de-bone the chicken and remove all the chicken meat and place in a separate bowl. Set aside two cups of meat for Chicken & Dumplings, and two cups of meat for Chicken Curry or another dish of your choice. These can be placed in a half gallon jar in the fridge till ready for use. Any additional meat is used for chicken sandwiches to send with hubby for lunches.
Chicken Stock
Bones from 1 whole chicken
Gizzards or feet (optional)
1/2 cup white vinegar
12-16 cups filtered water
1/2 onion, chopped in half
2-4 carrot peelings
2 celery sticks and tops
1 bunch parsley (or 1 Tablespoon or so dried parsley)
Homemade chicken stock is full of healing properties.
1. Place all the bones in a large stock pot. Leave a small portion of the chicken on the bone if you desire to make a chicken soup. Add the reserved giblets, chicken feet, or any additional bones you may have reserved.
2. Fill the pot with approximately 12-16 cups of filtered water.
3. Add white vinegar and allow the mixture to sit for 30 minutes. Vinegar is necessary to draw out the minerals, particularly calcium, magnesium and potassium, into the broth. During this time, you want to prepare your vegetable additions.
4. You can use any older looking vegetables, carrot peels, onion peels, celery tops, potato peels, etc. I love making stock because nothing goes to waste! Many times I will store a bag of peelings in the freezer from other dishes that can be thrown in for the stock.  I will actually peel my ingredients for my next recipe, a double batch of Chicken & Dumplings, and use the peelings for my stock. I use approximately 4 carrot peelings, 1/2 onion (cut into wedges), 2 celery tops and 1 celery stalk cut in half, and 2 potato peelings. There is no need for perfection here. I use what I have on hand and it all goes in.

5. After adding the vegetables, bring the pot to a boil and then reduce the heat to a simmer and let it cook for 12-24 hours.
6. About 10 minutes before finishing the stock, add 1 bunch of parsley.
7. After it has cooked, cool completely. Then drain the broth from the vegetables and bones. I will discard the vegetables and remove any additional meat on the bones for a chicken soup or other purpose before discarding the bones. I will freeze half of the stock by placing in a large gallon size freezer bag. This will be used for soup for another meal.
The remaining stock I will use for soup within the week – Garden Chowder or Zuppa Tuscana are regular delicious soups at our house!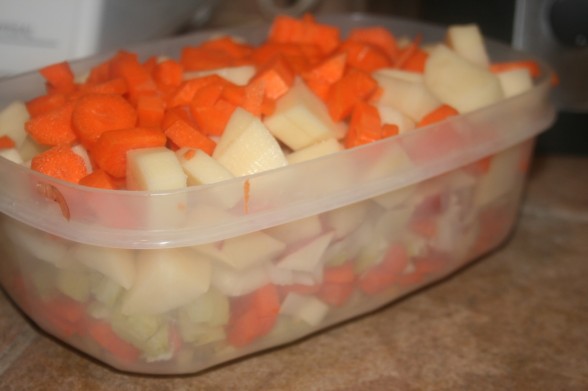 Chicken & Dumplings
In the picture above, you see all the chopped veggies that I prepare for my Chicken & Dumplings dish. I have just peeled them all for my stock and use the remaining vegetable chopped nicely for this dish. I use the reserved two cups of chopped chicken for this recipe. I can then prepare this right away or cover and place in fridge for the evening meal. I can easily make a double batch of Chicken & Dumplings in two separate 8 x 8 pans and freeze one for another busy day.
Chicken Curry
With the additional 2 cups of reserved chopped chicken meat, I will often make Chicken Curry - another delicious and nutritious meal. Another favorite would be Chicken Enchiladas that could also be made with this meat.
Finally, any remaining meat makes some fabulous lunches for my husband throughout the week. Roasted chicken sandwiches with mayo, dijon mustard, cheese, pickles, lettuce and any other toppings make a full satisfying sandwich!
So my whole chicken has made 1 roast, 1 batch of chicken stock (enough for at least 2 soups), 2 main dishes, and enough for a few additional chicken sandwiches for lunch! I would say we used everything possible on that chicken!
How do you use your chicken?