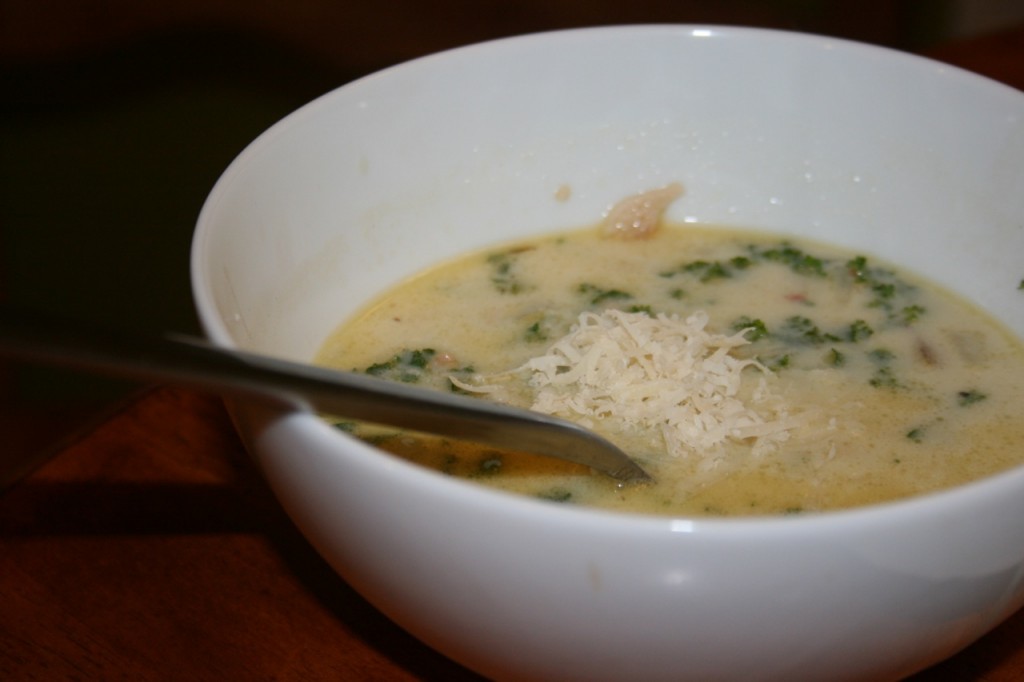 Recently a dear friend inspired me with the idea of creating a mock Zuppa Tuscana recipe from the classic soup at Olive Garden. This has definitely been my favorite item on their menu for the occasions when we visited this restaurant. After experimenting with making it at home, and experiencing such wonderful results, I just had to share the recipe with you. I am sure there are many variations on the web, but this was our adaption. It is my favorite soup of all time, and my husband was quite impressed. It is a new regular on the menu now! Even with bacon (which is special occasion item at our house) and sausage, this dish cost less than $1 per serving, making it very frugal. Deliciously creamy, rich, and full of flavor, I am sure every family member will love it! Top with shredded parmesan cheese and you will be in heaven!

1/2 lb bacon (preferably natural, nitrate free)
1/2 lb chicken Italian sausage or bulk sausage of your choice
4-6 potatoes, diced
1 onion, chopped
3-4 garlic cloves, minsed
6 cups chicken stock (you can easily replace some with water as you have available – I used 4 cups stock, 2 cups water)
2 cups whole milk, half & half, or raw cream
1 head of kale (5-6 leaves, as desired), chopped
salt and pepper, to taste
Parmesan cheese
In a small pan, cook the bacon. Save bacon grease, if desired. Cool and finely chop. In a large pot, cook the sausage, onions, and garlic (in bacon grease, if desired) until the sausage has browned. Crumble sausage as you cook it. Add the potatoes and stock and bring to a boil. Once it has reached a boil, turn it down to low and simmer for 20 minutes or so, just until the potatoes are tender. Add the milk, kale, and bacon and allow to cook for 5-10 minutes. Season to taste. Top with parmesan cheese for extra flavor! Enjoy! Makes 6-8 servings. Freezes well.