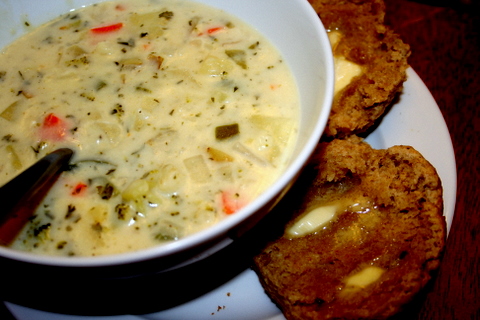 This is a hearty creamy veg­etable soup that has been a favorite in our family for many years! It is a perfect meal for a cold winter evening and a great way to use those seasonal winter vegetables! You can mix and match the vegis as to what you may have on hand. This recipe was formally published here but has been revised and updated. A wonderful accompaniment to soaked spelt biscuits (which you can also make with any variety of flour) topped with butter and honey! Yum!

1/2 chopped green pepper
1/2 cup chopped onion
1/4 cup butter
1 cup each diced potato, celery, cau­li­flower, carrot and broc­coli
3 cups water
3 chicken bouil­lon cubes (or just 3 cups of chicken broth to replace water and bouil­lon)
1 tea­spoon salt
3 garlic cloves or 1-2 tsp of garlic powder
1/4 tea­spoon pepper
1/2 cup flour or arrowroot powder
2 cups milk
1 Tbls minced fresh pars­ley
1/8-1/4 tsp of each the following spices: paprika, coriander, ground mustard (increase as desired)
2-3 cups shred­ded ched­dar cheese (can be adjusted as desired, as I rarely use more than 2 cups of cheese)
In a Dutch oven or large pot, saute green pepper, onion and butter until tender. Add veg­eta­bles, water, bouil­lon, salt and pepper; bring to a boil. Reduce heat; cover and simmer for 20 min­utes or until the veg­eta­bles are tender. Com­bine flour and milk until smooth; stir into pan. Allow to thicken at a low temperature. Add the pars­ley and other spices. Just before serv­ing, stir in the cheese until melted. Yield: 6-8 servings. This chowder freezes very well also! Just allow room for expansion.