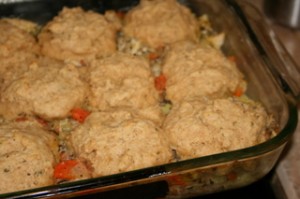 This is a delicious, flavorful and hearty meal for a cold fall or winter night using all those root vegetables that are in season. This recipe provides the option to soak your dumplings if desired to break down the phytates (as described in more detail here). You can also eliminate the chicken for a more frugal vegetarian option. This recipe makes one 13×9 pan. My hubby absolutely loved this dish! He said it was even better the second day after all the flavors messed together!
2 cups carrots, chopped (about 4 carrots)
1/2 onion, chopped
2 potatoes, chopped
2 celery stocks, chopped
1 green pepper, chopped
2 cups water or chicken broth
2-3 cups shredded or cubed cooked chicken
1 1/2 tsp garlic powder
1 1/2 tsp thyme
1 tsp sage
2 tsp sea salt
1 cup milk or further water
Other vegetable additions, if desired: green beans, peas, corn
Dumplings:
2 1/4 cups whole grain flour (spelt, kamut or millet work well -kamut is our favorite!)
1 cup milk, kefir or cultured buttermilk (use kefir or buttermilk if you desire to soak. You may also use water and lemon juice if you are dairy intolerant)
3 Tbsp coconut oil (or you can do all butter or all coconut oil as well)
2 Tbsp butter
1 Tbsp baking powder
1/2 tsp dried parsley
1/2 tsp salt
1/4 tsp pepper
For Dumplings:
Soak flour and kefir or your choice of acid medium, and melted coconut oil/butter. Cover and soak overnight or approximately 12-24 hours. After soaking, add remaining ingredients. You may need to add a little more liquid to keep it moist. If you do not soak, simply combine all ingredients.
For Filling:
Saute chopped vegetables in coconut oil and spices for approximately 5 minutes. Add water/broth and heat to a boil and then simmer for about 10 minutes. Add cooked chicken and milk in the last 5 minutes. Pour into a 13×9 baking dish. I top it off with a dash of each of the spices again (sage, thyme & garlic powder). Scoop dumplings by rounded tablespoon onto the top. Cook for about 18 minutes at 425 degrees.
For the Freezer:
This recipe works very well as a freezer meal, but best if you bake completely before freezing, otherwise the biscuits will become hard and dried out. So follow instructions above completely, bake, and then place in your freezer covered with aluminum paper and/or freezer paper. Thaw in your refrigerator and reheat (covered) on a low temperature 300 degrees for approximately 30-45 minutes. Keep an eye on it and add further liquids if necessary to prevent it from drying out.