I absolutely love curry! Every time I make it I think back to many a lunch with my piano teacher at the Indian restaraunt close to her home. During those long extended practice seasons leading up to big performances or examinations, she would delight in taking us to this Indian cuisine for a break. So many wonderful memories…which has inspired my family to love Indian food!
I think I will always be perfecting this recipe, but here it goes for your enjoyment as promised! This dish can be made very easily with very little meat and have lots of flavor still! The key: fresh ginger & garlic, and lots of it! Serve over brown rice or alongside Indian naan (Indian flat bread). Naan can be made at home or is available at Middle Eastern stores or Trader Joes.
Chicken Curry
Makes 6-8 servings
This recipe extends for several meals at our home! It is very freezable as well! Serve a smaller portion, balanced with vegis and rice and/or naan and it will stretch quite a bit!
2-4 Chicken thighs, cut into chunks (depending on how much meat you would like!)
2 Tbsp whole wheat flour
1 Tbsp curry powder
4 Tbsp ginger, fresh and finely chopped
4-6 garlic cloves, fresh and finely chopped (start with four and add more as needed)
1 large onion, chopped
1/2 green apple, chopped
3 Tbsp curry powder
6 or more Tbsp whole wheat flour
1 Tbsp sea salt (lower this amount to 1-2 tsp if you are using canned chicken broth)
1 Tbsp rapadura or other natural sweetener
2 1/2 cups (or approx. 1 1/2 -15 oz cans) chicken broth
2 1/2 cans (14 oz) coconut milk
Optional additions: sweet potato, zucchini, carrots (I usually add one of each of these to our curry with delicious results!)
Combine chicken, 2 Tbsp of flour & 1 Tbsp of curry powder in a Ziploc or bowl to coat. Fry lightly in oil (preferably coconut oil) in a frying pan for just a few minutes until cooked. Set aside.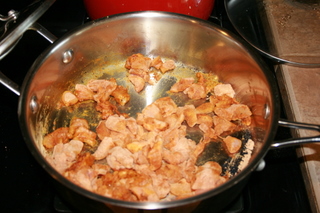 Combine fresh garlic, ginger, onion, apple, curry powder, flour, sweetener and salt in frying pan (add optional veggies at this time as well). Allow to fry under medium heat to mold the ingredients together (around 10 minutes), until onions are transparent, heated completely through. Add liquids – chicken broth & coconut milk, and stir frequently until heated through and thickened. Add more flour to thicken as needed. Add breaded chicken.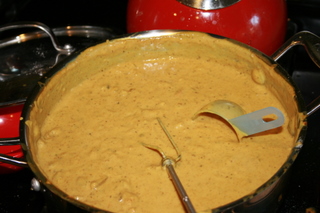 This was my frugal & nutritious meal for the week!
For the Freezer:
This recipe freezes remarkably well. You have two options.
1. Layer a greased pan with cooked brown rice and then top with the cooked curry sauce. Cover and freeze. When ready to serve, thaw, and reheat at a low temperature.

2. Wait to prepare your brown rice till the day you desire to serve this and simply freeze the curry sauce in a container. Glass canning jars work very well. Give plenty of expanding room and make sure it is completely cooled before freezing. When ready to serve, thaw the sauce, and then prepare your rice and reheat your sauce.