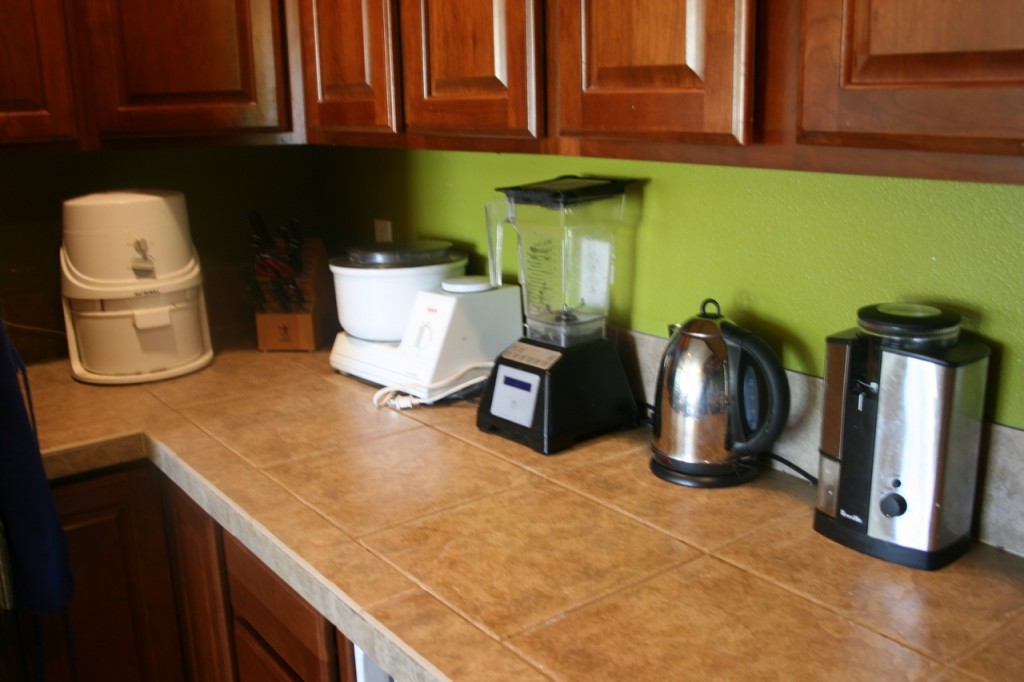 Sue asked: I'd love it if you would give a little tour of all of your kitchen appliances. I know you have the Nutrimill grinder and some other things but that would be helpful. You could mention what you use them for in terms of your meals. I'd like to know how much you use each item or basically if you think it's worth the investment.
So you want to know what's in my kitchen? I'd love to walk you through what appliances we have invested in that have helped us prepare real food, homemade goodies. Take note that we did not purchase all these items at once, but it has been a journey of four years now with a lot of research to purchase all the tools that make my job so wonderfully enjoyable and easy. In fact, most of them were my birthday presents over the last few years or initially as a wedding gift.

Having these tools definitely has been the real food diet more achievable for me and well worth the wait and investment! But be encouraged even if you are on a tight budget, every little penny saved helps. My priorities with each appliance we have purchased has been as follows:
1. Quality – I want tools that will last me a long time. I don't want cheap appliances that will break under the daily wear and tear that we put them under. Quality is often found with a higher price tag.
2. Multi-Purpose – I always look for items that will accomplish more than one task, if possible. I don't want to clutter my counters or drawers with a thousand different gadgets that I must maintain, or waste time trying to locate.
3. Simplify my kitchen experience - I want to invest in tools that will make my job easier as a homemaker. I want to be able to make homemade real food, but for it not to take all day. I have other important things to do in order to keep my home and life running smoothly, so I want to simplify. These are good investments if they keep mommy happy, sane, and maintain less time in the kitchen.
With these goals in mind, we have invested in the following basic appliances/tools for our kitchen. I'm not going to list every item in my kitchen, but rather focus on the larger tools that are used daily on my counter.
1. Bosch Mixer
I absolutely love my all-purpose Bosch Mixer and can highly recommend it and the company that states behind it. I use it practically every day for mixing up batters (cookies, cakes, muffins, etc), whipping cream (butter, sweet toppings), and bread making (up to six loaves at a time). With the kneading & whisk attachment, this mixer can handle any job! It also comes with a basic blender that does a good job for the average task. I also have the food processor attachment for this machine that receives minimal use.
Read my mini review here.
2. Blendtec Blender
We invested in the Blendtec Total Blender this past year as we were looking for something that would accomplish many tasks and do them extremely well, and this machine has stood up to the challenge. It can handle large quantities of green smoothies (which we eat every other day) and blends them nice and smooth and rapidly. I can make sauces (raw applesauce, raw jams/jellies, tomato puree, etc) regularly. It works quickly and efficiently. Love it! They now offer a 4 inch blade, 96 oz jar option which works more speedily and effectively.
Read my full review here.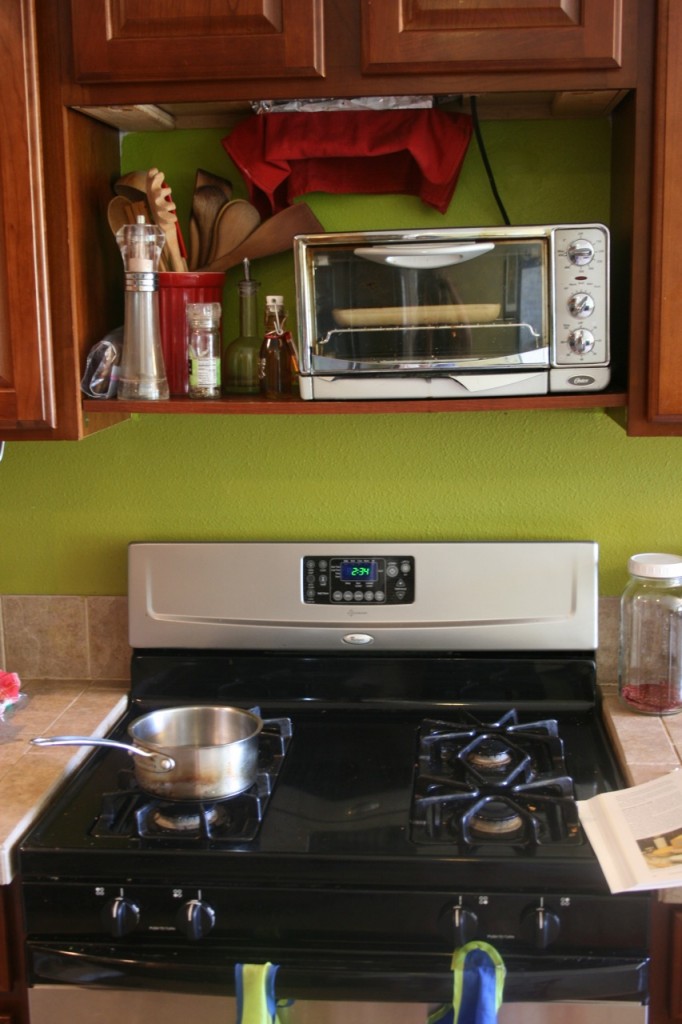 3. Toaster Oven
We replaced our microwave a few years back with a toaster oven and I have been very satisfied with our decision. It prepares things on a slower more natural pace, but can keep the heat down in the kitchen instead of running the oven. I toast bread, bagels, bake casseroles, brownies, potatoes, thaw and reheat food items, and many other small tasks with this appliance. We found one for $20 on craigslist and it has served us very well. Learn more about my microwave vs. toaster oven review.
4. Nutrimill
The Nutrimill is an excellent grain grinder if you are in the market. It grinds large quantities of grain to make wonderful fresh flour in a few minutes. If I could do it again, I would recommend sticking with the Blendtec for basic grain grinding because it does the job just as well although limiting to grinding smaller quantities at a time.
5. Electric Kettle
We have a basic stainless steel electric kettle which makes for quick hot water preparation. It is wonderful for making coffee, tea, and other hot beverages and especially when you have company! We purchased it mainly for hospitality because it is fast and makes it easy to prepare large quantities of hot beverages. Not essential but if you want hot water, its a good and cheap alternative to stove top.
6. Coffee Grinder/French Press
My husband is a big coffee fan and loves his quality but simple machines – the Breville Burr Grinder and his french press. They have served him very well providing fresh coffee. The french press is a great multi-purpose tool in our kitchen – see all our uses. I am sure we could have survived with a cheaper coffee grinder, but he received this as a birthday gift from his family, and it makes the man happy.
7. Ice Cream Machine
Although the Blendtec can make ice cream, we prefer the Cuisinart ice cream maker for delicious homemade ice cream in larger quantities (or simply because we have the cuisinart first!). They are rich and creamy in comparison, and takes a matter of 25 minutes to make in this machine. Try our yummy chocolate peanut butter ice cream or coconut ice cream – quite refreshing as the weather heats up. We purchased at Bed, Bath & Beyond with the 20% off coupon, and saved $20 (a practice we have used on many ocassions for more frugal discounts on kitchen items). We store this in the garage.
8 . Stainless Steel Cookware
I have a sturdy set of Cuisinart stainless steel cookware that has served me very well. I can highly recommend this set especially for the price! I prepare everything in these pans in addition to my Cuisinart green gourmet omlette pan. I love the omlette pan for preparing eggs, pancakes, tortillas, and various items. Read more about safe cookware for your family.
9. Crockpot
My rival crockpot gets a good amount of use at our home – I make yogurt, roasts, homemade stock, and various other dishes in this appliance throughout the winter time. The crockpot is a wonderful tool because it allows me to prepare meals in the morning when I have more energy and allow them to cook all day and dinner is ready! It also does not require much electricity.
10. Dehydrator
My newest addition just came two weeks ago. I received an Exalibur dehydrator from the lovely folks at Cultures for Health. It has been on my wish list for some time and I was thrilled to receive one for my review especially in time for summer harvest. So far, I absolutely love this machine and cannot wait to explore all the possibilities for its use – everything from fruit leather, granola, yogurt, rising breads, soaking grains, crackers…stay tuned for my complete review in the next few weeks. Currently it resides on a shelf in our garage because of its large size.
The only thing I would desire in the future would be an enameled cast iron french oven – hopefully a Le Creuset oven (as it has a lifetime warranty)! I love the idea of using this on the stove and oven for roasting various meats, stews, and main dishes. It's on my birthday wishlist!
Further Reading
My Favorite Kitchen Gadgets – the little guys that have served me well
Simplifying in the Kitchen – how I use glass jars for storage and a few simplifying and organizing tips
Safe Bakeware for Your Family - check out the research on the safe options for you
Safe Cookware for Your Family – other great options on the market
That's a quick glimpse at my kitchen appliances!
What are your favorite tools and why?