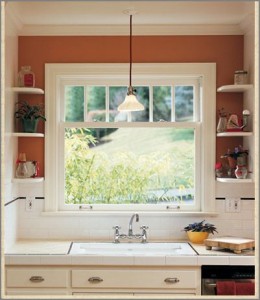 While viewing a wedding registry awhile back, I was overwhelmed by the list of so titled "kitchen gadgets" that this couple had on their registry. It was six pages of gadgets! How many gadgets do you really need? The materialistic nature of our society is pulling us in the direction that we need every new and latest invention for every little task. Begin simplifying your kitchen by weeding out the excess gadgets, and not only will your kitchen be cleaner and more organized, you will have less items to manage, maintain and replace!
Today we continue our simplifying series with a few steps towards simplifying and consolidating in the kitchen as the first room of your house, especially since this is where we ladies spend most of our time!
1. Consolidate appliances
In our pursuit of simple living, we have made it our goal to purchase the smallest amount of kitchen appliances and accessories to get the job done, especially trying to wisely purchase items that complete more than one task!
One way we have consolidated was in purchasing a quality Bosch mixer with an attached blender. This appliance provides me with three significant features – general mixing, kneading dough (for all my bread making needs), and a very nice blender! So instead of having a stand alone mixer, bread machine, and blender as I had previously, I sold those items (or gave them away). I love it! Several less things to store.
My SIL has a Kitchen Aid mixer, and in her effort to simplify found an ice cream attachment for her machine, instead of buying a separate ice cream maker. Smart thinking! The overall goal is to evaluate quality and if it can multi-task!
We also sold our coffeepot and down sized to a small french press. Works great and one less thing on the counter!
2. Keep one Cookbook!
If you are anything like me you have an overload of wonderful cookbooks. I love having so many choices at my fingertips…but I had to ask myself, when was the last time I used this cookbook or even looked in it for that matter? As a result, I started clearing out the barely used cookbooks and simplifying my cupboards. Take all of the recipes that you have collected from newspapers, magazines, websites, and all those cookbooks on your shelves and place them in a ring binder with plastic coated pages. This will be a consolidate all your favorites in one place!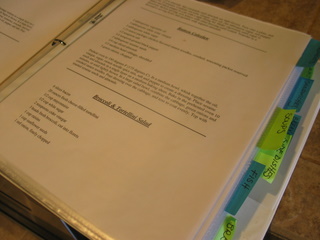 3. Clear out the Spices
Did you know spices really should not be stored on your counter in those nice display containers? The light makes them go rancid more quickly. It has helped me to really evaluate which spices I would use and stick with them. If I haven't used it in six months, it needs to go…it is most likely rancid anyway. Buy spices in small quantities for the best flavor and freshness. I purchase mine from frontiers in the nutrition center of my local Fred Meyers. Buy them in the bulk section for the best price. You pay a pretty penny for the spice jars at the store! Organize them alphabetically on the bottom shelf of a cupboard. Label the top for easy access! Now if I can stay on top of keeping them somewhat organized…that's the question.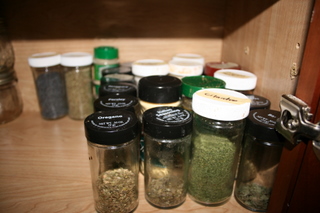 4. Organize the Pantry
Go through your pantry and collect all the canned goods you have never used! Give them away and note not to buy that again.

Label your pantry shelves if desires to maintain a little more order. Canned fruits on one shelf, canned vegi's on the next, and so on. I personally don't buy enough canned products for this to be useful, but it very well might help you.
5. Eliminate Duplicate Gadgets
While simplifying my kitchen, I have noticed there were several items in my kitchen that hadn't been put to use since I have been married (over two years ago!). I found I had too many strainers, platters, and casserole pans. Get ride of duplicates, they are just taking up space. Why not pass them on to someone who could use them? The extra strainer went to a bride-to-be and the platters (which look brand new!) will do the same. I always keep this principle in mind: if I haven't used it in a six months to a year, it needs to find a better home!
6. Kitchen Storage
Simplify your kitchen storage by using glass jars! This has made my cupboards much more organized as they are all the same size jars and they attractively present my food.
7. Keep a good pair of kitchen scissors
This has been a time saver time and time again!
8. Counter Space
Only keep those items you use daily on your counter, and keep the counters as clear as possible!
9. De-clutter windowsill or shelves
This is the first place that multiple items get placed when you are cleaning off the counters it seems. Keep this space only for nice jars to display your food and/or a few simple decorations.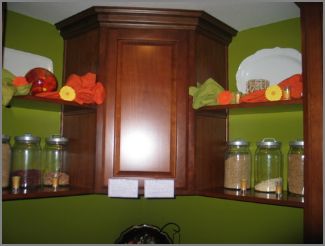 10. Clean as you go!
As you cook each meal, pull all the items out for your recipe in advance and put them away as soon as you are done using them! This helps your work quicker and keeps down the kitchen clean up at the end.
Any other simplifying tips for the kitchen?