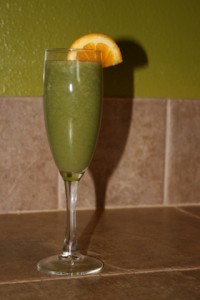 Did you know that through one green smoothie you can consume 5-8 servings of fruits and vegetables? Did you also know that eating green smoothies is one of the easiest way to digest the full nutrients of fruits and vegetables?
Green smoothies are a wonderful alternative, as opposed to juices, of absorbing the full potential  by retaining the entire whole form of the fruit/vegetable, thus receiving all the fiber. They can assist in boosting energy, building your immune system, detoxing impurities, and loosing weight. Greens are rich in magnesium and alkaline minerals like calcium and are superb in their Omega-3 unsaturated fat content.  Believe it or not, greens are one of the richest sources of protein.
Another one of my new year goals was to begin eating more greens in our diet. What better way than to include these in our morning smoothies? We serve kefir smoothies three times a week for breakfast, so my desire was to discreetly begin adding some nutritious greens to the mix. I have found it to be incredibly simple, delicious, and so much easier to eat than a large salad (especially for the kids). Not only can you really not taste the greens at all, but you are getting a huge boost in nutrition. Greens are especially frugal and thus another good encouragement to begin consuming them. We have stayed amazingly healthy over this past month since beginning the green smoothie pursuit, even when we have been exposed to some nasty illnesses around us. Could it be?
The best combination is a balance of 40% greens to 60% fruits. Keep the greens varied as well. Spinach is our favorite, in addition to kale. Other options include:  celery, chard, romaine, alfalfa, parsley, beet greens, and collard greens.
I have found you can make a green smoothie out of pretty much any fruit and greens combination!
Here is how I start. Combine:
I have found it easiest with a traditional blender to combine the greens first in order to get them real smooth. This would not be necessary with a Vita-Mix, but with a standard blender combining all the ingredients at once usually leaves you with green clumps.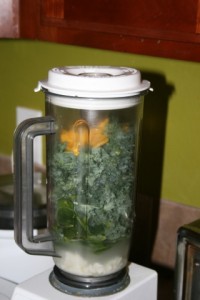 1 1/2 cups of liquids (I usually use a combination of water, coconut milk, and kefir)
3 oz or more fresh greens, which is approximately half a bag or 3 large handfuls (spinach or kale are best!) -start with smaller quantities and work you way up!
2-3 Tbsp orange juice concentrate, optional (this is a more frugal alternative than using pre-mixed juices – it stretches the juice further)
After these ingredients are thoroughly blended, you can add an assortment of fruit.
Here are our favorite additions:
1/2-1 cup Frozen strawberries or raspberries
1 Banana
1/2 cup Frozen Blueberries
1/4 cup Frozen Pineapple
2-3 Frozen Peach slices
I have also used canned pears on occasion as well.
Blend and add a little stevia or honey to sweeten and any additional boosters.
Additional boosters:
Ground flax seeds
Ground pumpkin seeds
Coconut oil
Enjoy!
Further Reading & Recipes
There are a wealth of recipes out their for green smoothies!

Green for Life by Victoria Boutenko – This book is a great resource of information on all the health benefits of eating greens!
Green Smoothie Recipes & In-depth Info
Making Green Smoothies appealing for Kids