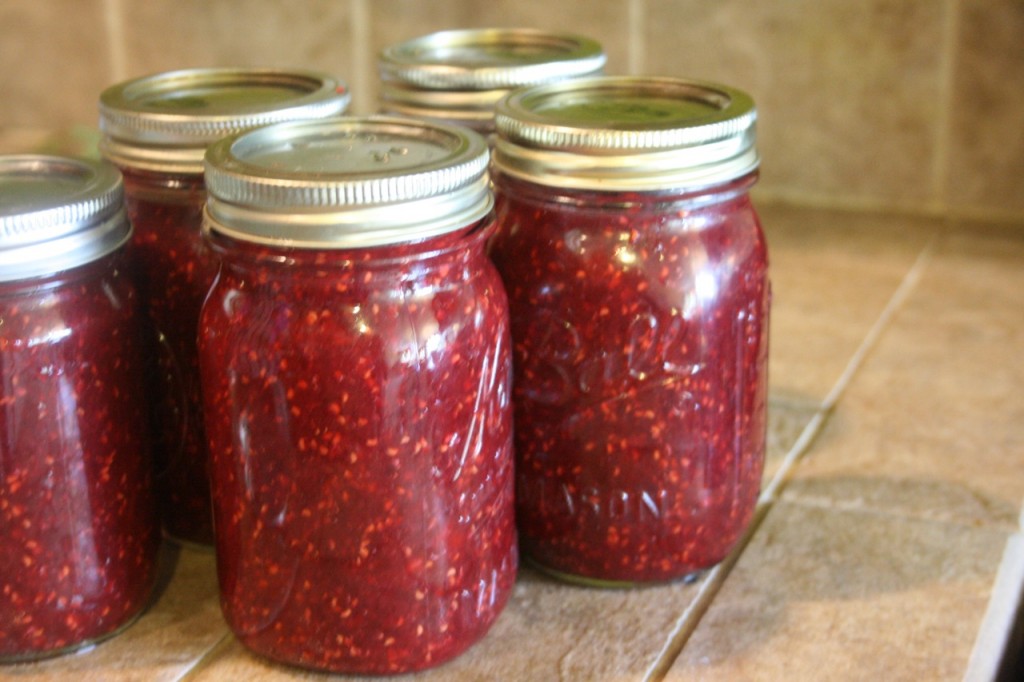 The summer season is here and the produce is beginning to come off the vines. I am not a big canning person as it requires so much time and energy (which is challenging to do with two little ones running around), but I have chosen my priorities to focus on in the past two years. Jam, tomatoes, and pickles. These are my three big projects for the summer, otherwise I like to freeze lots of strawberries, raspberries, blueberries, and peaches for smoothies and desserts throughout the year.
I prefer to make my own jam because every standard jam/jelly on the market contains high amounts of high fructose corn syrup in addition to being highly processed through the heating and canning methods. Organic jellies are super expensive and use organic sugar to sweeten which still has been highly processed and refined. I prefer the natural sucanat/rapadura sweetener that is unrefined, high in iron, naturally evaporated, preserving all the vitamins and minerals.
I love making raw freezer jam because it is so simple, and protects the large majority of nutrients in the berries over the standard canning procedures. The only disadvantage with raw freezer jam is that it will not get as thick as the canned/cooked alternative, but it works well for us.
Yesterday, my daughter and I prepared 10 jars of raspberry/strawberry freezer jam (or 3 batches of the recipe below) in a few simple steps, with the help of Pomona's Pectin. I use this brand because it is all natural made from citrus peel, free of sugar and preservatives, and allows me to use honey, low sugar, fruit juice concentrate, or any other sweetener.
The recipe is included in every box of Pomona's Pectin, but here are our tips and tricks:
Raw Freezer Jam
4 cups mashed fruit (strawberries, raspberries, blackberries), room temperature
1/8 cup lemon juice (optional)
1 cup honey or 2 cup sugar
3/4 cup water
3 tsp pectin powder (included in box)
4-12 tsp calcium water (included in box – combine calcium powder with 1/2 cup cold water)
Note: You have the option to use as little as 1/4 cup honey or 3/4 cup sugar per batch, but I personally recommend you use the full amount of sweetener. It's just not worth it in my experience as it turns out too bland.We prefer a rich, flavorful jam that is naturally sweetened with honey or sucanat/rapadura. I mix two batches at a time to save time.

Directions:
1. Wash and rinse air tight jars. Another reason I love freezer jam is because I can use any containers I desire – no need for replacing all the canning lids each year. You can use any miscellaneous plastic or glass jars in varying sizes.
2. Prepare fruit by rinsing and removing stems. Place in a blender and pulse several times until smooth. Pour pureed berries into a large bowl and rinse blender.
3. Measure sugar or honey and add to fruit; stir well.
4. Bring water to boil. Put in blender/food processor. Add pectin powder, vent lid and blend 1-2 minutes until all powder is dissolved.
5. Add hot liquid pectin to fruit; stir until well mixed.
6. Add 4 tsp calcium water (which you prepare via the instructions in the box); stir well. Jell should appear. If not, continue adding 1 tsp of calcium water and stirring well until jell appears.
7. Pour jam into containers, leaving 1/2" at top for expansion in the freezer. Store in the freezer immediately. Once removed from freezer, store in refrigerator. Lasts 3-4 weeks in the refrigerator.
Note: The original instructions say that it will only last a week, but my experience is that it will definitely go 3-4 weeks before going bad. I did notice that it will get thinner the longer it is in the fridge, so it is preferred to use it within 2 weeks.
Makes 5-6 cups, or approximately 6 (8 0z jars).
YUM!