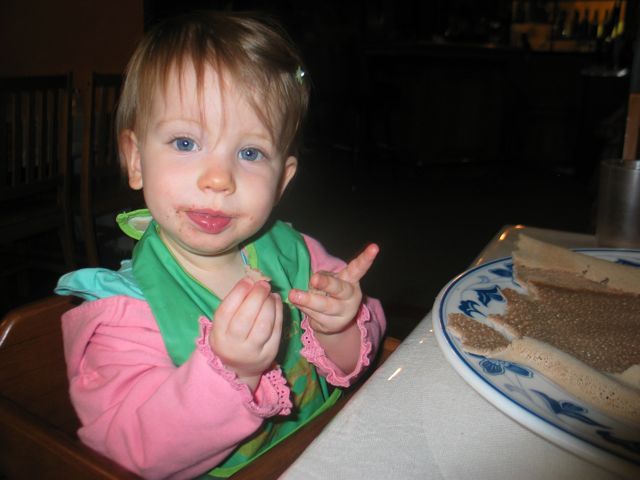 Karis enjoying real food
Beginning a little one on solids can be overwhelming for some, especially when as a mother you really want to give your child the best start in the world. There are many different methods, plans and recommendations out there, but I am going to keep it real simple for you. Give your baby REAL food and let them have at it!
When to start solids?
For the first six months, breast milk is the only food required by most infants. It provides the essential antibodies that protect their immune function and nutrients that optimize growth. Until six months of age, a baby's digestive tract is not able to adequately digest most foods. The introduction of foods too early may induce food allergies or food sensitives. Honestly, there have been no conclusive studies done to show that a baby should wait till after 6 months though. You can breast feed exclusively for a year if you want. Breastfeeding gives your baby a steady supply of complete nutrition during the messy but fun transition to real food. Overall, the six month recommendation seems reasonable to me.
Beyond the six months recommendation, you may want to wait until your baby can sit up by themselves. That is really the only other important thing. According to Nina Planck in Real Food for Mother and Baby, "When is your baby ready? She is ready when she can sit up on her own. This indicates a certain control of her trunk. Her mouth and throat are stronger and more coordinated. When you put food on her tongue, she does not immediately eject it."
She may have teeth, she may not. Either way works just fine. Karis didn't, Titus did. She may grab for your food, she may not. Karis didn't, Titus did. Maybe it's a girl/boy thing.

Nurse exclusively as long as you are able – it's frugal, it's healthy, and it's simple! When you baby can sit up and starts really actively desiring food, then let them begin exploring with food. If they are not interested until 9 or 10 months (or later), don't worry about it. Rushing it will not be fun for you or your baby. With my first daughter, Karis, we were able to hold off until 8 months of age before beginning solids. Titus started just a bit earlier around 7 months.
I knew she was ready for them when she began eagerly consuming little samples I gave her of my own food. Secondly,  if they start getting grumpy quicker after breastfeeding, or have a hard time going to sleep, I have found that adding solids normally has helped my babies sleep better and be more happy and satisfied throughout the day. Use your judgment! You are the mom and you know better than any one else. You really don't need to get on any rigid schedule of eating either. We started with a little pear slice in a mesh feeder, and then forget about it for a few days, and then give him some carrots at dinner, etc. I have never gotten real consistent with three meals a day until they are around 1 year old. Overall, we continued to nurse regularly as long as the baby desires or as my supply allows. With Karis this was 15 months of age. We have yet to see with Titus.
How to Eat?
With my first daughter, we introduced solids through the traditional approach of spoon-feeding pureed baby foods. We used the blender to make large batches of baby food as detailed in Super Baby Food. We made all our own homemade purees and super baby food porridge. We steamed, blended, and froze in ice cube trays. Honestly, it's a lot of work! This is one way, but I often wondered if she got a little picky growing up because she had to adapt from eating purees to the real whole form. It's quite a contrast if you think about it. What might happen if I gave a whole carrot or broccoli head from the beginning? Might they grow up enjoying the real thing better?
When Titus was born, I came across the idea of Baby-led Weaning, otherwise known as – skip the pureeing and give them the real thing! I have learned that you really don't need the whole process of spoon-feed eating…it's just not necessary! This may be a shocker to some as it was to me at first. But I encourage you to take a look at two helpful books. Basically, the idea is that you let your baby feed themselves without all the hassle of cooking, steaming, pureeing and freezing. You give them finger foods
and let them explore on their own. They eat what you eat and are included in the family dinner table. They make the connection with their appetite. They stop when they are full. They eat food with flavor and variety as you eat it. Who wants bland baby food anyway? Prepare a healthy meal for your family and give some to your baby. That's it!
Gil Rapley's Baby-led Weaning and Nina Planck's Real Food for Mother and Baby are two excellent reads on tearing down the traditional methods that we have adopted for so long and just getting to the good stuff. Read a thorough overview of the Baby-led weaning concept over at Eco Child's Play. Read these books! You will be fascinated too.
So two choices…to puree or not to puree!
What to Eat? Real Food!
Nina Planck & Weston A Price Foundation recommend, if you start before six months, begin with a lightly cooked egg yolk with a pinch of salt, a little cod liver oil, and banana. Nina shares, "These brain foods are easy for the baby stomach to handle. Tasty and soft, the banana contains its own amylase. It's an unusually fine plant source of vitamin B6, which helps create neurotransmitters, including serotonin, melatonin, and dopamine. After six months, just about any REAL food is good. Babies can start with meat, poultry, fish, eggs, dairy, any fruits and vegetables, and traditional fats – namely, butter, olive oil, and coconut oil. Whole milk, buttermilk, yogurt, cheese, cottage cheese, and sour cream are great foods. So are fresh coconut and coconut milk, which (like your milk) contain immune-boosting lauric acid. Avacado chunks with olive oil and salt make a wonderful baby dish, soft to gum and rich in vitamin E."
Nina proceeds to offer no recipes or schedules in her book. She simply states what real food is (what we have been eating for thousands of years), and gives a few basic recommendations. Just give your baby whole stemmed vegetables and fruits, cut into smaller pieces if necessary. Keep it yummy. Bland food is not fun for anyone. Give your baby what you are eating. Stemmed vegetables with butter and salt is great! She keeps raw sweet potato slices in the freezer to have on hand to steam up quickly if the is no leftovers from the night before. Having avacados and bananas on hand are also easy, quick, and very nutritious meals for your baby.
The only thing that is not recommended before one year of age is grain. The one food that all the pediatricians recommend as a first food because it can be watered down and added to a baby bottle. Funny! Grain is not digestible, especially if it has not been soaked. Grain is a poor source of protein, iron and zinc. The starch-digesting enzymes in a child's body do not kick in for one or two years.
According to nutritionist Jen Allbritton, "Babies do not produce the needed enzymes to handle cereals, especially gluten-containing grains like wheat, before the age of one year. Even then, it is common traditional practice to soak grains in water and a little yogurt or buttermilk for up to 24 hours. This process jump-starts the enzymatic activity in the food and begins breaking down some of the harder-to-digest components."
What About Choking?
It's actually really just gagging, a natural function of the body.  According to this article, "Humans have an innate gag reflex, whereby anything that gets to the back of the mouth unexpectedly (or is too large to swallow) will be regurgitated with a retching action.  In babies, this reflex is further forward in the mouth, and so gagging is fairly common while they are learning to handle food.  Although this is commonly confused with choking, it is actually the normal protective mechanism, preventing choking while a baby learns to manipulate food in his mouth with his tongue, to chew and swallow.  Spoonfeeding denies a baby the chance to practice this manipulation while the gag reflex is still extra-active."
Of course, it is always recommended never to leave a child unattended, but enjoy the food together, in case there is any problems. But is is helpful to note that spoonfeeding does not guarantee any less a problem with gagging.

What does this look like for us?
All that being said, we have chosen to adapt these two ideas to meet our needs. We may help feed Titus (by hand, rather than by spoon). Karis loves participating in this, so it has become a fun family affair. So it is not all independent. We lead and guide as needed. If he drops a food item, we might put it back in his hand to assist him. We do follow a basic schedule (more in mind than in consistent practice) as follows:
6-9 months -We start with introducing simple vegetables and fruits, served in their whole form. We serve one meal a day for about a month, and then increase to two meals a day, until 1 year of age, we begin three meals. Again, this is all based upon his needs and may change. I serve them as much as they desire and no more. I don't empty the bowl or empty the plate unless they want it. I just give them as much as they need. Water or goat's milk to drink if needed. He eats everything in his Bumbo Seat with tray.
Lunch/snack – Sliced pears, peaches, or steamed apples - served in the mesh feeder most of the time, lightly cooked egg yolk (watered down a bit as needed)
Dinner – Sweet potatoes, yams, squash, carrots, broccoli or avacados – we slice raw sweet potato and freeze it (as Nina suggested). To serve, we lightly steam it in a pan of water and then serve. For squash, we bake it in the oven and then serve with butter or coconut oil and salt. Avocados are served raw in small chunks. Carrots and broccoli are served in sticks that have been lightly steamed in order for the baby to grasp on their own. These vegetables are always what we are already eating as a family. I don't make anything special beyond the sweet potatoes or avocados if we are not eating anything suitable. We adopt Nina Planck's encouragement to season and butter it as we have it.

We add cod liver oil daily to his bottle of goat's milk for the omega 3 and vitamin A & D content. Nordic Natural's liquid DHA junior is made from all natural vitamin A & D and nothing synthetic.

9-12 months – At this point, they are usually eating two meals consistently each day. Lunch is based around yogurt, dinner becomes based around meat and vegetables. Continue water and goat's milk to drink, as needed.
Lunch – homemade yogurt (sweetened with stevia and mashed banana or other fruit). Karis loved yogurt and applesauce and had it almost every day! I usually would combine a little yogurt and kefir together for a great probiotics meal.
Dinner – meat and vegetables (whatever we are eating!)
12 months + – Begin three meals a day, as needed. I add raw cow's milk as a beverage at this point. At 1 year, we add honey as a sweetening option.
Breakfast – Soaked brown rice porridge
Lunch – Yogurt and fruit (as described above)
Dinner – Meat and vegetables (whatever we are eating!)
After 1 year, we gradually add in all the possible allergenic foods, such as nuts and other grains. There is no rush…we just enjoy food!
In conclusion, whatever route you choice, whether it be pureeing or baby-led weaning, I would encourage you to stick with the real food. Canned baby food is not only expensive, but it has been cooked to death (therefore, lacking most nutrition), and is very bland. Let your baby enjoy the real thing! BLW is a messy process to be sure but it is a ton of fun! You don't need to get rapped around an exact feeding schedule or method. Just go with which route works for your family!
Here are some last thoughts from Gil Rapley's book, Baby-Led Weaning:
Baby-led weaning can help to prevent the sorts of battles over food that are an all-too-common story amongst the parents of toddlers and young children and it can contribute to making family mealtimes fun for everyone.  In a nutshell, it makes eating the pleasure it should be.

… There is a growing amount of evidence that the way children are fed when they are very young establishes the way they will feel about food throughout their childhood, and maybe even into adulthood.  Obesity and eating disorders are in the news almost every week … Many of these problems have their roots in one (or both) of two key issues: appetite recognition and control.  The healthy development of both of these things is at the heart of BLW.

So much of the advice parents are given about infant feeding is still based on the abilities of three- or four-month-old babies and the assumption that babies need to be spoon-fed.  It rarely takes into account the natural abilities of six-month-old babies to take the lead with solids and feed themselves.  Baby-led weaning brings together what we not know about when a baby should start solids with what we can see babies are able to do at this age.
UPDATE (March 1, 2010): As we approach Titus' first birthday I wanted to update to inform you that we took a less drastic approach to the baby-led weaning. We found Titus would consistently choke on his food when given in the whole form although he didn't have a problem when I first started this approach and when this article was written. I am not sure if we were doing something wrong or if he just had a strong gag reflux. He did seem to try to consume everything at once, which also seemed to part of the problem. He would gag to the point of throwing up regularly. We decided to adapt our approach by using our baby food grinder but sticking with real foods. From six months on he has only eaten what we were eating at the table. I never made pureed veggies or fruits like with my first, but we did find it necessary to grind up some of our meals so Titus wouldn't choke and throw up. He continued to eat many things on his own in whole form, including avacados, squashes, pear & apple slices, bananas, stemmed carrots, etc. But we had to avoid broccoli and a few other items. This has been a more peaceable approach for us, but I know others have done it with great success.
Further Reading:
Baby Essentials that Aren't: Baby Food – discussing BLW in detail
Baby Led Weaning: Starting Baby on Solids with Finger Foods – article by Suite 101
Real Food for Mother and Baby: The Fertility Diet, Eating for Two, and Baby's First Foods by Nina Planck
Baby-led Weaning - YouTube video
Have you tried baby-led weaning? What has been your experience?