Titus is eight months months old this next week. Boy, does time fly! He is a hungry little guy and I can hardly keep up with his demands for food. As we just begin to introduce solid foods into our little guy's diet, I wanted to share with you a few of our favorite tools.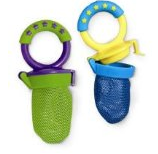 Munchkin Fresh Food Feeder – This is one of my favorite feeding tools, especially at the beginning. It enables your baby to munch away independently. Fill it with a small slice of stemmed carrot, apple, pear, or various fruit/veggies and let them explore to their hearts content. We used this frequently when we are on the road and the baby needs a little something to hold him over. During our car trip to the beach, Titus was kept quite contented while munching on a nectarine slice in this feeder. Beware! It is messy! But that makes it all the funner to watch and enjoy their delight in food! They are a bit challenging to clean, but a scour pad and the dishwasher do a pretty good job for us.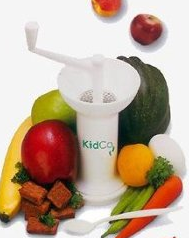 Kidco Baby Food Mill – There are lots of expensive equipment out there for making your own homemade baby food, but I have found this simple tool (along with a blender) to be all you need. This tool is great because it transports easily for a quick meal when you are out. I love it for grinding up bananas or other small portions of foods. If you chose the pureeing route of introducing solids with babies, this is a great way to go!
Bumbo Seat (as seen in picture)- We found this seat off of Craigslist and have found it to be a worthwhile purchase.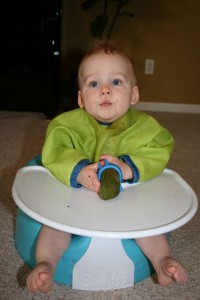 It is perfect for Titus to sit in and enjoy his Munchkin feeder or for him to just sit and play. It gives him full support even before he was sitting up fully on his own.
Foogos Leak Proof Thermos Food Jar - We just recently purchased this food thermos and absolutely love it! It is stainless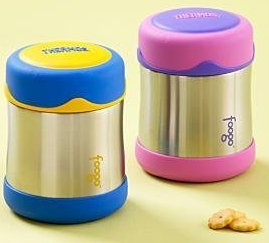 steel and BPA-free thermos that will keep your baby food warm or cold for 6 hours. Insulation helps inhibits dangerous bacteria growth. You can use it to keep milk/formula warm or just throw some veggie chunks in the jar and away we go! We have used it numerous times in the last few weeks. Aaron has even used it a time or two for a coffee thermos. Most reviews on Amazon describe using it for children's school lunch, so it is very multi-purpose!

Those are our favorite tools! What are yours?