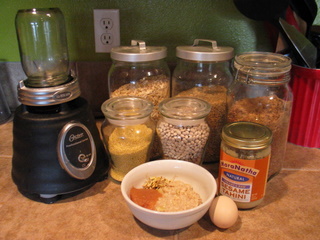 Karis' cereal in preparation today, including: cooked brown rice & millet, egg yolk, sprouted sunflower seeds, and tahini – to be combined with my mason jar on the blender trick!

Making wholesome baby cereal for my little girl has been such a fun experiment learning how to incorporate nutritious supplements that are cheap and give a well rounded breakfast. This is called "Super" Baby porridge because it has all the ingredients needed to provide good nutrition to your little one. Thanks to Super Baby Food for all the wonderful ideas of making my own homemade cereal! You can't beat the frugal cost and nutritional value of this concoction!
I like to wait till one year before introducing grains. Grain is not digestible, especially if it has not been soaked. Grain is a poor source of protein, iron and zinc. The starch-digesting enzymes in a child's body do not kick in for one or two years.
According to nutritionist Jen Allbritton, "Babies do not produce the needed enzymes to handle cereals, especially gluten-containing grains like wheat, before the age of one year. Even then, it is common traditional practice to soak grains in water and a little yogurt or buttermilk for up to 24 hours. This process jump-starts the enzymatic activity in the food and begins breaking down some of the harder-to-digest components."
That being said, I did introduce soaked brown rice cereal for my daughter around 10 months of age!

Soaked is key!

Super Baby Porridge
Basic Recipe:
1/2 cup ground brown rice, millet or oats (or other grains) – use brown rice if child is younger than one year
2 cups water
Soak overnight with 1 Tbsp of kefir/whey for all the extra benefits, especially for oats. Cook and stir continually until it thickens. You can give it to the baby now, or add some of these boosters. This makes enough for a 2-3 meals.
Include any of the following:
Ground Sunflower Seeds
Ground Flax Seeds (1/4 tsp when first introducing)
egg yolk (hard boiled)
tahini (ground sesame seeds)
fruit (banana, or applesauce)
2 Tbsp. any bean/legume flour (for a complete protein)
After cooking my cereal, I place a portion of the cooked cereal (1/2-3/4 cup presently) in a small pint size jar that fits on my blender (as pictured, read how to do this here) with any of the combination of ingredients listed above. It grinds them all together nicely without having to individually grind them! You can also grind seeds in a coffee grinder. I normally chose just one type of seed, 1 egg yolk (every other day as recommended in the book), and some sort of fruit. This is all grinded smoothly together in the blender and enjoyed by my little one! She absolutely loves this!
NOTE: For those who do not have a grain grinder, try cooking the grain on the stove (like you would rice), and then blend to puree in your blender or mason jar. (For 1/2 cup rice, use 1 1/4 cup water). If you cook in too much water, no big deal…you are making a porridge anyway! I often use this method because I will be cooking up some oatmeal for Aaron & I, and just pull out a portion for Karis. You can soak the grain in the water and kefir/whey/lemon juice as well, to receive that benefit.
Further Reading:
Flax Seeds for Babies – all the benefits