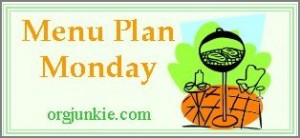 Monday
Prep: make yogurt, kombucha, soak oatmeal, make tortillas
Breakfast: Hard boiled eggs, Blueberry Crumb Muffins (replaced bananas with 1 cup blueberries & 1/3 cup applesauce – yum!)
Lunch: Peanut Butter & Jelly, applesauce
Dinner: Chicken Caesar Wraps, corn
Tuesday
Breakfast: Oatmeal
Lunch: Homemade Mac & Cheese, Green beans
Dinner: Chili & Cornbread, green salad
Wednesday
Prep: soak rice, thaw chicken, soak oatmeal, soak granola
Breakfast: French Toast, fruit salad
Lunch:  Chili over Hot Dogs
Dinner: Chicken Curry, Stemmed Veggie (green beans, corn, zucchini)
Thursday
Prep:
Breakfast: Oatmeal, apples, raisins, bananas
Lunch:  Egg Salad Sandwiches, green salad
Dinner: Dinner engagement

Friday
Prep: soak pancakes batter, soak lentils & rice
Breakfast: Fruit Salad, yogurt, homemade granola
Lunch: Quesidillas, applesauce
Dinner: Lentils & Rice Casserole

Saturday

Breakfast: Pancakes, fruit
Lunch:  Leftovers lentils into burritos
Dinner: Baked Potato Bar (with leftover chili)
For more menu plan ideas, visit Organizing Junkie.
Have a blessed week! We are looking forward to settling down a little bit and getting ready for the fall. I found a great deal on peaches at our local Thompson's Farm, and have to get them in the freezer this week for smoothies and such for the upcoming year. Also need to go out and pick some blackberries too! Storing up for the winter is so fun! Our tomatoes are starting to get big & red, so I am hoping to start enjoying them this week!