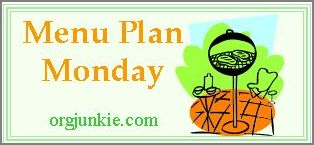 We had a wonderful 4th with family and friends and look forward to a church family campout this weekend!
Monday
Prep: soak pancakes for Tuesday, soak black beans for Tuesday
Breakfast: Kefir Smoothie, raspberry muffin or bagel
Lunch: leftover pizza, salad
Dinner: D.C. Chicken Salad
Tuesday
Prep: cook black beans
Breakfast: Pancakes, Oranges
Lunch: Salmon Melts, Cherries
Dinner:  Black Bean Wraps on Homemade Tortillas, Raspberry & Feta Salad (this didn't happen last week, so we are on again!)
Wednesday
Prep: soak oatmeal, thaw cod, soak kidney beans for chili, soak cornbread
Breakfast: Smoothie, muffin or toast
Lunch:  Quesadillas (with leftover filling from Tuesday)
Dinner:  Cod with Italian Crumb Topping, Salad

Thursday
Prep: cook beans
Breakfast: Oatmeal, apples, raisins
Lunch: leftovers
Dinner: Chili, Cornbread

Friday - Church Camping Trip (fri-sun)
Breakfast: Fruit Salad, yogurt, homemade granola
Lunch:  Peanut Butter & Jelly, oranges, apricots
Dinner: Chili Hot Dogs
Saturday
Breakfast: French Toast
Lunch: Tomato Soup, grilled cheese sandwiches, apples, apricots
Dinner: ??
Sunday
Breakfast: Granola
Lunch: Egg Salad Sandwiches