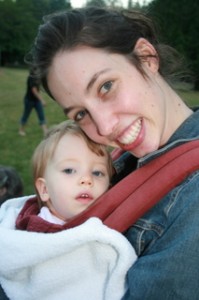 Wow! We had a wild weekend at our church camp out. It was very fun and lively, full of fellowship, food, Frisbee, basketball, swimming, and the like, but we greatly lacked sleep! Saturday night Karis decided not to go to bed till 2:30am, and we tried everything! I felt so bad for our nearby campers. It was refreshing to come home and all of us get at least 10 hours of sleep last night (Karis got 12 hours)! Praise the Lord! I guess Karis just missed her home! That being said, we are a little behind today…unpacking, cleaning up, and planning out the week, so here is my late menu plan.
Here are a few pictures from our camping trip: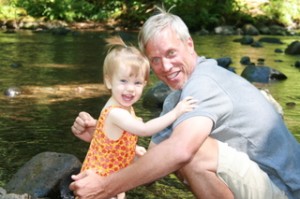 My dad and Karis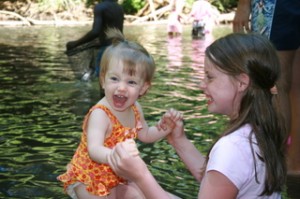 Karis and Auntie Brooke (my sister) – she loved the water!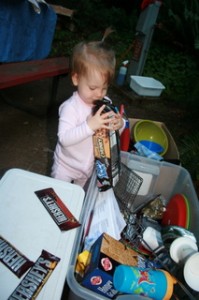 Karis getting into all our bad food for the weekend!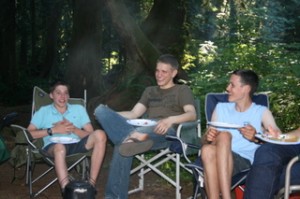 Aaron and my brothers – Dan & Sam around the campfire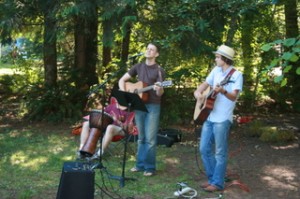 Aaron leading worship Sunday morning
Now on to the menu…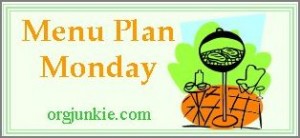 Monday
Prep: soak oatmeal and French bread for Tuesday, thaw rice from freezer, make yogurt, thaw bread
Breakfast: Kefir Smoothie, toast
Lunch: Grilled cheese sandwiches, tomato soup, grapefruit
Dinner: Stir Fry Vegetables w/Peanut Sauce over brown rice
Tuesday
Prep: bake bread, thaw spaghetti sauce from freezer
Breakfast: Oatmeal, raisins, coconut flakes, almonds
Lunch:  Egg Salad Sandwiches
Dinner: Homemade Spaghetti Sauce over Brown rice noodles, green salad (w/grated beets & carrots), easy French bread
Wednesday
Prep: soak bulgur, thaw curry sauce from freezer – and more chicken, soak lentils for Thursday
Breakfast: Smoothie, muffin or toast
Lunch:  Leftovers
Dinner:  Chicken Curry over brown rice, naan, sautéed corn, green beans & peas (double and bring some to friends with new baby)

Thursday
Prep: soak quinoa & black beans for Fri
Breakfast: Breakfast Bulgur
Lunch: leftovers
Dinner: Sweet & Sour Lentils

Friday
Prep: soak pancake batter for Sat
Breakfast: Fruit Salad, yogurt, homemade granola
Lunch:  Peanut Butter & Jelly, celery & carrot sticks
Dinner: BBQ Chicken thighs, quinoa & black beans, vegi of some sort
Saturday
Breakfast: Pancakes, oranges
Lunch:  ? Creative juices are lacking!
Dinner: Cod with Italian Crumb Topping, Salad
Sunday
Breakfast: Homemade Granola