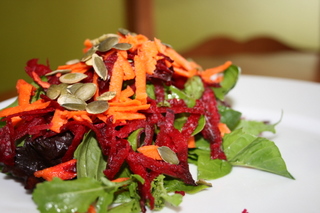 Did you know that cinnamon can help regulate blood sugar and cholesterol or that turmeric is the superstar of spices? How about the fact that pumpkin seeds are loaded with magnesium? I would have never thought that canned pumpkin is high in fiber and immune-stimulating vitamin-A! I can't wait for blueberries to come on!
Read this excellent article on 11 foods you probably aren't eating and how to start including them in your diet! The major bonus of these recommendations is that the majority come very low in price!
Number one on the list was beets! I love them grated on top a salad along with pumpkin seeds and grated carrots (as seen above)! Yum! Eating two of these powerhouses in one. It's so beautiful too, don't you think? Pumpkin seeds can be ground up in a coffee grinder to throw in oatmeal, smoothies, or pancakes!
Here is an awesome recipe for cabbage that we tried this week! Fabulous!

Browned Cabbage with Horseradish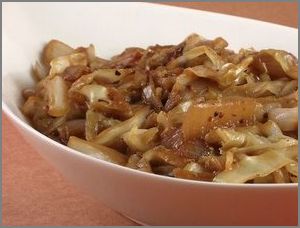 Serves 4
1 tablespoon butter
1 large onion, diced large
About 1 pound cabbage, sliced thin (1 pound is about half a typical head)
1 teaspoon sea salt
1 tablespoon mustard
1 teaspoon (or more) horseradish
1 teaspoon flour
1/2 cup water
Salt & pepper to taste
In a large skillet or Dutch oven, melt the butter til shimmery on medium high. Add the onion, cabbage and salt; stir til covered with fat. Allow cabbage to cook, covered, for 10 minutes, letting it brown. Stir only very occasionally. Meanwhile, whisk together the remaining ingredients. Stir into cabbage and let cook 1 – 2 minutes til cabbage thickens slightly. Season to taste and serve.

Original recipe & photo from A Veggie Venture
Any other ideas to help include these 11 foods more in your diet?