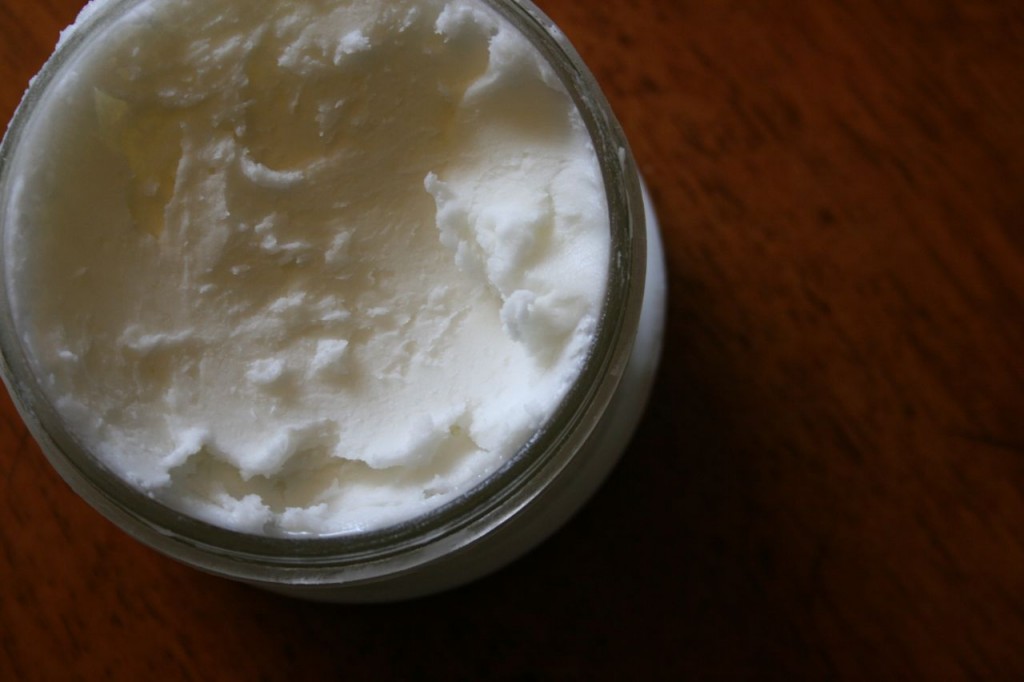 This is the top homemade recipe posts that I shared here on Passionate Homemaking in the very beginning that has been passed around the internet in incalculable ways, so I thought it was fit to re-share it with you all in our top 10 celebration! Did you get a chance to try it? Our family continues to use this recipe to this day.
Republished from March 21, 2008. Updated to include FAQ's, photo, and video tutorial.
Did you know that nearly all commercial deodorants contain aluminum salts, usually aluminum chlorohydrate? Manufacturers like aluminum because it effectively suppresses perspiration but the metal has a dark side once it makes its way into our body. Aluminum toxicity It has been linked to cancer, Alzheimer's Disease, and other health issues. It is especially important for women to take thought to the harmful aluminum materials in deodorant as it has been linked to breast cancer, being that the breast tissue extends up into the armpits.
Most commercial deodorants also contain parabens, which act as preservatives and stabilizers, but which like aluminum can be absorbed into the skin. Parabens mimic estrogen, and though the amounts we absorb on a daily basis might be small, over time, the accumulation can be significant.
Did you know you can make your own wonderful effective deodorant with just a few completely natural ingredients? This recipe is awesome! It's even edible! It is frugal and very effective! Aaron & I have been using it for over two years now, and it has worked wonders. It smells wonderful, but very faint. For years I tried every natural alternative on the market without much success. It has been successfully tried by hundreds of readers! Coconut oil is an all natural oil that has wonderful anti-bacterial and immune boosting qualities. It can effectively nourish and moisturize the skin. This recipe is also very frugal, costing less than a dollar per batch.
Ingredients:
6-8 Tbsp Coconut oil (solid state)
1/4 cup baking soda
1/4 cup arrowroot powder or cornstarch (arrowroot is preferred)
Directions:
Combine equal portions of baking soda & arrowroot powder/cornstarch.
Slowly add coconut oil and work it in with a spoon or hand blender until it maintains a firm but pliable texture. It should be about the same texture as commercial deodorant, solid but able to be applied easily. If it is too wet, add further arrowroot powder/cornstarch to thicken.
You can either scoop this recipe into your old deodorant dispensers or place in a small container with lid and apply with fingers with each use. Makes about 1 cup. This recipe lasts about 3 months for two people with regular daily use.
For a picture tutorial placing this recipe in an old deodorant container, visit here.
UPDATE (5/17/12): Today I tried using a immersion hand blender to make the deodorant, and it worked surprisingly well. It took maybe 10 seconds to combine the ingredients without a mess or heating and melting the ingredients too much, which is the main concern when using a electric mixing alternative. If it becomes too liquidy, it is difficult to apply, so limit your mixing to no more than 5-10 seconds for best results. It firmed right up when I let it sit for a bit in the storage container. Great option to simplify the process! 
Check out my video tutorial for a visual guide through this recipe. Excuse my nervousness….yes, this is the first time I have gotten behind the camera for this site!
httpvhd://www.youtube.com/watch?v=ar0BF6hMuGE
Frequently Asked Questions
Since the original publication of this post, I have received numerous repeated questions. I have compiled them all here.
1. I am having issues with an itchy rash under my armpits. Any solutions?
Baking soda can be an irritant for some people. Sometimes this may be a detoxing method of the body to remove impurities in your skin from previous standard deodorants. If you wait it out a few weeks, it may disappear altogether, as it happened with me. If not, try decreasing the baking soda by 1 Tbsp and replacing with more cornstarch/arrowroot powder. Itchiness can also often be related to applying this too soon after shaving. Wait an hour or two after shaving to apply. Add 1/4 cup shea butter or cocoa butter to the recipe for its healing benefits is another alternative. You also can try using arrowroot powder as it is more natural on the skin or make sure to choose a talc-free cornstarch. The final option is to apply a thin layer of aloe vera gel/juice to your skin for its healing benefits before applying the deodorant. It will help cool, refresh, and prevent irritations to the skin.
2. Can you use any other oils for this recipe?
It is possible to use other oils on this recipe, such as sweet apricot oil, but we do not recommend other oils simply because they are not as effective as coconut oil with its anti-bacterial benefits. Apricot or olive oil also remain liquid in form, and thus make this messy to apply. Coconut oil remains solid under 76 degrees, so it is perfect for deodorant. You can use palm oil as it is another natural oil that is solid at room temperature, but again not as effective as coconut oil.
3. Will this deodorant stain my clothes?
Not likely or not any more than a standard deodorant or antiperspirant. I have only noticed slight staining on white garments, but this can be avoided by soaking with soap after wearing and before washing. Dishwashing soap and hot water are very effective stain removers.
4. What kind of coconut oil can I use? Is there a recommended brand?

It is recommended to use a high quality coconut oil purchased from a health food store, if possible. I recommend Mountain Rose Herbs coconut oil for its superior quality and benefits. Other recommended brands include Nutiva, Tropical Traditions, and Wilderness Family Naturals. You can also use refined coconut oil, as that version is suitable for the skin but not recommended for consumption. Refined coconut oil will be cheaper in price.
5. Can I add essential oils to this recipe?
Yes, feel free to add various essential oils for the added scent, but beware that essential oils can cause irritations. Start with making a small batch to make sure you do not react. Tea tree oil is an excellent oil to add for its pleasant scent (men and women alike enjoy it), and it has great antibacterial qualities.
6. Is there any solution for preventing this from melting? (Note: coconut oil melts at 76 degrees).
If you live in a particularly warm climate, add a little melted candelilla wax or beeswax to the mixture. Store in your fridge, if necessary. For summer travel, I recommend storing in a cooler. Remove from cooler or refrigerator 10 minutes before use to allow it to soften slightly for application.
7. What's the benefit of using arrowroot powder over cornstarch?
You are free to use cornstarch or arrowroot powder as desired. Arrowroot is a more natural thickening agent alternative. I use arrowroot powder as an alternative to cornstarch in all my cooking. Arrowroot powder is available through your local health food store, Whole Foods, Azure Standard, or Bob's Red Mill.
8. I am allergic to coconut oil, is there any alternatives?
I have heard people experiencing success by replacing coconut oil with equal quantities of shea butter and cocoa butter. You can also use palm oil because it remains solid like coconut oil. Add a few drops of tea tree essential oil for the antibacterial properties.
9. I am heavy sweater? Is this an antiperspirant?
No, this is not an antiperspirant, so you will sweat but it will definitely be decreased quantities. Sweating is a natural bodily process that is necessary for health in removing toxins from your body. I am definitely a heavy sweater myself, but this deodorant works to remove the smells like nothing else I have ever tried. I do recommend multiple applications if you are doing strenuous work or exercise for it to be effective.
Learn more about the benefits of coconut oil and all its wonderful uses here.
To read all the reviews on this recipe, check out the original post here.
Please note: Passionate Homemaking is an affiliate of Mountain Rose Herbs (my coconut oil source) and receives a small percentage of each sale purchased through my links. I only recommend products that I have successfully use and can highly recommend.