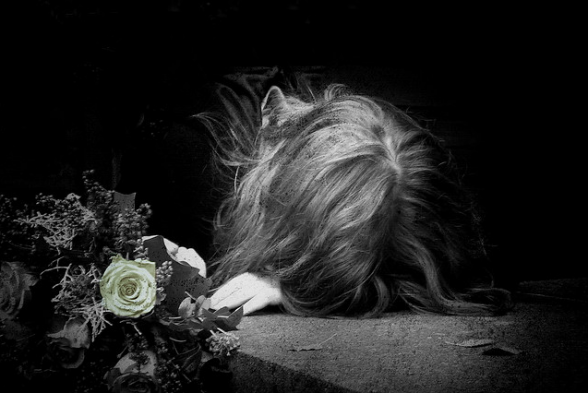 I have suffered from depression through various periods of my life, unfortunately as it seems to run in my family, but most recently during my extensive bought of 1 1/2 years with insomnia. I was extremely tired, weary, lazy, and unmotivated. You would often find me lingering in bed in the morning after a pitiful nights rest and desirous of doing nothing else but staying in my jammies all day and watching movies. I felt a darkness hovering over my spirit. A sick feeling in my gut that did not want to let go. Depression went hand in hand with fear and worry about the inability to sleep. Where can we find deliverance and freedom from these feelings?
Cling to the Savior
During periods of depression, there is little to no desire to read the Word or prayer. We are just trying to cope and find little strength there. But we must be persistent. We must wait on the Lord.  "But those who hope in the LORD will renew their strength. They will soar on wings like eagles; they will run and not grow weary, they will walk and not be faint." This what Isaiah 40:31 promises the faithful, the persistent. Don't give up even though strength might seem miles away. Press on to know the Lord in your deepest periods of darkness.
"Even though I walk through the valley of the shadow of death, I will fear no evil, for you are with me; your rod and your staff, they comfort me (Psalms 23:4)." This is your true, enduring, and faithful life-line. You will see a light at the end of the tunnel. God does not give more than we can bear (1 Cor. 10:13).
And don't forget to preach the gospel truth to your soul. Proclaim it from the housetops. Sing and worship with your voice. There is much refreshment and healing as we take our eyes of ourselves and focus on the beauty of our Lord. Read Romans 8:35-39 – no one can separate you from the love of Christ. I often clung to repeating out loud, "Why are you cast down, O my soul, and why are you in turmoil within me? Hope in God; for I shall again praise him, my salvation and my God." (Psalms 43:5).
Cultivate Thankfulness
It is easy for our eyes to focus on the depressing thoughts and events that surround us and lose sight of the little blessings. Count your blessings. Record them. What gifts has the Lord bestowed on you today? Adopt the recording 1000 gifts challenge and see God transform your thoughts and understanding. It can be the hardest thing to start. But in cultivating gratefulness there is further grace. Colossians 3:15 states, "And let the peace that comes from Christ rule in your hearts. For as members of one body you are called to live in peace. And always be thankful."
"The greatest thing is to give thanks for everything. He who has learned this knows what it means to live..He has penetrated the whole mystery of life: giving thanks for everything." - Albert Schweitzer
Do the Next Thing
The worst culprit I found for feeding depression was to linger in bed in the morning or sack out on the couch too frequently throughout my day. This is not to say you shouldn't rest, but guard against extended periods. Keeping yourself busy is an effective preventative against allowing your mind to wander into depressing thoughts. In these moments when I am struggling with fear, or simply the motivation to keep going, I like to read this poem:
"Many a questioning, many a fear,
Many a doubt, hath its quieting here.
Moment my moment, let down from Heaven,
Time, opportunity, guidance, are given.
Fear not tomorrows, Child of the King,
Trust them with Jesus, 'DO THE NEXT THING.'
Do it immediately; do it with prayer;
Do it reliantly, casting all care;
Do it with reverence, tracing His Hand
Who placed it before thee with earnest command.
Stayed on Omnipotence, safe 'neath His wing,
Leave all resultings, 'DO THE NEXT THING.'"
–author unknown
The simple step: do the next thing. This may be just getting out of bed and taking a shower. Or refreshing your soul by reading the word for 5 minutes. Or simply getting off the couch and changing that diaper. God's grace is sufficient if we are willing to get up, change our attitude, and do the next thing.
Be in Fellowship
The easiest thing for those who struggle with depression is to hide themselves and avoid the company of others. I discovered that there is such healing in being open and honest with your brothers and sisters in Christ. Don't try to hide it. This will only feed it more. Seek prayer. Seek support. Let others love on you. Take time to laugh with others. I found on many occasions that by just opening up and sharing my personal struggles, that I experienced release and freedom from the weight of it. We need the body of Christ. We need the support and fellowship of the body. This is one extension of God's grace to us.
"Let the word of Christ dwell in you richly as you teach and admonish one another with all wisdom, and as you sing psalms, hymns and spiritual songs with gratitude in your hearts to God." Colossians 3:16
Surrender
Ultimately, the place of deliverance and freedom for me has come from the place of surrender. I remembered Paul who graciously adopted his "thorn in the flesh" (2 Cor. 12:7) as the Lord's means of purifying and maturing him in godliness. The Lord revealed to me that I had been striving for healing and restoration all in my own strength. Yes, I certainly had been crying out for mercy, and depending upon him daily for strength, but ultimately I was looking to the next natural remedy to give me sleep, to release me from depression. I tried every concoction and recommendation possible, offered through meaningful family, friends, herbalists, naturopaths and sleep specialists, and more often then not, they would simply get me more discouraged and depressed because of their uselessness.
I had to come to a place of surrender. If God wanted this to be my "thorn in the flesh" for the rest of my life, then I could choose to embrace that and walk in His joy and grace, or alternatively continue in this path of hopelessness. I knew that if I fully released my efforts, my striving for healing, and let go, there would be peace, whether I was restored or not. And I can testify to that amazing grace. God helped me experience freedom.
Natural Remedies
I have experienced various help from supplementing with these following remedies for helping keep my hormones and feelings in check. But ultimately, we cannot depend upon them for our hope. Our hope must be first and foremost in God alone.
Get Some Fresh Air
Try to get outside for some good exercise each day. Even if it's just a quick 15 minute walk around the neighborhood while your little ones nap, you will find great refreshment for your soul. Get outside and enjoy the beauty of God's creation.
Fish Oil
I have found supplementing my diet with cod liver oil or fish oil has been extremely helpful for balancing my hormones. I supplement with Nordic Naturals DHA oil and take two tablets daily. During pregnancy, I am taking Nordic Naturals Prenatal DHA because it has so many good benefits for healthy infant development in addition to mood and nerve support for mommy.
B Vitamins
B vitamins are essential for balancing your nervous system and stress levels. I take 1 tablet of Wild Harvest's Stress Guard but any B multi-vitamin is very helpful for this. Dark green leafy vegetables are high in vitamin B as well. Green smoothies are an easy way of boosting these in your diet.
Flaxseeds
Flaxseeds are great hormone balancers with their high level of omega-3 fatty acids. Eat them raw, freshly ground in a coffee grinder, over oatmeal, yogurt, or various cereals, in smoothies, etc.
Develop a Peaceful Evening Routine
I have also found it helpful to establish a peaceful evening routine. I stopped getting on my computer or watching any possible intense movie (whether action packed or overly dramatic) that might get my mind going full speed or put my emotions in an upheaval. You just have to be guarded as to what you fill your mind with. Give yourself a good stretch of time to wind down from the day. Avoid staying up too late, as the best hours of sleep are between nine and midnight. Reading myself to sleep with a calm peaceful book, or simply the Psalms, has been most effective for cleaning out my mind and allowing it to rest from the days activities and get a better night's rest.
Let me leave you with this quote:
"Therefore, depression, regardless of the causes, is a time to answer the deepest and most important of all questions: Whom will I trust? Whom will I worship?" - Ed Welch

Sometimes there will be no answer as to the reasons that you might be suffering from depression. Sometimes God doesn't clearly define the why. Your struggles and solutions likely will be different from mine. But He does supply the grace to help us acknowledge where we can put our trust. And the only true and lasting foundation is the Lord Jesus. He is a solid rock upon which we can stand.
Additional Reading
For excellent spiritual encouragement on the topic of depression, I highly recommend Depression: A Spiritual Darkness by Ed Welch. For the life of me, I did not want to read this through my various bought of depression, but the Lord really convicted me again not to depend upon my own strength. I read it and found such encouragement!
Treating Depression Naturally by Keeper of the Home