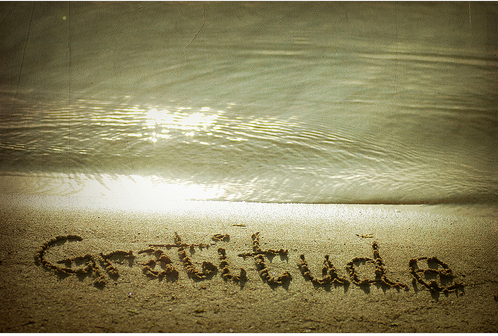 Photo Credit
One of my goals this year was to become a radically thankful woman. I know in my heart that thankfulness is key to true joy in this life. I know that I could truly experience the fullness of life when my heart chose to purposefully focus on the good. I know my life could bring honor and praise to my Creator, and attract a watching world around me, when I was thankful and did not take for granted the precious gift of this life. This is my quest.
And yet so often, I falter in depression. I stumble into focusing on my little daily troubles – the ever growing laundry pile, the messy toys thrown here and there, and the financial struggles of staying within our budget. I loss sight of the good…I loss sight of the beauty all around me.
Since meeting Ann Voskamp at the Relevant Conference this last month, I have been challenged again and again by her life and witness. Her mission has been to list out one thousand gifts – watching, recording, and naming all the sweet little gifts that God bestows each and every day that we so often pass by without a second thought. She has desired to see and savor every moment. It is a list of one thousand gifts. Not what she wants. But what she has.
"I don't need more time to breath so that I may experience more locales, possess more, accomplish more. Because wonder really could be here – for the seeing eye."
I have witnessed her passion and I can see the way it has changed her life. By focusing on every little gift, through the thick and thin, she radiates such true joy that speaks clearly through her speaking and writing. I am eager to follow in her example. She has now surpassed one thousand and is into the second thousand, but she continues to write, and observe each and every day, what sweetness the daily grace that God supplies. Observing every time God whispers "I love you" in the here and now.
I started my very own gratitude journal earlier this year, but have strayed. This month I am starting anew. I have my little notebook. I keep it with me throughout the day. I jot down little gifts here and there. And my life is already beginning to be transformed. Praise is what I was made for!
"The holy grail of joy is not in some exotic location or some emotional mountain peak experience. The joy wonder could be here! Here, in the messy, piercing ache of now, joy might be – unbelievably – possible! The only place we need see before we die is this place of seeing God, here and now."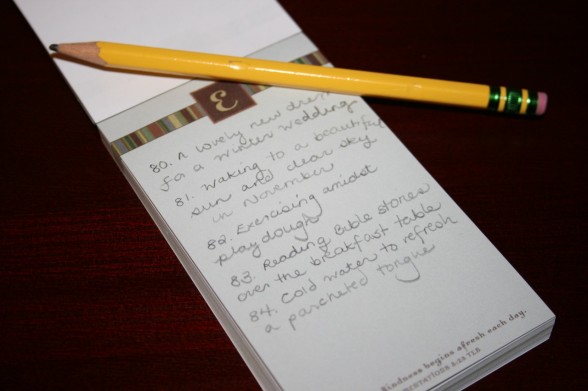 My goal is to record 1000 gifts over a period of 6 months – which equals out to recording 5 gifts per day. I know as I get going, and I pray God transforms my eyes to see the beauty all around me, that I will quickly surpass this goal as I get enraptured by these gifts. I am joining the Gratitude Community and will be sharing my gifts via twitter and collectively here every month during my monthly family journal. Will you join me?
Ann shares in her amazing book, One Thousand Gifts, (coming in January) that the last thing Jesus did before facing His death was sitting down, breaking bread, and giving thanks (Luke 22:19). In the Greek, it is eucharisteo. It means thanksgiving. At its root it means grace and its derivative is joy. This deep joy is found only at the eucharisteo – the table of thanksgiving. We start our week at the table of thanksgiving and communion at church. We take bread every day. These are moments and opportunities that Jesus intended for us to give thanks. The act of eucharisteo – thanksgiving- always proceeds the miracle (John 11:41). It is the central symbol of Christianity. True wellness and completeness is promised to the one who gives thanks (Luke 17:17-19).
We will enter into the full life when we habitually practice and learn the art of giving thanks. It is a hunt – a journey – a discipline. But this is where true contentment is found.
"The greatest thing is to give thanks for everything. He who has learned this knows what it means to live..He has penetrated the whole mystery of life: giving thanks for everything." - Albert Schweitzer
And thus I begin…
#1 – The sweet moments in the early morning reading the Word with my husband
#2 – The delight of cuddling in his strong arms
#4 – A warm house that shelters from the storms outside
#6 – The sweet joys of smothering my little ones with kisses
#8 – Talking until I fade into oblivion
#10 – The glorious ability to read and enter so many different worlds
#16 – Meeting new people and new friendships sprouting
#18 – Two freezers full of food
#25 – The first "please" that comes from my little boy's mouth learning his manners
#26 – The precious "I love you, Mommy" initiated by my girl
I started on November 1st and have already surpassed 100 gifts. There is so much to be thankful for when we slow down, stop, and simply observe. It is beautiful!
The quotes above are all taken from Ann's book, One Thousand Gifts, a book that I highly recommend, one that is transforming my life. I was blessed to receive a digital copy as an attendee at the Relevant Conference. It is set to be released in January 2011, so add it to your wish list!