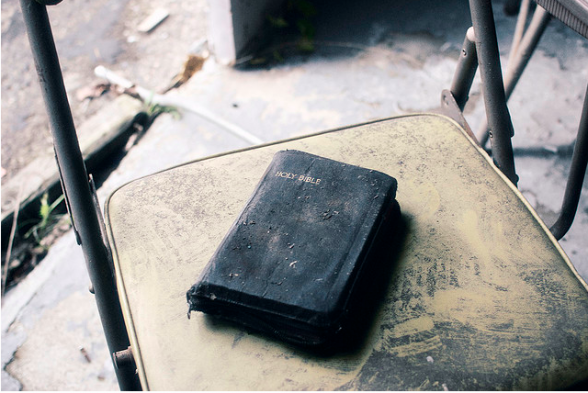 "I saw more clearly than ever, that the first great and primary business to which I ought to attend every day was, to have my soul happy in the Lord. The first thing to be concerned about was not, how much I might serve the Lord, how I might glorify the Lord; but how I might get my soul into a happy state, and how my inner man may be nourished . . . I saw that the most important thing I had to do was to give myself to the reading of the Word of God and to meditation on it."  –George Mueller, Delighted in God

As a wife and mother, I am acutely aware of my desperate need for fellowship with my Lord in preparation for my day. How else will I find strength to face the next battle, fight, or attitude from my children that needs to be guided towards repentance? How else will I be able to train their precious hearts to love Jesus? Can I expect them to desire to follow Him if I don't demonstrate my utter need and commitment to Him by seeking His fellowship? How else will I be able to withstand the cultural temptations to consume my time on the internet, television, beautifying myself, or other carefree hobby? And most importantly, is there anything else that is of true lasting value that can make my soul happy and satisfied? I am a sinner in desperate need of a Savior. And He is a loving Savior that loves me, cherishes me, adopted me, and paid for my sins, so that I can enjoy eternal, free, and open access to His presence. I simply have to come and sit at His feet.
Is it possible to spend time with the Lord when I am rising multiple times a night to nurse or care for a little one? Dear sisters, it is not only possible, but it is essential. We serve a mighty and gracious God who called the world into motion, and He can certainly guide you to discovering the right time, place, and plan for your personal communion with Him. It will be something we have to fight for, but the reward is well worth it. We will find strength to persevere through multiple battles of childhood illnesses that seem never to cease, to graciously address the heart issues and temptations of our children even when no end seems in sight, to be the godly help meet our husband needs even though he may not deserve it, and to demonstrate to a watching world that we are in love with a beautiful Savior that is worthy of ours and their adoration.
In order to cultivate this habit, we must plan. We must choose a time, place, and reading method. As John Piper shares: "Most Christians neglect their Bibles not out of conscious disloyalty to Jesus, but because of failure to plan a time and place and method to read it."

Time
"I earnestly recommend that it be in the early morning, unless there are some extenuating circumstances. Entering the day without a serious meeting with God, over his Word and in prayer, is like entering the battle without tending to your weapons. It's like taking a trip without filling the tires with air or the tank with gas. The human heart does not replenish itself with sleep. The body does, but not the heart. The spiritual air leaks from our tires, and the gas is consumed in the day. We replenish our hearts not with sleep, but with the Word of God and prayer." – John Piper, When I Don't Desire God
Mornings may be difficult for you, and there is grace to adjust to your family's needs, but that quote is definitely compelling, and I have personally experienced these benefits. Even if you start waking up 15 minutes earlier each day, you will have 15 minutes to dine at the Master's feet. Other means of getting the Word into your heart throughout the day might be: Download an audio version of the Bible to listen to throughout your day. Place a Bible in key areas throughout your home where you spend the majority of your time – the kitchen sink, the bathroom, the changing table. While at these locations, glance down and mediate on a verse. Get creative! During one season, I had my Bible on my ipod and would read during my early morning nursing period.
Your children may be at an age where you can start helping them develop their own quiet time. Guide them in learning how to pray, look at Bible story books (Jesus Storybook Bible, Big Picture Story Bible), listen to a CD of Christian music, watch a Bible story DVD, or color Bible story pictures. I remember using Keys for Kids when I first launched into my own quiet times. They are free and can be ordered in paperback copies or downloaded on the web. While they do that, you can have your own quiet time.
Place
"Pick a place of seclusion…. It needs to be secluded so that you are not distracted, and so that you can speak out loud and sing and cry. If your family situation or home does not have such a place, then create it, not by space, but by rule…. One saintly mother (Susanna Wesley) with a large brood of children (mother of 19) would use her apron to make a tent for her head and her Bible at the kitchen table and the children were taught, when mother is in her tent, make no noise." – John Piper
I love that quote! If it is there is no quiet moments, then we can glean from Mrs. Wesley's example of defining the space through training our children. Do you have a favorite comfy chair? Add a little nightstand to hold your Bible, journal, and pens. I will never forget observing the frequent occasions as a child when we would discover our mother spending time with the Lord in the front seat of the family car in the driveway. She was close enough to manage in the case of emergencies, but far enough away to enjoy some peace and solitude. With a family of eight children, she learned to adapt to make it still her priority. Even now, my devotions may be very well surrounded by my little ones (with my son often waking at 6:45am), but we are teaching them to play quietly near by. They are observing that I am making it a priority, that it is important to me. My children are not first in my life. Jesus needs to come first.
Method
Without a plan it is easy to loose focus, routine, and develop more a hit-and-miss approach. One tool I have used for years is the The Discipleship Journal Bible Reading Plan. The design is to read daily from two Old Testament and two New Testament books. During busy seasons of young motherhood, I have chose to read one of the Old Testament portions and one of the New Testament portions each day, and followed the next year with the other two columns, thus completing the Bible in two years.
Justin Taylor links to ten different Bible reading plans offered by Crossway Books and other sites. Chose a method that works for you, print it out, and put it with your Bible. You don't have to wait till the beginning of the year either. Simply start on the current date and make your way through.
If you are new to developing your own daily devotion time or would like further inspiration, I highly recommend you check out Nancy Leigh Demoss' book, A Place of Quiet Rest: Finding Intimacy with God through a Daily Devotional Life.
"The moment you wake up each morning, all your wishes and hopes for the day rush at you like wild animals. The first job each morning consists in shoving it all back; in listening to that other voice, taking that other point of view, letting that other, larger, stronger, quieter life come flowing in." - C.S. Lewis, Mere Christianity
Other Recommended Resources:
When I Don't Desire God, How to Fight for Joy by John Piper
Shopping for Time by Carolyn Mahaney
What works for you?