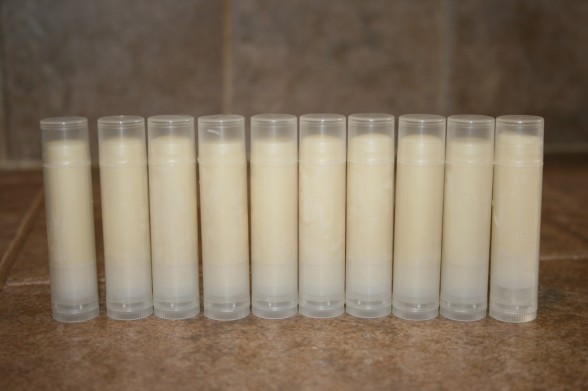 I frequently experience dry and chapped lips and often use chapstick as a means of solving the dryness and providing me with moisture and comfort to my lips. Today, I want to share with you a simple tutorial on how to make your own chapstick with 3 completely natural ingredients. They happen to be my favorite: shea butter, coconut oil, and beeswax. These ingredients help moisturize, sooth, heal, and restore dry lips naturally. They grow in creation and team up together for a very effective lip balm! The balance in the ingredients gives it a very moisturizing and non-greasy affect. It blends into your lip in a matter of a few seconds and does not leave a glistening oil appearance. This recipe is so easy, it would make great Christmas stocking stuffers. And the beauty of it is that this simple recipe also makes a fabulous hard lotion bar – perfect for dry and cracked skin. You can easily make a smaller or larger quantity as desired. Any extra can be made into a hard lotion bar by pouring into ice cube trays.

Ingredients:
2 Tablespoons beeswax (about 1 oz)
2 Tablespoons coconut oil
2 Tablespoons shea butter
12 lip balm containers
dropper
Directions:
1. Melt beeswax in a small pan or crockpot over low heat. Add coconut oil and shea butter until all ingredients a melted. Add a few drops essential oil if desired. I did not use any essential oil and it is smells wonderfully like honey!
2. Using a small medicinal dropper, pour the melted liquid into your lip balm containers. Add a few extra drops to the top after filling each container as the ingredients will shrink as they cool.
3. Cool completely to harden. Cover with cap and decorate or label as desired.
Enjoy nice cool and refreshing natural lips!
I purchased all the ingredients, including dropper and lip balm containers from Mountain Rose Herbs.
This video is offered courtesy of Made On Hard Lotion bars, where you can purchase these lovely lip balms already prepared for you!