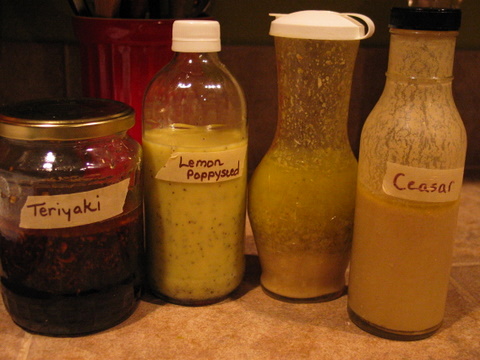 (Oops…I spelled Caesar wrong on my label! Hope nobody notices)
I must admit, I was way behind on making my own dressings…over the last few weeks we have been using balsamic vinegar and olive oil for dressing, because the frig was bare of any dressings at all. This is a good alternative if you don't have any on hand…but then I wanted to post on the topic of dressings today in continuation of the Make it Yourself section of the Natural Living on A Budget series, so I rushed down into the kitchen and threw my favorite recipes together!

That's the truth. Just for you! Save on your food budget by making your own yummy dressings! Store bought dressings are steeply priced and often have added unnecessary preservatives and lots of sugar.
Today…Teriyaki Marinade, Ranch, Italian, Ceasar & Poppyseed Dressings!
Teriyaki Sauce
Makes 3/4 cup (Nourishing Traditions)
1 Tbls. freshly grated ginger
3 garlic cloves, mashed
1 Tbls. toasted sesame oil
1 Tbls. rice vinegar
1 Tbls. raw honey (I prefer mine sweeter, so I added about 4 Tbls of honey)
1/2 cup soy sauce
This is a wonderful marinade for chicken, meatballs, etc! I double the batch to last longer.

Ranch Dressing
Although this dressing is not pictured, as I did not make it this time around (due to running out of mayonnaise), this is a good thick ranch dressing, especially tasty for dipping with raw vegi's!
1 cup mayonnaise
1/2 cup sour cream
1/2 tsp dried parsley
1/2 tsp. dried dill weed
1/4 tsp garlic powder
1/4 tsp onion powder
1/8 tsp salt
1/8 tsp ground pepper
Creamy Lemon Poppyseed Dressing
1/3 cup honey
1/2 cup lemon juice
1/4 cup mayonnaise
1 tsp. Dijon-style mustard
1/2 tsp salt
1/3 cup olive oil
1 Tbls. poppy seeds (I always add more! Anyone know if these are good for you? I have always wondered…)
This is wonderful served over a spinach with any sort of fruit salad!
Italian Dressing
1 cup olive oil
1/4 cup apple cider vinegar
1 teaspoon Italian seasoning
1/2 teaspoon paprika
1/2 teaspoon garlic powder
1/2 teaspoon onion powder
1 teaspoon grated Parmesan cheese
Caesar Dressing
1 cup olive oil
1 Tbls. red wine vinegar
1/4 cup lemon juice
1 Tbls. Worcestershire sauce
2 Tbls. anchovy paste
1/2 tsp dijon style mustard
1 clove garlic
3 Tbls. sour cream
1/2 cup grated Parmesan cheese
I may try adding an egg yolk next time around…
I prefer a lot of variety in my dressings, but if you like to keep it more simple, go with the basic Italian listed above and use it for everything…Have fun!