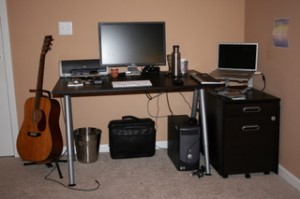 Aaron's new and improved office!
We have been completing our home office organization over the last few weeks. Aaron works from home, so not only do we manage organizing his business materials but also the home bills and paperwork. Here are a few things that we found helpful in the process of simplifying and eliminating a lot of excess materials.
Here's a little secret tip (which actually applies to most organizing projects around your house and life)…simplify before you organize! Rather than first choosing an organizational systems among all the "wonderful" products on the market and spending a lot of money and time trying to figure them out, start by just reducing the excess! More often than not, if you simplify enough, your office will organize itself!
1. Choose a small desk and storage space
We formally had a large corner office desk, which meant more of a tendency to stack up piles of papers. Switching to a smaller variety, keeps us more motivated to maintain the clutter and stay organized. We also went from two filing cabinet drawers to one unit with a file drawer and three regular drawers. A larger desk or storage space gives the feeling that you have more room to collect stuff.
2.  Remove everything
We found it was very helpful to completely remove all our files and empty all the drawers completely. This way we were forced to sort through and decide what needs to go and what should stay as we put things back.
3. Simplify your file cabinet
Scan your documents – Thanks to Aaron's brother (who also lent us the scanner!), we received the idea of copying over all of our important documents to our computer using a simple scanner and back them up on the hard drive. This enabled us to really weed through years of old paperwork, bills, and the like. The important documents are now easily accessible on the computer if we ever need them.
Manuals - We also found that we had a huge folder of miscellaneous manuals from different household appliances and tools. Come to find out, most of these are available in pdf version online directly from the manufacturer. That sure cleared out a lot of space! They went into the recycling.
Bank/Credit Card Statements/Bills - most companies now offer paperless statements which can be sent to your email inbox and viewed online. Choosing online versions of your statements significantly helps to reduce paper waste. Check out the websites of the companies you use and make the switch!
File Folders – In organizing our file cabinet, we have several main labels on green file folders, including for example: medical, investment, insurance, bank statements, taxes, etc. If there is need of further division, we use yellow manila folders. For the insurance main file folder, we have sub-categories for home insurance, life insurance, car insurance, etc. If desired, file your folders alphabetically to find things more quickly.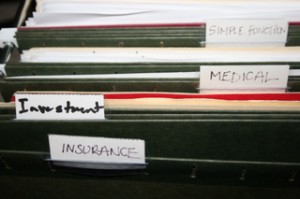 4. Use drawer organizers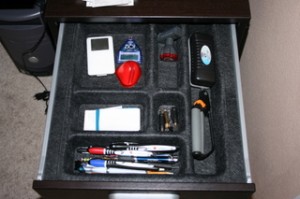 To keep all those miscellaneous pens and such, use a drawer organize. It makes these smaller tools easier to find.
5. File immediately or recycle
Only pick up your mail once! Place it in the recycling or file immediately. Keep a "TO PAY" folder for such bills.
What tips do you have to share in simplifying the home office?