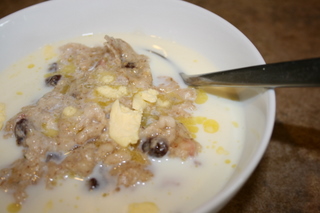 Why not our own little tutorial for enjoying the goodness of oatmeal, not only is it nutritious, but it is extremely frugal! I have found the soaking benefits to be very worthwhile and simple. If you are not familiar with the benefits of soaking, please read here. Basically soaking helps to break down phytates in grains which prevent proper digestion of the nutrients. Soaking breaks down the phytates and allows the body to properly absorb all the good content of those whole grains!
Besides the benefits for digesting, soaking also accomplishes a few other helpful things:
- Decreases cooking time – after soaking, you can cook up a batch of oatmeal in less than 5 minutes! Unsoaked oats can take anywhere from 15-25 minutes to cook.
- Provides a porridge texture – we love the porridge consistency of soaked oatmeal. It is not dry like standard oats, but is very smooth and delicious!
- Expands -thus stretching the oatmeal and you get more for your dollar! When you soak oatmeal it absorbs water, thus expanding and becoming more filling at the same time. Whereas unsoaked oatmeal only barely serves two of us (with the following recipe), the soaked version with make 4 significant hearty portions. That's a frugal way to go with just a little foresight!
Soaked Oatmeal for 4 (multiply as desired)
1 1/2 cups uncooked rolled oats
1 1/2 cups water (to just cover the oats – see picture)
1 Tbsp acid medium (kefir, whey, or yogurt)
1/8  cup ground whole wheat flour (this helps break down the phytates more quickly, according to this article)
1-2 Tbsp ground almonds or other nuts (we use a coffee grinder dedicated to grinding nuts and seeds!), optional
Other toppings: ground flax seed, pumpkin seeds, chopped apples, raisins, shredded coconut flakes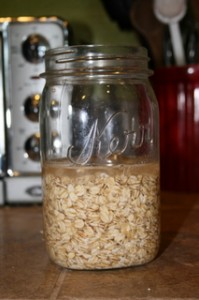 1. I find it easiest to soak my oatmeal in a glass quart size jar. I fill with the oats and just cover slightly with fresh filtered water. But you can use any various container.
2. Add your acid medium, and nuts, as desired. Soaking the nuts help break down their unique phytates as well.
3. Cover with lid and shake to combine. Easy! Takes a matter of 3-4 minutes to get those oats soaking away. Put in a cupboard and allow to soak.
Ideally, it is best to soak oats for 24 hours, because they have the highest level of phytates. Oftentimes that doesn't happen at our house, but I try to at least get it soaking the night before to get a good 12 hours in.
After soaking, heat up an additional 1 1/4 cups of water. After it boils, add the soaked oats, and any additional toppings you desire. We love chopped apples, raisins and shredded coconut. Turn down temperature to a simmer, and allow to cook for 5 minutes or so. Remove from heat and top with ground flax seeds, if desired.
Serve with butter, honey and fresh milk for a wonderful nutritious breakfast!
The flax seeds and nuts increase fiber and protein! Great for pregnant mommies too!
Visit Tammy's Recipes for further kitchen tips.