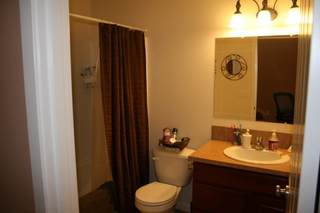 On the counter: toothbrush holder, toothpaste dispenser, soap dispenser – that's all!
Welcome back for further simplifying tips for every room of your house…last week, we discussed the kitchen, and today, we enter the bathroom! Normally this room is piled high with various body, hair and facial products. I have been there! Items that just make this room look so cluttered. How can you simplify? Preparing for this post got me extra motivated to get more organized in the bathroom – I even pulled out a few items that needed to go! Remember every little baby step you take to simplify your life will open up time to focus on the important things – investing in family and the lives of others!
1. Baskets
As you may know, I love using baskets for organizing my home. I use a simple basket on top of the toilet which holds all our bathroom supplies that are normally in daily use, rather than cluttering the counter with them all. Any other product, whether it be duplicate items from a sale, or not used as frequently are stored under the bathroom sink. My basket includes coconut oil (uses listed below), deodorant, Aaron's shaving cream & aftershave (which is slowly weeding out and being replaced by coconut oil), and my makeup. Now if I can keep it so nicely laid out in this basket!

I need to work more on putting things away when I am done using them – rather than leaving my makeup scattered around the counter!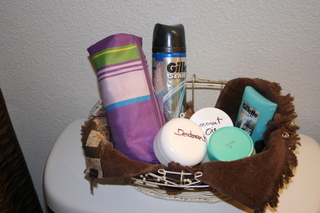 2. Bathroom Cupboard & Drawers
Remove anything that is not being used. Organize in baskets. Medicine in one, jewelry in another, hair pins in another. I used something I had on hand – small little tea cups to sort my goods. The rest of my earrings/necklaces hang in our closet.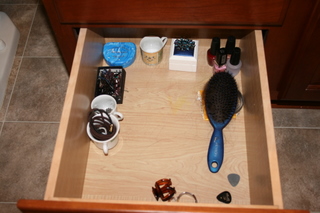 3. Towel rack or basket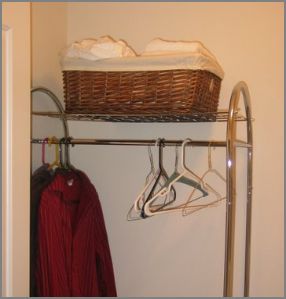 Store your towels in a basket or shelf, folded and ready to go. It could be hanging or not. I keep them in the laundry room, but if you have room in the bathroom you could set up a little shelf above the toilet for this purpose as well. Keeping just two sets of towels will keep it simple. Wash one and use the other set, rotating weekly. Wash with your whites or colors and simplify your laundry!
4. Consolidate your products
Do you really need three different types of shampoo? Or might one product serve multiple needs? How about all in one shampoo and conditioner? Do you have any products that haven't been used in a while? Remove them altogether. I am seeking to provide quality natural ingredients for our bodies. What you put on your skin is just as important as what you eat, as it will penetrate your body in a matter of minutes. Test this by rubbing garlic on the bottom of your feet. In a matter of seconds you can taste it in your mouth. As many natural products are rather expensive for my budget, I have come up with a few more frugal alternatives that have simplified our body products significantly.
Coconut oil can serve so many different purposes (all in one type of product!)- conditioner, aftershave & lotion/moisturizer. It works as well as a natural curling gel for me and regular hair gel for Aaron!
Another frugal natural option is getting rid of shampoo and conditioner all together as discussed here.
I have shampoo (homemade in the spray bottle – still experimenting before sharing the recipe

), coconut oil for conditioner (put on our hair after we take a shower -stored in basket on toilet), Dr. Bronner's bar of soap, shaving cream, and razer in the bathtub, and that's it!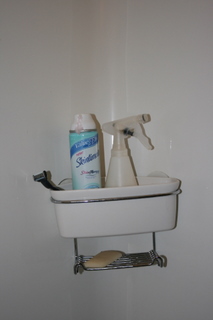 If you have multiple family members that must use different products (try all these other options first!), try this idea: Have a box for each one of them with their specific products. The key – they must take them with them and store in their room, rather than loading up products in the bathroom. Keeps it organized and no complaining about using someone else's product.
5. Baby Bath – toys & such
Do our toddlers really need a huge bag of toys for the bath? I've always found my little lady is quite happy with 2 or 3 little toys. Choice safe plastic toys (without PVC). This keeps a lot of clutter out of the way! We have a fun little bathtub that works great for Karis from day one!
We use one product for Karis – Dr. Bronner's baby mild soap bars along with some simple baby wash clothes. These work great for her hair and body! No need for multiple products here either.
Why should we simplify our lives? For the glory of God! Live simply in order that others may simply live!
Any other ideas for simplifying the bathroom? I would love to hear them! Any one have a natural alternative to shaving cream or a natural brand recommendation? Slowly weeding out this product as well!
Mountain Rose Herbs has the best price for coconut oil and it is simply fabulous for many uses!