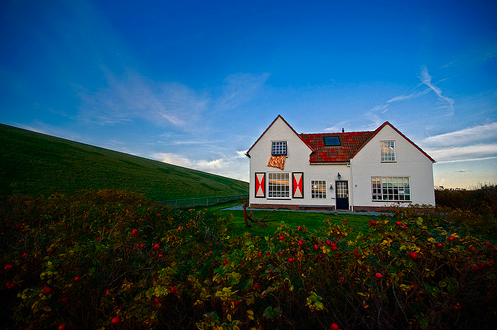 What is the significance of the home? What kind of place did God design it to be like? In this day and age, people invest thousands upon thousands of dollars in a home, and for what? Is it simply to provide temporary comfortable or to look good before our family and friends? Could there be more significance to the way God intends for us to live within our homes? These are questions that have been on my heart and mind lately. Without vision and purpose to our homemaking, we can loose sight of the eternal significance of this role.
As a result of these questions, I purposed to read every reference in the Bible to the words "home" or "house" or "hospitality", and I was blown away by what I found. My perspective of the use of my home was far too small. God has such amazing potential for your home! You have a glorious opportunity to adopt these holy purposes:
1. The home as a place of rest.
My home, first and foremost, should be a place of rest from labor (1 Kings 8:66, 12:24, 13:7; Psalms 126:6), refuge (Josh. 20:6; 2 Kings 14:12; 2 Sam. 18:17; Zech 10:10), and refreshment for my husband and children. This is most common purpose indicated through the Bible. It was intended to be a place of joy (2 Chron. 7:10; Psalms 126:6), a place to make happy with your spouse (Deut. 24:5). Can my family find rest in my home? Or is there constant tension or turmoil? Is there too much clutter that the body cannot rest?
My home should be a place to welcome home my husband in celebration style. The women of old welcomed back their men in joyful celebration from the battlefield (1 Sam. 18:6). Our husbands face many battles at work throughout their day, conquering challenges, guarding against temptation, and have successfully brought home the bacon! Therefore; he deserves a joyful welcoming. Do I welcome my hubby home with a shout and joyful excitement? Does he eagerly look forward to coming home?
2. The home as a place to cultivate learning.
It should have a continual atmosphere of learning and teaching of both knowledge and Biblical truth. "And you must commit yourselves wholeheartedly to these commands that I am giving you today. Repeat them again and again to your children. Talk about them when you are at home and when you are on the road, when you are going to bed and when you are getting up…Write them on the doorposts of your house and on your gates." (Deut. 6:6-9) Is truth being taught and cultivated daily in my home? Am I seeking to train and teach my children in everything we do? What kind of lessons can I teach while we clean together, prepare meals, and cultivate the home?
3. The home as a holy place.
It should be guarded from all things that might taint the holy dwelling. It is designed to be a place of protection for sinful temptation. A place where nothing abominable might dwell (Deut. 7:26). Are there any destructive influences coming into my home through books, technology, internet, or television?
4. The home as a place where thankfulness dwells.
It should be a place where we testify of the Lord's goodness to our family, friends, and neighbors (Mark 5:19; Luke 15:6). We see the New Testament believers sharing meals, breaking bread, and celebrating together (Acts 2:46). Great generosity, sincerity, and thankfulness abounded in the home. Does an atmosphere of thankfulness pervade my home? How can I be more purposeful in cultivating a spirit of joy and gratitude in my home? Is the conversation around our dinner table one that encourages and blesses others, that acknowledges God's work in our lives?
5. The home as a place to welcome strangers, refugees, the homeless, and hungry.
I was struck repeatedly by the numerous references to the home as a place to welcome strangers. The word 'hospitality' literally means: 'welcoming strangers'. We see Lot looking around at the entrances of the city to welcome any stranger into his home (Gen. 24:23,31), and Abraham running up to strangers and welcoming them to his tent for a meal and refreshment (Gen. 19:2-3). If we feed the hungry and provide a home for the homeless, the promise is that 'salvation will come!' (Isaiah 58:7). So not only is the home to be a place of rest for family, but also for strangers, foreigners, and refugees.
Feasts of generous proportion should be offered amongst an atmosphere of reflecting on God's goodness (Prov. 23:6-8; Prov. 9:1-5; Gen 26:30; 1 Tim. 6:18). As soon as Levi becomes a follower of Jesus, we see him practicing hospitality by holding a mighty feast/banquet in his home and welcoming Jesus and all his friends (Luke 5:27-31). This was not natural for him. It took effort, preparation, and generosity.
The Israelites were called to remember that they were once foreigners and aliens, and therefore to love others as they loved themselves (Lev. 19:34). Offering hospitality was a moral imperative. We all were once strangers and refugees who were graciously taken in by God (Deut. 10:19). There ought to be no loneliness in the home, but rather comfort and joy should overflow. How often do I eagerly run like Abraham to welcome others into my home? How often do I extend generous hospitality to someone new, lonely, or homeless?
"Don't forget to show hospitality to strangers, for some who have done this have entertained angels without realizing it!" (Hebrews 13:2)
6. A place to minister to the church, missionaries and evangelists.
"When God's people are in need, be ready to help them. Always be eager to practice hospitality" (Romans 12:13). Throughout the New Testament we see people opening their homes to missionaries to find rest and refreshment (Luke 10:38-42; Acts 16:15), as demonstrated by Martha & Mary, and Lydia.
7. The home as a place that reflects our eternal home.
Lastly, our home should always be viewed as a temporary dwelling and an image or reflection of our eternal home (Hebrew 11:14; 2 Cor. 5:1, 8-9). It should not be a place we store much treasure in. The way we offer hospitality should image the glorious celebration that will take place at the end of the age. When people come into my home, they should sense the presence of the Lord. They should sense the joy and celebration that comes from living for Jesus. It should be a taste of heaven.
Wow! The potential you have for the use of your home is incredible. Are you willing to join me in adopting this glorious purpose for cultivating the home?
If our view of our homes is shortsighted, there is no motivation to accomplish the menial tasks of maintaining it. If we don't cultivate a high and holy design for our homes, it is easy to slip into thoughts of frustration, comparison, or purposelessness.
If we view our homes as a place of hospitality – to welcome our families and the hurting around us – there will be so much more strength and motivation to keep it clean, organized, and prepared.
I've heard that Edith Schaeffer, wife of the late Francis Schaeffer, led more students to Christ through her cinnamon rolls than her husband did through all his philosophical discussions.What will be said of you?

Has your vision for your home grown today?

Republished from the archives for our Top 10 Celebration. Originally published April 14, 2010.