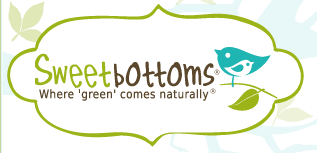 I'm excited to bring you today a wonderful giveaway from my favorite cloth diapering store and sponsor, Sweet Bottoms Baby Boutique! This online store is awesome! They offer a huge selection of cloth diapering products, baby carriers, mommy care products, natural safe toys, and everything is offered with free shipping, plus you can accumulate rewards with each purchase providing savings on future orders. Each order comes very quickly to your door packaged with love and a sweet array of samples. (My last order was shipped two hours after I ordered it!)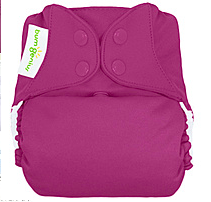 I have used cloth diapers for all three of our little ones and have absolutely loved the experience not to mention how much the cost savings in comparison to disposable. There are so many wonderful styles and colors to choose from which makes it tons of fun.
My two favorite cloth diapers are the Bum Genius stay-dry one size pocket diapers and the more reasonably priced Kawaii one size pockets. These two diapers compile the entirety of our cloth diapering stash because they are high quality, rarely leak (and if they do it is usually a good sign that they need to stripped which solves the problem), dry quickly, and with their adjustable sizing can last me through the whole period of diapering for each child. I have used my stash of Bum Genius through three children and have only needed to replace elastic one time, which is really easy to do with the new styles. Bum Genius have a fabulous one year warranty on their diapers as well. Kawaii while not as high of quality, lacks warranty, and more difficult to replace elastic, they have really surprised me with their durability. If on a tighter budget, these dipes are the way to go, as they retail between $8-10 per diaper. Kawaii tend to be a bit more bulky than the Bum Genius, but otherwise they have held up remarkably well. For my extensive review, visit here.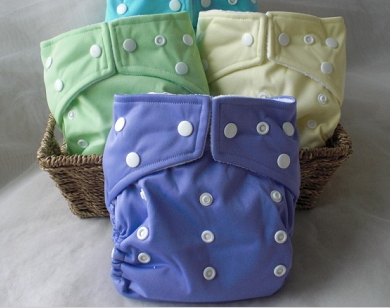 I highly recommend snap diapers as they last so much longer than any style of Velcro. Velcro just accumulates tons of hair and string which can be a challenge to clean out, and also the Velcro losses its strength in ability to cling over time, which never happens with snaps. I used Velcro style with my first baby, and then quickly switched to snaps with my second baby, and have been thrilled with the ease and durability. Sweet Bottoms Baby offers a Fix & Fasten Guarantee on their diapers, providing free repair of snaps for the lifetime of the diaper! That's quality customer service.
So today, we bring you a special gift package of one Kawaii and one Bum Genius pocket style one size diaper (your choice of color and style) for two lovely winners for your sampling pleasure! This is a retail value of $27.50 per gift set.
To Enter:
1. Visit Sweet Bottoms Baby Boutique and check out their selection. Pick out your favorite style and color of the Bum Genius and Kawaii diapers and come back and share with us! 
2. For a second optional entry, tell us your favorite money saving baby care tip in a second comment. 
Follow them on Facebook for specials, giveaways, and more! Check out their Fall Festival Sale now and save 10% by entering "fallfestival' at checkout on most items!
Giveaway closed.
And the winners are….
Lauren & Melissa! (you will be contacted shortly if you won!)
Winner will be randomly selected and announced on the day following the close of the giveaway.
No purchase necessary to participate.
Giveaway limited to US participants only.
Email subscribers must click through to the original post and leave a comment in order to be entered. Replying to the email in your inbox does not qualify. Sorry!
This is a sponsored giveaway from a company that I love and support!