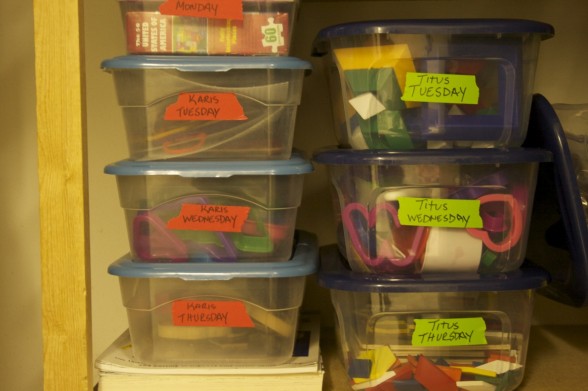 I have recently been trying to get a bit more organized in two areas:
1. Keeping my toddler engaged while I work homeschooling my Kindergarten daughter and vis versa.
2. Maintaining a peaceful nap period every afternoon.
I wanted some fun educational resources for my little ones to be able to work at independently while I rotated between working with each of them one on one. We also have a daily rest period after lunch when everyone goes to their special place (in their bedroom or elsewhere) for a quiet time or nap time according to their age. This is a time for us all to refresh ourselves with rest or quiet independent play. I find it essential for this mommy to have this period during our day to revitalize myself for the rest of the day. It allows me time to write, read, nap if necessary, and do a few clean up tasks here and there.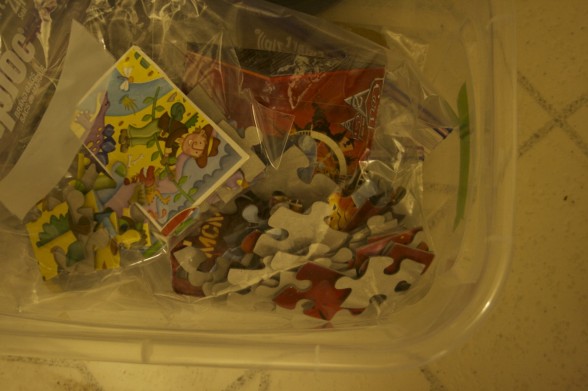 How do I keep everyone engaged but quiet during these periods?
I heard about the idea of quiet time bins in years past, so I knew it was about time to get creative and make something of it for our home. This one simple idea is a great solution for both my dilemmas mentioned above.
We compiled 5 individuals boxes for each child with 5 different activities for 5 days of the week.
I found these simple plastic organization shoe box bins at my local Dollar Store.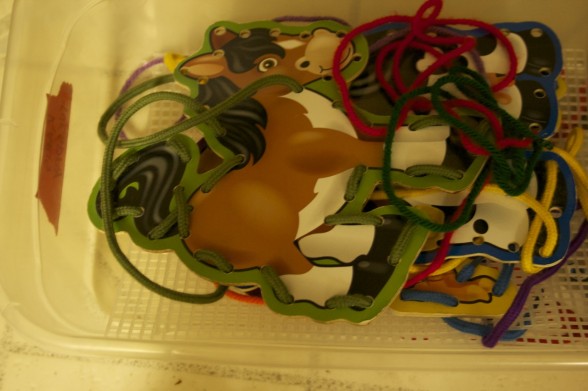 In each box, I picked out various age appropriate activities. I wanted educational, logic building, hands on, creativity inspiring activities, so we chose the following:
Toddler/Preschooler (2-4 years):
Beginner Puzzles (I found some cheap box puzzles at Dollar Store that I put in small ziploc bags)
Playdough (a few cans of playdough with cookie cutters -again, playdough is from Dollar Store – 4 colors for $1) – this is just an activity we use during school time because of the mess involved
Wedgits
Day & Night Logic Game
Pattern Blocks & Boards
Other ideas: Kumon First Step Workbooks (w/beginner scissors) – we have used and enjoyed these books in the past! Another favorite is My Book of Easy Mazes for this age group.
Kindergarten (5-7 years):
Sewing Cards
Magnetic Dolls Dress Up
Advanced puzzles (Stored in small ziploc bags and cut out small image of completed puzzle from original box)
Zoologic
Never Bored Kids Book or Kumon Cutting Workbook (with scissors, glue and other supplies)
We labeled each box according to the day of the week for its use. This allows the activities to be rotated and continue to be fresh with each week. Each day, I work for a 30 minute period with my toddler and my daughter plays with one of her boxes or works on independent school work. During rest time, if my toddler doesn't sleep, as happens occasionally, I will also allow him to pull out a box. My daughter listens to books on tape and may occasionally play with her daily activity box during rest period as well. I have found it works the best keeping one busy at the counter while I spend some quality time with the other.
This is just a simple tool to keep everyone busy and engaged and your home running smoothly during these periods of your day.
For other ideas, check out these posts:
Quiet Time Bins – Keeper of the Home
How to Make Quiet Time Activity Bins – Nice Girl Notes
Quiet Time Bins – Holistic Homemaker
This post includes affiliate links to product recommendations that we use and love. Please note we do receive a small percentage of each purchase made through our links that help to support this site.