Pocket diapers? Prefolds? AIO's? There are many diapering options on the market today and it can be a bit confusing to decide which method to choose. I have been using cloth diapers for over two years now and have experimented with all of the different systems of cloth diapering. I am hoping to save you some time and effort by giving a little review on my findings.
I absolutely love one size pocket diapers! The one size pocket diaper is an easy means of maintaining a simple cloth diapering system. They are easy to use and adjust to different sizes for growth. You simply stuff an insert inside the diaper and away you go. They rarely if ever leak! I would consider it also to be one of the most frugal systems of cloth diapering, because you only need one diaper to carry you through to potty training (See cost comparisons below). If you have two in diapers, you don't have to fumble around for different sizes because one diaper works for both of them. They are easy to use and are very similar to disposables. Most one size brands can be worn from 8 lbs-35 lbs.
I tried prefolds originally, and struggled with frequent diaper rashes and the need for very frequent diaper changes because of soaking through the fabric. I tried Kissaluvs fitted diapers with covers and had constant leaks. I tried AIO's and they would soak through them in just an hour. Maybe I just have very heavy wetters. These variety of diapers took forever to dry as well. Pocket diapers at my house have been tested to last for a good 6 hours if not more with an added doubler. I hang dry them all the time and they dry very quickly. Many people choose prefolds because they are considered to be the most frugal option. Let me just inform you that this is not always the case. Let me compare for you.
Cost Comparisons
Prefolds
2 dozen prefolds in each size -infant, medium & large/toddler sizes @ $16-$32 per dozen = $140.00
Most may not find 2 dozen to be adequate to meet their diapering needs, but it is possible.
5 covers per size @ $12.25 per cover (the price of Bummis Super Whisper Wraps)= $183.75
If you don't use any doublers, snap-eez's, or accessories, you are looking at an average of $323.75.
Obviously you can probably get away with less covers, or buy them used, but my goal was just to give you an average price comparison.
One Size Pocket Diapers – 18-21 One Size Pocket diapers with Inserts (18 is the minimum recommendation)- @ $16.95 per diaper (discounted in quantity purchased) = $305-$350.
As you can see, prefolds & one size diapers are very comparable in price!
Over the last several months we have been reviewing and experimenting with many of the popular brands of one size pocket diapers. We wanted to share with you our findings as we compare their usability, functionality, durability, and their fit, scoring them from 1-5. We also want to highlight the various warranties on these products, because it is good to keep in mind!
Bum Genius One Size Pocket Diaper

We have been using BumGenius diapers for over three years now and really love them. My favorite features include the sued cloth lining inside which holds up very effectively. The micro terry inserts that come with this diaper are very absorbent and can last a extended time.
Usability +5 – Very easy to use and adjust to the proper size. They very rarely leak (only after extended use – 4+ hrs) and are snug and comfortable to the baby. Occasional rubbing caused pain from the velcro. Velcro definitely makes it easy to put these diapers on. The velcro does make it very adjustable to get the perfect fit.
Durability +3 – The leg elastic was stretched out in one years time. Thankfully, we were able to return several diapers within the year warranty for completely new replacements. The elastic is easy to replace yourself as well (Detailed here). The velcro is now retiring but still functional after 3+ years of use. The suedecloth lining shows no sign of wear after 3 years! I think I like the suedecloth the best!
UPDATE: Several readers informed me that Cotton Babies (the manufacturer of BG dipes) will supply you with velcro replacement tabs for your diapers. Simply email them through their contact form to inquire. I wrote them and they were quick to respond in the affirmative that this was true and they will send me replacement kits. Wow! My dipes still have a lot of life in them! They also sell replacements kits for $1 if you miss the warranty period, so it is easy and cheap to fix.
Fit +3 With two snap settings, giving you three different sizes, these diapers definitely work once your baby is 8-10 pounds but will not fit all the way through unless you have a skinny toddler. Titus (who weighed 7 lb 4 oz at birth) was able to fit into them at 2 weeks old. Karis was able to use them till she was potty trained at 25 lbs, but it definitely stretched out the leg elastic. The 3.0 version says it can fit an extra-small size, but it is really only folding down the front part of the diaper and not truly another size. Kind of a joke in my opinion. The velcro will then be directly against the belly and cause rubbing pain.
Warranty – 1 year warranty. Made in the USA. They offer a try one special offer which allows you to try it, wash it, and if you don't like it you can get a full money back guarantee.
Cost – $17.95 each with additional quantity discounts.
Overall, this diaper served us well with proper care. We always hang our pocket diapers to dry.
UPDATE 6/1/2011: We have been using the new Bum Genius 4.0 snap version and absolutely love them! I highly recommend them over the velcro versions. The velcro versions did last us well for 2 babies through potty training. I replaced the leg elastic once on all my diapers during this period. The velcro was still strong but would not stay fastened to the laundry tabs and thus they would all bunch together in the washer, causing further wear and frustration pulling them apart to fold. The snap version certainly takes a bit more time to put on your child and does not have as much adjustability, but its durabilty far surpasses the velcro version. Now that they have produced the snap version, I am completely happy with this diaper! I've tried so many diapers over the last several years and I just keep coming back to my Bum Genius!
Haute Pocket One Size Pocket Diaper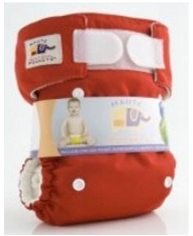 I originally purchased a Haute Pocket to compare with the Bum Genius and was sourly disappointed. I believe since this diaper has just two rows of snaps instead of three to adjust the size, it tended to get bunchy lower in the crouch, causing it to lay unevenly in the front. It would tend to just slide down their bottom with wear, and cause leaking up the front. It did not fit truly as a one size diaper. Karis grew out of it by 15 lbs and Titus was the same. They may have updated and improved this diaper since I originally purchased it two years ago, but when I inquired with the company they did not respond.
Usability +3 – User to adjust with just two layers of snaps.
Durability +3 – As described above, the fabric works well but it definitely tends to leak.
Fit – +1
Warranty – 60 days on elastic and sewing. Lifetime on snaps.
Cost – $17.95 each with additional quantity discounts.
Fuzzi Bunz One Size Pocket Diaper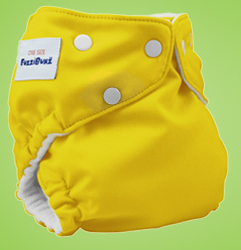 Fuzzi Bunz released a new design for adjustability of the leg elastic, which should allow your elastic to last for an extended amount of time. It is a cool concept. Instead of just three snap settings on the front, it provides you with 8 size settings that are adjustable inside the diaper with a button to secure for both legs and the back panel.
Usability +3 – The concept is a good idea but the practicality is lacking. It took me several attempts to find the perfect size. I would put it on only for it to leak, wash it, and then adjust the size, and the process was repeated at least 3 times before the correct size was achieved. Since it was not easy to find the correct size, I did not want to attempt to change it each time for use on both of my children. There is 6 different buttons to adjust each time you wish to change it.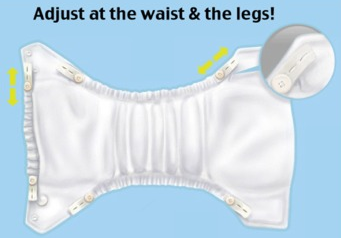 Durability +5 – With the creative design, the elastic should hold for an long time. Fuzzi Bunz also supplies offer a repair kit for you to replace the elastic when the time comes. The fleece lining inside does show wear rather quickly compared to the suedecloth of the Bum Genius design.
Fit +5 – This diaper definitely fit well from birth (for my 7 lb little guy) and through potty training for my daughter (at 25 lbs), although she only used it once due to the difficulty of adjusting it. It does fit nicely without any excessive bunching in the front. Superior to most diapers because of the lack of snaps on the front.
Warranty – 18 months on snaps, 3 months on elastic & sewing defects.
Cost: $18.95 Each with additional quantity discounts.
Overall, I do like the concept of the Fuzzi Bunz diapers. I am disappointed on the short length of their warranty and also the fact that they are now made in China.
Rocky Mountain One Size Diaper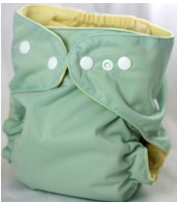 Here you will find another creative adjustability for the leg elastic in the Rocky Mountain Diapers. An inside snap system allows you to adjust to four different sizes. Not as many as the Fuzzi Bunz style, but much simpler.
Usability +3 – The inside snaps are easy to adjust. It has only one row of snaps on the front to secure the diaper which does not seem to be sufficent. The diaper tends to sag without additional support. This also tends to cause it to leak out the sides more frequently without extra security.
Durability +3 – I do love the sued cloth lining. I love the different colors of the lining which cover up any stains nicely. This is the first diaper I have seen to use other colors than white for the inside. I think that is my favorite fabric for its long term durability. The original diaper I tried leaked right through the fabric. They are replacing it for me, but I am not sure how efficient it will be.
Fit  +5 This diaper fit well on both of my children.
Warranty – I think the thing that turned me off most about these diapers was the limited 60 warranty. Not very comforting when you are making an investment in cloth diapers. Make in the USA.
Cost – $18.50 each.
Happy Heiny's One Size Pocket Diaper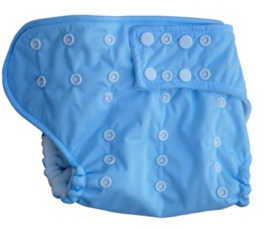 I think I really like the Happy Heiny's diapers…especially the new and improved snap version! They fit remarkably well on both of my babies. I tried the velcro version two years ago and did not like it because it did not have leg casing (the extra seam around the legs) so it leaked considerably. The snap version has the leg casing and the problem has been solved for us. I believe the new edition of both diapers has leg casing.
Usability +4 – This diaper definitely has a good number of snaps which can be a little overwhelming at first, but the more snaps the better security this diaper provides. Note that snaps are definitely more challenging for a squirmy baby though. No leaks here because it is a tight secure fit.
Durability +5 – I have found fleece definitely shows more wear than sued cloth, but it also seems to keep the diaper rashes away more effectively. The snaps are very high quality and have lifetime warranty.
Fit +5 With three snap settings, giving you four different sizes, this diaper seems to be an excellent one size diaper! I was surprised to find that my 25lb could actually still fit in the last snap setting on this diaper, so there is definitely room to grow and will definitely fit a larger child. My 15 lb boy also fit into them comfortably. Fits well for newborns after 8 lbs.
Warranty – Lifetime warranty on snaps. 6 months on elastic and 3 months on sewing. I love that lifetime warranty! That gives me more confidence in this diaper. Made in the USA. Please note: using Charlie's Soap on this product voids the warranty. Lots of fun color options!
Cost – $18.95 each with additional quantity discount.
Knickernappies One Size Pocket Diaper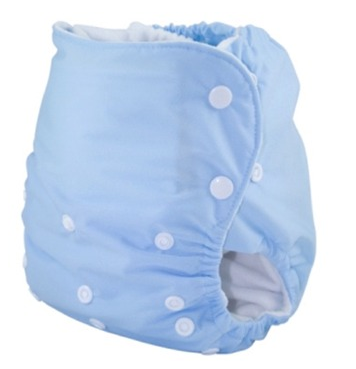 I have used the Knickernappies perfect size diapers for my daughter Karis and love them (in the large size)! I love the idea of the side snaps because it makes it easy for us to use these diapers for potty training. We were able to pull them up and down easily for nap and nighttime use without taking the whole diaper off. They recently released the one size version and it definitely is off to a good start, but needs a few improvements.
Usability – +4 – This diaper is definitely easy to adjust. Side snaps are definitely a little different to get used to, but I like them. They make it less bulky in the front. More challenging for a child to take off. I believe because it does not have elastic in the front like the regular brand, and the snaps seem to be placed a lot lower on the crotch than other brands, this diaper tended to leak up the front and sag on my baby's bottom.
Durability – I cannot score the durability of this diaper because we returned our diaper, but I can say that the regular sized diapers are excellent in quality. The warranty is great and the customer service is one of the best I have corresponded with.
Fit – +4 Fit well on both children.
Cost – $18.95 each with additional quantity discounts.
Warranty – 1 year warranty on everything! 2 years on snaps.
Kawaii One Size Heavy Duty Pocket Diaper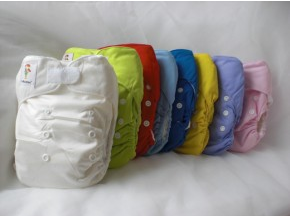 I recently (4/1/11) came across the Kawaii One Size pocket diaper and I have been truly impressed! This diaper is extremely economical at just $7.95-8.95 per diaper with two inserts included. It fits well from newborn through to potty training and has effectively prevented leaks. The quality of the diaper is great although some inside fabric lining were falling apart fairly quickly, but it didn't affect the effectiveness of the diaper. The laundry tabs are fairly poor as well, which causes diaper chains in the wash. They also offer a snap version of this diaper with fleece interior, but I definitely preferred the fit of the velcro version. Suedecloth interior in the velcro version in my experience is far more durable. The snap version also had three snaps on each size to secure which takes alot more time to put on your child. The snap version was also more bulky in comparison to the velcro.
The warranty is only 60 days on these diapers, which is very poor. And they are also made in China, which is a disappointment, but does explains the price. They also frequently run out of stock of these diapers.
But if you are extremely tight financially, I would recommend this product for all the convenience of a pocket diaper!
——————————————————————————————————————————————————————-
So overall, what do I recommend you look for in a diaper?
Check out your snaps options! They are more durable than velcro. But then again, velcro is easier to put on, especially if you have a squirmy baby. So you have to weigh your goals. Babies cannot take snaps off as well.
Look for a good warranty! When you are making an investment into cloth diapers, this is definitely something worthwhile to consider, especially if you wish to use them for multiple babies. Lastly, don't buy a big quantity at once.
I recommend you buy a few samples to compare which diaper works best for you. Every one has a different opinion, so buy one each of a few different brands. You can always resell them at Diaper Swappers!
Choice gender neutral colors! If you are planning on using them for more than one child, stick to the gender neutral colors to be most economical.
What's my favorite diaper thus far? I am a huge fan of the Bum Genius snap pocket diaper edition! They are so easy to put on, rarely leak, and you can get such a snug fit. If you have a relatively average baby (it worked for both my babies through potty training at 25-28 lbs), the BumGenius will last you through to potty training. If you need something more economical, check out the Kawaii diapers. Although I cannot guarantee their durability, I definitely have been impressed with their effectiveness at such a reasonable price. They were far more effective than any other option besides the Bum Genius.
For an excellent selection of diapering supplies, including all the recommended items above, I highly recommend Kelly's Closet. Excellent customer service and they reward you with points from each purchase you make towards future gift cards! They are also always running special coupons towards extra savings.
Have you tried any of these diapers? What has your experience been?