Photo by Cottonblue.
Originally published in January 2008 under the title Decorating on A Budget – part 1 & 2. Updated with current pictures.
Did you know that your home is an embassy of Christ's kingdom? It is especially designed by God to be a place for others to find refreshment, encouragement, a haven of rest to their souls from the weariness and trials of this world. This haven must be a welcoming place to display the glory of God! This should always be our chief goal in our decorating. How can I make my home more of a testimony to the work of Christ in my life? How can I seek to refresh others as they enter into my home?
Furniture Layout
Make conversational areas. The key is to arrange your furniture so that the line of traffic from door to door is not passing right through the conversation area. You want to keep the furniture facing each other in smaller, intimate conversation areas without having people walk right through the center and taking away from the relaxed setting. You do not want this flow to hurt your fellowship. Arrange your future close enough that you don't have to shout to have a conversation. The closer the better.
Choose a purposeful focal point. Each room will have a focal point of some sort. Most American homes have the furniture arranged so that the focal point is the television. This does not serve to invite conversation, but only distracts from it. Use your windows and fireplaces for this purpose.
Re-arrange your furniture with the seasons. Re-arranging adds fresh variety and change! It gives the feel of a whole new look without adding anything! For example, if you have a large window in your living room, you might make turn your furniture to make that the focal point in the summer as it is bright and cheery to look at. In the winter, the outdoors may not look so attractive so turn your furniture inwards to your fireplace. I recently angled my dining room table for a change in the corner, and I was amazed how appealing it was.
Keep furniture away from the walls. Arrange your furniture on an angle or in a unique fashion so it is not flat against a wall, or simply pull it away from the wall a bit (if possible). This adds a variety and creativity to your layout! We have placed our bed frame on an angle in the corner of our bedroom. It does take up more room in this way, but it is different and variety is the spice of life.
Have a place nearby to rest the arms or place a cup or mug. It is important to have a coffee table or end table near every seat, so your guests don't have to stretch too far to relax themselves or place their beverage.
Have Fun with Paint
This may seem like a small thing, but paint greatly improves the appearance of your home! If your home needs a refreshment, buy some new paint! You will be amazed at how much cleaner your home looks with a fresh coat of paint. We had white walls for the longest time (due to my pregnancy, I couldn't paint!), and when we painted the walls it was major transformation.
Use a variety of techniques. My sister and I painted our downstairs bathroom with rag rolling recently. Neither of us had done it before, but it was simply a blast! We just used old t-shirts scrunched up. It didn't come out as the picture did, but it still looked unique and creative. Have fun with it! The key is not to be intimidated! Take your time. Do one room at a time.
Paint just one focal wall a rich deep color to add depth to your room. Leave the other walls either white, or a much paler version of your accent wall and those walls will appear to fall away. Also keep in mind that cooler colors such as greens and blues tend to recede from the eye, while warmer colors such as reds and yellows seem to close in a room.
For the Love of Pictures
Make sure to post lots of pictures around your home. This is the ultimate decor! It reflects your love for your family and others. People love looking at photos! Pictures are easy to come by and very reasonable to print.
Buy frames around a theme but have variety. Black photos go with black, silver or white frames. Colored photos go with brown, tan, white or miscellaneous colored frames. Throw in a fancy colored one! Always use a variety of frames. Don't just have one size, one style, color, etc (this would be my problem, that my sister is weeding out!). Use black square, silver large frame, etc. See picture below of my collage. Throw in an old antique looking one. Great places to buy frames: Ikea, Goodwill, Ross.
Keep your arrangements to clusters. Don't have pictures hanging randomly along every wall. Your eye will have no where to rest. The tendency is to think you need something on every wall in order to look fully decorated, but it is not true. It is kind of like when you read a brochure or newsletter. If there is no white space around the text, and/or no pictures for variety, or just simply all text, it is overwhelming to the eye and you would rather just set it aside them laboriously read through it. It is not appealing.
Maintain a rectangular shape. This is pleasing to the eye. Whether it is a small rectangle or a large one, maintain overall shape.
Avoid hanging pictures on a small wall (2 foot in length or smaller), or on a window wall, if there is not much space around it.
Important Tip: Don't hang stuff on every wall! Leave one wall free completely from hanging items, so that your eyes have somewhere to rest. Here are some of the arrangements in our home.
Simplicity of Baskets
Decorate your home with lovely baskets storing or displaying items. I have used baskets to store baby's toys that are really cute. My friend Lylah, shows a picture of a cute basket in her dining room. I love this idea!Baskets are cheap to rcome by at your local Goodwill, Ross, etc.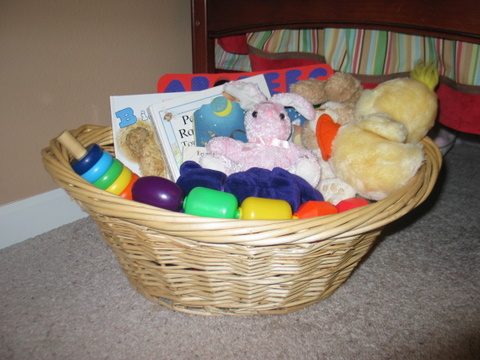 Make it a Home Full of Scripture
Making your home an embassy for the Kingdom of God is so important! You want those who enter your home to know what is most important to you. Use calligraphy or print in nice fonts different passages of Scripture and frame on your walls. One idea: This picture displays our name placs with the meaning of our names (family tradition), and verses corresponding to them. Everyone has probably seen these. Why not display them in a prominent place? At my family's home we had our names and pictures of all eight of us kids going up the stairs.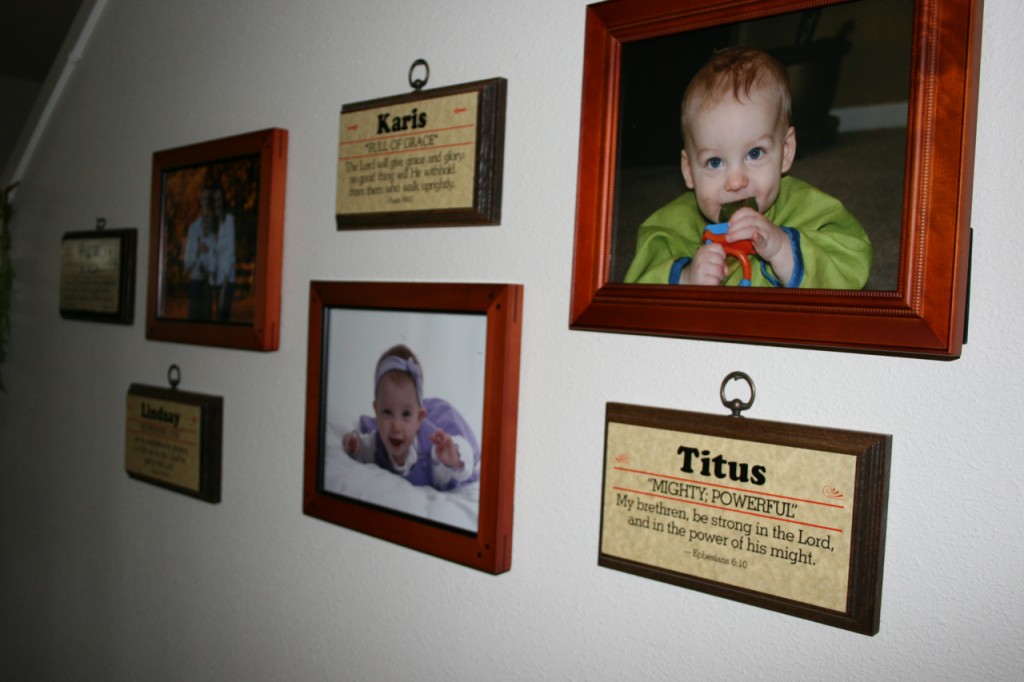 Meaningful Memorabilia
Hang your veil above your bed frame, frame your wedding invitation. I wanted to preserve our wedding vows and have them framed in our bedroom as a good reminder to the commitment we had made to each other as well.
Display your food
This is a simple way to decorate your kitchen. Use nice glass jars (I got mine at Ikea) to display your grains, beans, popcorn, etc. I love it! Plus they are easily accessible when I am preparing a meal. This is what it looks like above my kitchen sink. I added my Ikea jars with grains, some simple cloth napkins and napkin rings (a nice wedding gift that matched perfectly with our kitchen!), and I put some platters on display in the background.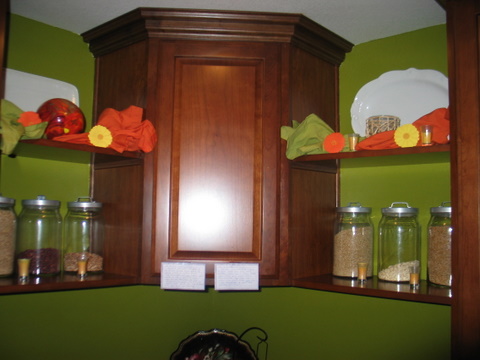 Have fun making your home lovely for the glory of God!
Recommended Reading:
These titles should be available at your local library!
Decorating on A Dime by Christy Ferer
Trade Secrets from Use What You Have Decorating by Laurie Ward
Frugal Decorating Ideas – a great site with lots of ideas for frugal momma's
Decorating Small Rooms - here is a great article on decorating small rooms, as most of us may have only these!
Simple & Frugal Children's Bedroom Decor