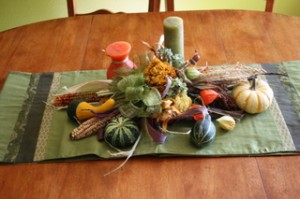 The investment in simple decorations, table runners, cloth napkins and the like can make a house a place of warmth and refreshment for all those who enter. Part of our calling as homemakers is to make our homes that source of oasis for our families but also to extend in hospitality to friends, family, and all whom the Lord might call you to minister to. Developing those creative juices in your homemaking can be so much fun and it also doesn't have to cost a lot of money! The addition of decor and giving it a little womanly touch can make such a difference.
I have been inspired lately to decorate my house a little with some fall colors.  Jo-Ann Fabrics is a wonderful source of decorations at great prices. Just check out their website and subscribe to their emails. About once a month I get a 50% off coupon as well as notification of sales. Ross stores also have a nice selection of household decor for great prices. I love buying my photo frames there.
I couldn't believe how delightful it was to freshen up our home with a little love and decor. It made me enjoy being a homemaker that much more! I am not naturally gifted in creativity so it takes a little work, but the more I do it the more enjoyable and easier it gets!
We found the table arrangement pictured above at our local farmer's market this past Saturday for $8. I added a few candles and table runner that I had on hand, and with the addition of some fun little gourds (which are very cheap at the produce stand), we were set! Gourds and candles alone can make a nice arrangement! I found the best thing is to take a little bit at a time to collect decor and once you have it you can use it again and mix and match, as I often do with my candles. Don't invest in a huge closet of decor at one time, collect a little here and a little there.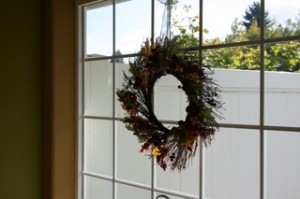 This is a dark picture due to the light coming in, but this is a lovely fall wreath I bought for just $5 at Jo-Ann's. IT was originally $30, but with the sale and the additional 50% off coupon, it was $5! It doesn't have to be expensive, but it can definitely freshen up your home!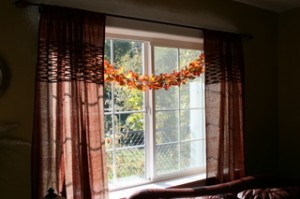 A fall garland hanging inside another window – a $4 find at Jo-Ann's!

So have fun becoming a creative homemaker!
For further thoughts on decorating, especially on a budget, check out these posts:
Decorating on A Budget – part 1