We have finally completed our decorating of Karis & Titus' bedroom! What a fun project it was of practicing making my home lovely! My goal was to complete this in August…but hey, at least it was completed before the end of the year.

We started decorating the kids' bedroom by choosing a gender neutral vintage green color. We added red highlights through the curtains, kid's table, and rocking chair. We also spray painted our picture frames for a photo collection. These colors were selected from our gender neutral crib bedding set. All the furniture was found on craigslist, gifted, or loaned to us. I don't think we have ever bought a new piece of furniture as there is so much available through used sources.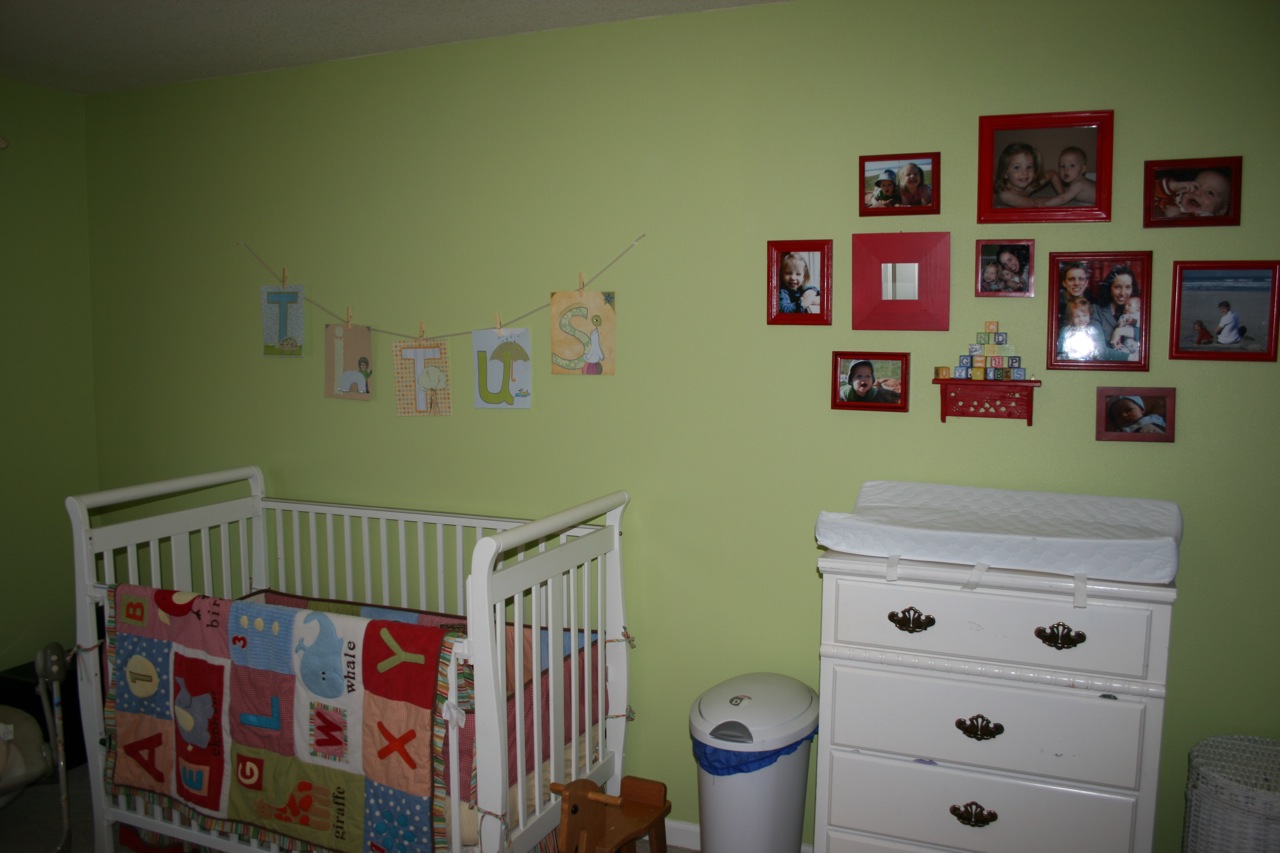 Pictures
My favorite form of decorating is to fill my home with photos of our family. It helps preserve and treasure memories and keep them fresh before our eyes. This helps us focus on the goodness of the Lord that has been displayed to us in the past. It is also a frugal way to decorate your home! I find frugal frames at Goodwill and Ross in an assortment of textures and shapes. I like to include a mirror (this mirror is from IKEA), candle holder, or various shelf to give more depth to my photo arrangements. For this assortment, I spray painted all the frames red and used a little shelf with wooden blocks to give some dimension and creativity to it. I found the blocks at Target in the $1 bins. Here is my new photo collection in the kids' bedroom: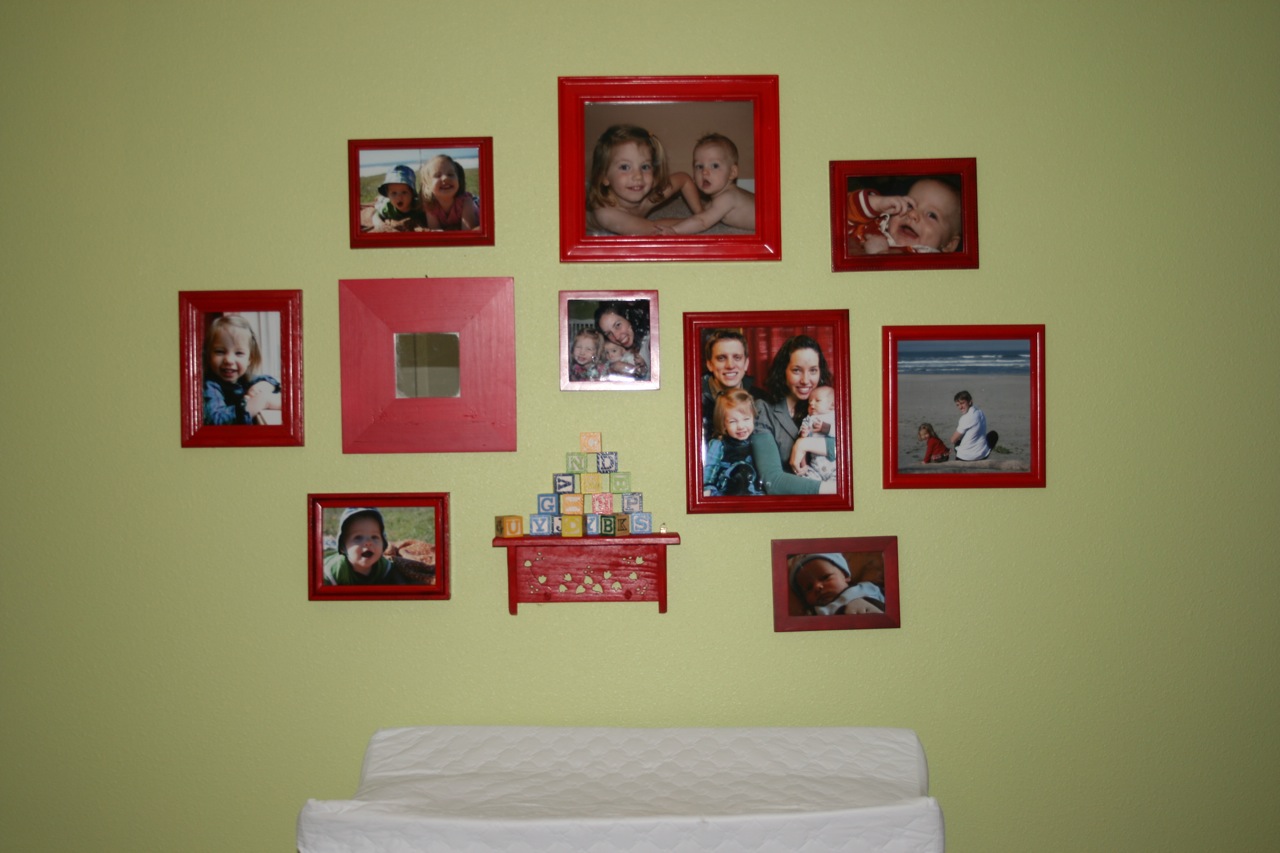 Rain Gutter Bookshelf
We saw this wonderful idea for rain bucket bookshelves over at Chasing Cheeries and absolutely loved it. All the books help decorate the room as well by displaying their colorful pictures and designs. We made four shelves and hung them within Karis' reach so she could have her own little reading nook. Rain gutters are sold by 10 foot sections, so this was one section cut into 2 1/2 foot shelves with a hack saw. Our only tips with this is to make sure you use screws and bolt it into the wall studs! We learned this the hard way. Karis loves it, as you can see!
Letters of the Name Wall Hanging
My sister, Christa, helped me make wall hangings out of the kids' names with various colored scrapbook paper. We hung these from the ceiling with clothespins and a clothesline. We had them hanging on the wall directly above their beds at first, but I think I like the ceiling better. What do you think?
Craft Cupboard
Lastly, we reorganized my personal desk/sewing machine cabinet to transform the bottom cupboards into our craft closet. We store our paints, crayons, paper, preschool activities bags, puzzles and the like in this cupboard now in their bedroom to make it all accessible at Karis' level and all in the same place. I wanted to have this special place for her to be able to freely explore and expand her creative juices.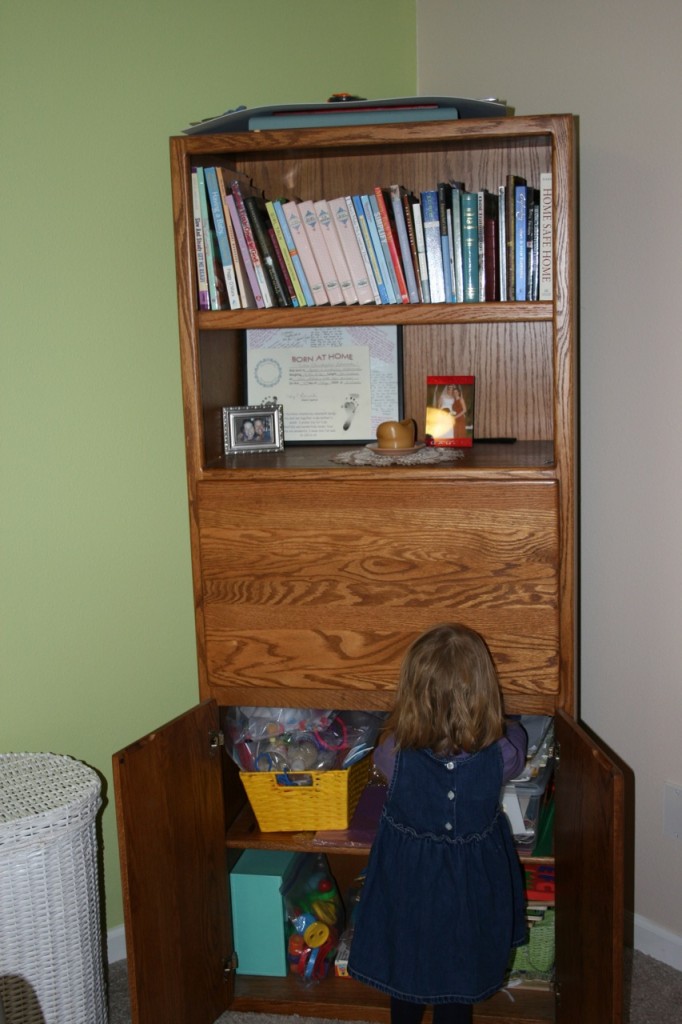 We spent just over $100 for this project – including Target curtains & rod ($25), safe paint ($35), rain gutter bookselves ($25), and picture frames & photos ($40). It was well worth it! Now our house is definitely feeling like our own unique little home!
Do you have any fun children's room decoration ideas?