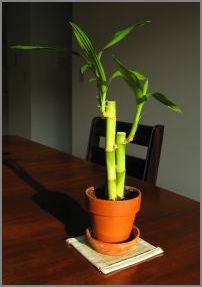 Houseplants are a wonderful means of bringing fresh and clean air and oxygen into your home! In fact, they are perhaps the most sophisticated air-purification system available at a more frugal cost! They absorb carbon dioxide and chemicals such as formaldehyde and benzene, and provide a healthy level of humidity. Plus they bring a little creation into your home (part of that creative mothering), displaying some of God's creativity in each unique plant that He created, encouraging a little love of nature when it is not necessarily able to be enjoyed out of doors as in the current winter season. They provide such elegant decorations to our homes as well!
The EPA estimates that indoor air is 2 to 10 times more polluted than outdoor air. How is this possible? Contributors include that variety of furniture, carpeting, ply-wood, adhesives, mattresses, and shower curtains.
According to Renee Loux in Easy Green Living: "Two small plants or one medium size plant per 100 square feet will provide fresh air and healthy, mold-free humidity in any room so everyone can breathe deeply with ease."
What are the most effective plants for completing this task?
Bamboo palm, Chinese evergreen, corn plant (Dracaena massangeana, not edible corn), dragon tree, chrysanthemum, English ivy, peace lily, pothos, philodendron, and snake plant.
I am motivated to start saving my pennies to include a little more creation into my home and provide a more healthy environment at the same time!