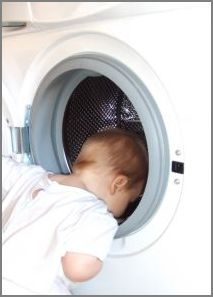 I have been exploring the world of various natural laundry detergents in my home after choosing to avoid borax in my cleaning, which is a common ingredient in homemade varieties. Most commercial detergents are filled with harsh chemicals and the natural alternatives often contain Sodium Lauryl Sulfate and other ingredients that are now being debated over their safety. Most commerical detergents leave perfumes (cover scents), brighteners, and/or fabric softeners on your clothes to cover up the fact that the detergent really didn't clean anything. These additives can easily cause skin irritations. I have found some frugal natural alternatives!
Homemade Laundry Detergent
Recipe adapted from Green Clean by Linda Hunter
1 cup castile liquid soap (Dr. Bronner's or Mountain Rose Herbs are good choices as they are organic and main ingredients are coconut oil & olive oil) OR Dr. Bronner's Sal Suds
2 cups water
1/3 cup salt
1 cup baking soda or washing soda
vinegar
Warm the salt and baking soda in water until mostly dissolved. Transfer to a one gallon container. Add your soap fill the rest of the jar with water, this giving you 1 gallon of detergent. Use 1/4 -1/2 cup per load, depending upon how dirty the load is. Add a tablespoon or two of vinegar to your wash during the rinse cycle. This works as an effective  fabric softener and disinfectant. Depending upon the hardness of your water, you may want to decrease the water quantity or increase the soap quantity.
Please note: do not add essential oils to your detergent. These oils will break down the fiber in your clothing. If you want a particular fragrance, try putting a few drops of essential oils on a rag and throwing it in the dryer. This will add fragrance but not transfer to your clothing.
Review: This recipe does clean very well, although I was not impressed by the cleaning job it did on my cloth diapers. Hard to give an exact price calculation on this one, but I figured this recipe makes enough detergent for 64 loads (at 1/4 cup per load) and with the ingredients costing no more than $4.00 (on the generous side), your total cost is most likely less than $0.06 per load.

Charlies Soap
Charlies Soap is an non-toxic, biodegradable soap that works effectively on tough cleaning jobs. It is highly concentrated so you only have to use 1 Tbsp per load. It is made with a unique blend of biodegradable coconut-based detergents and high-grade, completely soluble, Green River washing soda. Made in the USA.
Review: I love how Charlies Soap dissolves so well in all water temperatures and you only have to use 1 Tbsp per load. It is non-suding, but cleans remarkably well. We have found this detergent helps us avoid diaper rashes, although other reviews say some have experienced reactions to it. This costs about $0.11 per load if you purchase the 5 gallon bucket, which is a large up front purchase of $144. Otherwise, it costs approximately $0.17 per load. If you go in with friends on a bucket purchase, it is definitely a reasonable price.
Soap Nuts
Soap Nuts are the only laundry soap that grows on trees, thus giving us the most sustainable and natural option out there. It is 100% safe and natural for the most sensitive skin. Soap nuts are the dried fruit of the Chinese Soapberry tree. They contain saponin, a natural cleaner. They are simply harvested, de-seeded, and then dried in the sun. Great for hard water and high efficiency machines. It is biodegradable, hypo-allergenic, brightens colors, low sudsing, and contains a natural fabric softener. You can reuse a handful of nuts for 5 or more loads (depending upon water temperature, etc), and then they can be added to your compost! Most soap nut orders come with a reusable cotton bag which you use to place the nuts in and then throw in the washer, keeping them contained. The best price I have found is the NaturOli Soap Nuts. If you buy it in larger quantities ($50 for 800 loads), you are looking at around $0.07 per load! You can also purchase them in smaller quantities, which will be no more than $0.12 per load. Plus you will save additional money as there is no need for dryer sheets or fabric softeners.
By simply boiling soap nuts in water you can use it for: all household cleaning, liquid hand soap, plant cleaner, jewelry cleaner, produce wash, toothpaste, and even shampoo! It has also been found to be effective for skin allergies. For all the how-to's, try the Soapnut Soak. You can even use some of this liquid in your dishwasher! I am in the process of experimenting further with soap nuts for these uses. I will let you know how it goes!
Review: When I first used soap nuts, I was a little turned off by the fact that they are rather sticky to touch, they reminded me of dried prunes. Otherwise getting over the sticky feeling, they cleaned our clothes perfectly fine. No strong smell of detergent, just nice and clean! Again, perfectly safe for all cloth diapers and cleaned them well. By the way, if you are washing in cold water, it is best to place your bag of nuts in a bowl of hot water to soak for 5-10 minutes. This makes them more effective in their cleaning power.
UPDATE: The first brand I tried was Maggie's Soap Nuts (as described above). NaturOli's were quite the opposite – no stickiness whatsoever and carefully inspected for quality nuts. No chipped nuts and not packaged in plastic wrap as Maggie's came to me.

All these recipes or products above are non-sudsing, But don't be afraid or think that your clothes will not be clean because of this. Sodium Lauryl Sulfate is the additive that brings the suds. Suds are not necessary for clean clothes – trust me! All recipes work equally well work in hard and soft water and high efficiency compatible.
UPDATE: Please note that after extended use of soap nuts with my cloth diapers (Bum Genius pocket diapers), they started to repel and leak profusely. Once I switched back to Charlies Soap for my dipes, they began working properly. So I can unfortunately no longer recommend their use for cloth diapers. But I continue to still highly recommend their use for all your clothing, towels, sheets, and other household needs.

Price Comparison
Let's conclude with a little price comparison to some standard brands on the market (as originally published here):
The following are various commercial detergents in typical sizes and pricing. The numbers of loads are as per the manufacturers' instructions.
- Seventh Generation's Free and Clear Natural Laundry Detergent 2x Ultra: $11.99 for 50 loads. ($0.239 per load)
-BioKleen Liquid Laundry Detergent: $14.39 for 64 loads. ($0.224 per load)
- All's Small and Mighty 3x Concentrate for HE washers: $8.49 for 32 loads. ($0.265 per load)
- ECOS Laundry Detergent, Ultra Concentrated with Soy Fabric Softener: $9.49 for 26 loads ($0.367 per load)
- Tide's 2x Concentrated Laundry Detergent: $14.99 for 32 loads ($0.468 per load!)
- Dreft's 2x Concentrated Baby Laundry Detergent: $31.99 for 110 loads ($0.290 per load)
As soap nuts are very frugal, can accomplish so many different purposes in one product, and is completely sustainable…that seems to be the way to go!
Stay tuned for a Soap Nut giveaway and further details on how to use it for multi-purposing around your home!