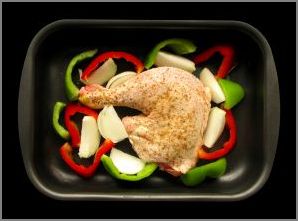 Guest post by my friend, Samara Root, a fellow whole foods enthusiast and my splitting partner on many bulk food products! Thanks dear for sharing with us!
I purchased 10 naturally-grown chickens last year from a local farm, and they were delicious! I have tried to use every part of the chicken to be frugal and reduce waste, but chicken skin was always gross to me and I threw it out. (And besides, isn't that saturated fat terrible for you?). Recently I took my 4-month-old baby girl to visit my Grandpa in California. While there I observed my Grandma making Chitlin's for him. I thought to myself, what a great way to use chicken skin! In this way, chicken skin releases all its oil and you have some great organic oil to use in frying eggs or any other savory dish (I pay about $40 a gallon for organic olive oil and organic coconut oil. Why throw away perfectly good organic chicken grease?).
UPDATE from the Readers: Aparantly, chiltin's are more commonly known as the intestines of the pig.;) Fried chicken skin is often called cracklin's. Sorry for the confusion! Just following what Grandma called them!
Chitlins
Skin a whole, raw, naturally grown chicken. Place the skin in a frying pan on medium-low heat for about 15 minutes. Turn the heat off, let the skin cool a bit if you wish, and chop into small pieces (1/2 an inch or so?). Replace the skin in the pan and turn to lowest setting for an hour, or more, or less. Stir occasionally. You will be left with a lot of oil in the pan and some dark brown, very crispy chicken skin! Remove the skin (chitlin's) to a paper towel, and pour the oil into a jar and store in the fridge. This should keep for a couple of weeks. You can use the oil to fry an egg (delicious!!!) or any other savory cooking project. The chitlins are wonderful the day they are made on their own or used instead of bacon bits or croutons on anything you can think of. Enjoy your delicious food and the extra money in your budget!
Broth
Put your carcass into a pot and cover with water. Bring to a boil, cook on low for about 24 hours (adding water as necessary). Lindsay's addition: You can also cook a whole chicken in a crock pot for the same amount of time with great results. The bones from one chicken can make about a gallon of broth. After it has simmered for 24 hours, remove carcass, and boil the broth down to a quart of liquid or so. This will take approximately 1-2 hours. Cool broth and freeze in ziploc bags, quart jars (leaving plenty of expanding space), or ice cube trays. Then you only have to freeze a quart of broth, and you can "reconstitute" it with 3 more cups of water. A good way to save on freezer space. And this broth is good for you, without any additives other than what you put in it.
I have heard you can give the soft bones to your dog or cat.
Organs
When you are making soup, cut the organs into small pieces and add them to the soup. No one will know. (Lindsay's addition: or grind them up in the blender first!)
Now, you have successfully used every part of your whole chicken wisely!
For more frugal tips, visit Frugal Fridays.