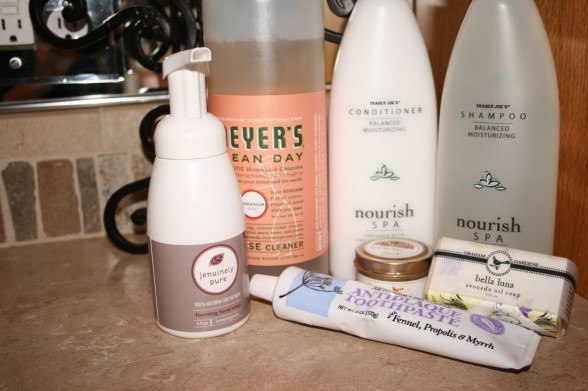 I frequently get asked, "what's your favorite natural detergent? what's your recommendations for cloth diapers? What homemade products do you still make and use?" Since I have been experimenting and reviewing various natural products for the last several years since I began my own journey to sustainable living, I have certainly bought, sampled, liked and disliked numerous things. I want to save you some trouble today by offering a list of my personal tried and true products in the natural world. You will discover that I keep things very simple in my home to the best of my ability. I don't like several different cleaning products – I want one tried and true that can do it all! I don't like numerous options of body care products – I want to stay frugal and sustainable with one or two products to get us by.
Body Care
Deodorant – my homemade recipe has withstood the test of time (except when you use old baking soda – keeping it fresh seems to be pretty important)! When I'm lazy, I keep Tom's of Maine aluminum free deodorant on hand.
Shampoo & Conditioner – Trader Joe's Nourish Spa line (this is the cheapest and most conveniently accessible product I have found at just $3 per bottle at Trader Joe's. Sorry, Amazon prices are definitely higher, but I wanted to give you a visual of the product). We made our own homemade shampoo for awhile until we just didn't like the texture, lack of lathering ability, and smell. I dilute the shampoo with baking soda to make it stretch further. I have found 1 Tbsp baking soda to 1 Tbsp shampoo to be very effective in cleaning my hair, removing all problems with itchy scalp and allowing me to go 3-4 days between washings. The Nourish line is made from mainly organic ingredients and essential oils and works really well to clean our hair naturally. It just feels good! Another good backup option, is to use the subscribe & save feature on Amazon for Kiss My Face shampoo.
Soap – Graham Gardens – I absolutely love Graham Gardens soap bars. They are so wonderful for the skin and natural and safe for the whole family. Graham Gardens offers buy 4 get 1 free sales with flat rate shipping making it affordable to stock up on soap for our family. I'm not into have a special separate products for the little ones, so we all use these with great results. This is all we use in the shower and for shaving. I use this soap bar to shampoo up the kids' hair as well. Our favorite alternative is Dr. Bronner's lavender or unscented soap bars.
Toothpaste – Trader Joe's fluoride free toothpaste (this is so nice and mild and not hot for the kids like most peppermint flavored toothpaste) – at just $1.99 per tube at Trader Joe's this natural toothpaste is much more simple to purchase than make my own. If TJ's was not accessible, I would likely use Tom's of Maine children's toothpaste. 
Lotion – My all time favorite lotion and moisturizer are  the Graham Gardens lotion bars. They work for all my skin issues and I don't use anything else. This works on all of us too. Otherwise, coconut oil alone would works as a backup although more greasy to the touch naturally.
Hand soap – I have really been enjoying the foaming hand soap from Jenuinely Pure…it is certainly the best refillable natural hand soap option I have found. I also have used and love Mrs. Meyers hand soap refill packs. A great way to save on packaging waste. Mrs. Meyers is my favorite natural household product line for the wonderful scents, texture, and effectiveness of their products!
Makeup – I currently use Everyday Minerals base and face powders for my makeup with a touch of mascara. I love mineral makeups and this company offers you the ability to test any powder shade for free with the cost of shipping. The samples lasted me forever! I was formally using Bare Minerals but found over time that they irritated my skin. Everyday Minerals has been a perfect non-irritating product!
Sunscreen- I only apply sunscreen if we are going to be outside for several hours or outside in a pool/lake or something when a lot of skin would be exposed. Otherwise, I just put sun hats on the kids. I personally think that it can often do more harm than good on our skin the way it absorbs into our bloodstream. But if you are in a hotter environment, you may need to use more. It's pretty mild here in the Northwest. When we do use it, I use Avalon Organics Baby sunscreen. I also recommend California Baby, which is also available at your local Target.
Bug Repellent – Graham Gardens Bug Bar and Apple Valley Natural Soap Bug Spray are two natural bug repellents that work equally well. We used both extensively in the Philippines last year and highly recommend them. Graham Gardens is a rub on lotion and Apple Valley's is a spray…so chose whichever you prefer.
This is honestly all that we use on our skin! For my hair, we use a few not so natural options…but they work well to give us the results we desire. I use Foxy Curls to maintain my natural curls otherwise I also like to straighten my hair for variety, and my hubby uses Tigi's Men's Workable Wax.
Baby Care
Diaper Cream - I use my homemade salve for any problems with yeast infections and Graham Gardens diaper cream for any standard rash when I need a quick healing together with a disposable diaper. Graham Gardens is such an effective cream that lasts forever!
I occasionally use Burt's Bee's Buttermilk Lotion to give my kids massages after bath times as well.
Household Items
Laundry Detergent – Charlies Soap (while I still love Soap Nuts, Charlies' Soap is wonderful and simple because it works great for our cloth diapers and regular laundry. I love the subscribe & safe option through Amazon.)
Stain Remover – I've tried a lot of natural stain remover options without much success. The one product that I have found that really works the best is OxiClean Stain Remover spray. It is made from oxygen bleach so definitely superior to regular chlorine bleach.
Dishwashing Detergent – Bright Green Dishwasher Powder (Bright Green natural products are available at Safeway), Green Works or Seventh Generation (whichever is most convenient or frugal). Green Works product line is available in most every grocery store now giving us all a frugal natural cleaning line. They all work equally well.
Dish Soap – Again, any of the above mentioned product lines for dishwashing detergent works for finding dish soap.
Cleaning Product – Mrs. Meyer's All Purpose Cleaner - I love this concentrate because it lasts forever! I dilute it in individual spray bottles and use it for cleaning everything in my house. I place small spray bottles with a rag in each bathroom under the sink for easy clean up of messes. I also use a homemade window cleaner, made from vinegar and lemon juice. My final cleaning product, is baking soda in a shaker for dusting inside the toilet. My cleaning bucket has literally 2-3 items in it!. Jenuinely Pure's all-purpose cleaner is another great option.
I am a firm believer in the concept of less is more and that is why we use very few products in our home. Our skin doesn't need tons of products to keep it healthy. I don't use any sort of face wash, toner, etc. I personally find them unnecessary. It also saves money to keep your product choices to a minimal.
I may have missed an item or two in this list…so if you have a specific question for a product recommendation you don't see discussed here…feel free to ask! What are your favorites? 
Please note: There are affiliate links in this post which we only use to share products that we truly love and recommend for your family. We receive a small percentage of each sale made through our links which we use to help support an orphan home in India and other ministries.