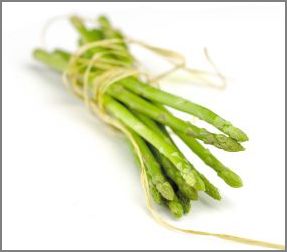 Asparagus is one of the delightful vegetables in season right now and we are enjoying it in our home!
Asparagus:
is high in vitamin K
is high in folate/folic acid (a birth defect fighter), so if you are pregnant or seeking to be, definitely add it to your list!
stimulates milk supply for you fellow nursing mothers
helps detoxify your system
good for your heart
has antioxidant agents
is good for health issues: arthritis, rheumatism & PMS
For more health benefits, read here.
I have never been a fan of this vegetable until this year when I suddenly had the urge to give it a try. I believe one of the keys to producing a good dish is not overcooking it till it is soggy. This is how it has been served to me in the past. Another key is grilling it! We have had several meals with grilled asparagus and it is delicious!
Grilled Asparagus
1 pound asparagus, wash and cut off tough ends
1 Tablespoon sesame oil (olive oil works as well, but the sesame adds a wonderful flavor)
1 Tablespoon soy sauce or liquid aminos
1 garlic clove, minced
Make rafts of your asparagus using toothpicks to attach them. Combine sauce ingredients and brush on asparagus. Toss with sesame seeds, if desired. Grill for 3-5 minutes on each side, just until tender. Enjoy!
Roasted Asparagus Quesidillas
Another delicious way to eat it is in quesidillas. Steam and chop up asparagus and sauté with onions, garlic and mushrooms (or tomatoes). Add a little cilantro for extra zest. Place between two tortillas with cheese and fry on both sides. Serve with guacamole, sour cream and salsa. Yum!
Here is a yummy recipe to try or get further inspiration from: Asparagus Quesidillas.
I am now a big asparagus fan!
How do you serve this vegetable? Any tips you like to pass on?