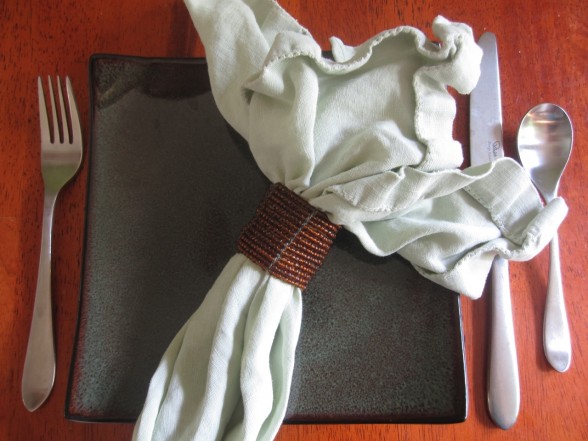 Guest post by Joanna Rodriguez at Plus Other Good Stuff
When we got married in 2006, we received twelve lovely green cloth napkins. We were living in married student housing and had a tiny table that only fit the two of us. I thought, when am I ever going to use these? We are certainly not having 10 people over for a fancy dinner anytime soon.
I was just starting to embrace healthy living and trying to waste less, so at some point it dawned on me that we could actually use them everyday. I also realized that this would save us money, which we had very little of. And so we began using cloth napkins every day. And we haven't looked back!
Excuses for Not Using Cloth Napkins
Are you resistant to the idea of using cloth napkins? Maybe some of these thoughts are running through your mind…
Excuse #1: "Cloth napkins are expensive."
Maybe some are, but there are plenty to be found in thrift stores for mere pennies, and if you're crafty you can repurpose some fabric that you already have. And it will, of course, save you money in the long run since you won't be buying disposable napkins anymore!
Excuse #2: "I don't have time for any more laundry."
I know, neither do I. Read on to find out how to make this work without adding to your mountain of laundry.
Excuse #3: "Won't they get stained?"
Yes, they will. And that's ok. Save special ones for company if you want, and don't worry about stains on your everyday napkins.
Making it Practical
Over time I've streamlined our system so that using cloth napkins doesn't take any more effort than buying and using paper ones. Here's what I do:
At every meal, we each get a cloth napkin. If it's dirty at the end of the meal, we throw it in this bag I have hanging on the doorknob to the basement stairs. (That's also the home for dirty kitchen towels, dish rags, and washcloths used to wipe down the toddler after meals. We make sure to only put dry rags and towels in there, so they don't get mildewy.)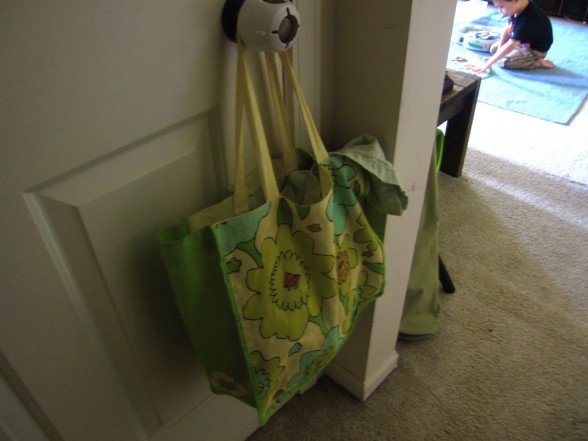 If a napkin is not dirty enough to wash, it stays on the table to be used again at the next meal. (Since only my husband and I are using them, it's easy to keep track of whose is whose. But if you have a larger family, try keeping not-so-dirty napkins on the chair of the person who used it.)
When we are running low on clean napkins, I take the contents of the bag down to the basement and throw it in the washer.The napkins are washed with dish rags and kitchen towels, so I'm not doing an extra load just for napkins. We have many more than 12 now (all gathered from thrift stores), so we can go about a week between washings.
Once they are clean and dry, I separate the load into napkins, dish rags, and kitchen towels. My two-year-old loves to help sort them! I have a plastic bin or basket for each that goes in a designated spot in the kitchen. Here's my secret:
I don't fold them.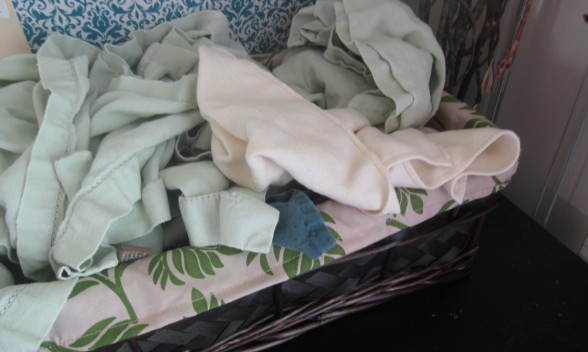 I just shove them in. I used to fold them, and then I had a baby. Since we mostly use them for our own family, there is no point to keeping wrinkles out. And even when people come over, we are casual enough that I just fold the wrinkled napkins when I set the table. So now you know my other secret:
I don't iron them. 
Hospitality and Cloth Napkins
When we invite people into our home, one thing I want them to know is that our family is not perfect. I want to invite them into a peaceful, tidy home, but I also want them to see that we are real people, with real wrinkles in our napkins. I hope that if they see that we are real people, they won't be afraid to share their real selves with us. So be encouraged, you can use cloth napkins, even for company!
Another tip: if you use napkin rings, the wrinkles are a lot less offensive.

Not convinced yet? 
Besides being frugal and sustainable, here are a few more fun reasons to use cloth napkins:
1. They are beautiful.
2. They are soft.
3. You get to pick your favorite colors!
4. They work a lot better than flimsy paper ones.
5. They make every meal special.
Just one step I take to keep our home green, simple, and frugal.
Do you use cloth napkins? Why or why not?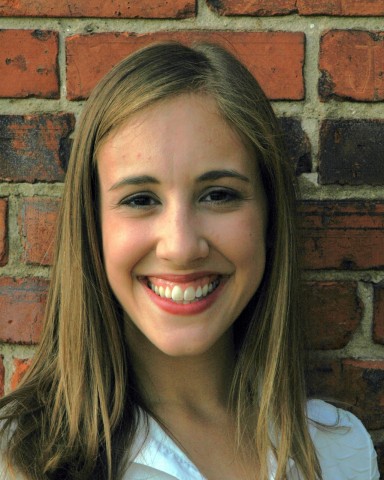 Joanna Rodriguez is the wife of a future pastor and the mother of two adorable kids, Caedmon and Esther.  She is passionate about Jesus, real food, natural childbirth, breastfeeding, non-toxic living, and the art of dance. As a mostly stay-at-home-mom, she currently spends her days covered in spit-up and surrounded by Tinkertoys. She writes about real food in a positive and welcoming way at Plus Other Good Stuff.