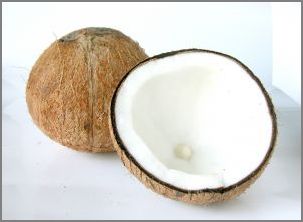 One product that pretty much does it all for us! Coconut oil!
Coconut oil is a highly saturated tropical oil derived from coconuts of the coconut palm tree. Traditionally it has provided many health benefits to the peoples who live in areas of the tropics and subtropics where coconut palms grow. Many newly discovered health benefits are now being unearthed through careful research and use in clinical practices.
We have been lead to believe that saturated fats are the dietary contributor to heart disease.
According to Sue Gregg, "There is a double reason not to fear coconut oil. First, it is highly debatable that saturated fats cause heart disease. Uffe Ravnskov, MD, PhD in The Cholesterol Myths (www.NewTrends Publishing.com) presents the facts of exhaustive research over the decades to disprove this theory. Secondly, the saturated fat of coconut oil is different than the long chain fatty acids of meats and also of polyunsaturated fats." Read the full article here. Read more from Nourishing Traditions and the Weston A. Price Foundation counter-acting the false beliefs about coconut oil here.
Coconut oil has been called the "healthiest dietary oil on earth."
Health benefits include:
- May help promote weight loss
- Provides an immediate source of energy
- Supplies fewer calories than other fats
- Supplies important nutrients necessary for good health
- Is highly resistant to spoilage (long shelf life)
- Is heat resistant (the healthiest oil for cooking)
According to The Coconut Oil Miracle by Bruce Fife:
- Protects against heart disease, cancer & diabetes
- Acts as an antioxidant in its resistance to attack by free radicals,
protecting against degenerative diseases, in general.
- Protects from a range of infectious diseases. Fife lists 28 infectious
and degenerative disease conditions that coconut oil can help to relieve,
reduce or prevent.
I thought it would be fun to compile a master list of all the wonderful uses of coconut oil that we have found in our household. Here it goes…
BODY

Moisturizer/Lotion – I have problems with dry skin and coconut oil has been a great solution!
Aftershave – do you have sensitive skin? Coconut oil will help heal your skin after shaving.
Deodorant – coconut oil alone can be used as a deodorant, but even more effective in combination with cornstarch/arrowroot powder and baking soda!
Hair Conditioner -use as a leave in hair conditioner!
Hair Gel/Defrizzer – both my husband and I use coconut oil as a hair gel. It works amazingly well to scrunch and preserve my curls for the day and to keep his hair in line.
Toothpaste -try our homemade toothpaste recipe!
Make up remover – use a cotton swab and a dab of coconut oil and you would be amazed at how well it works! I use it mainly to remove my mascara, and it not only removes my make-up, but also moisturizes my eyes and skin at the same time.
Chapstick - I have real problems with chapped lips and coconut oil is the only thing that truly helps without peeling my lips. Love it!
Lubricant
Sunscreen
PREGNANT/NURSING MOMMIES
Belly Balm - I cannot guarantee that this will solve stretch marks, but it is very comforting to a stretching belly!
Nipple Cream - what better solution to nourish cracked, sore, or dry nipples
BABY
Diaper salve
Cradle cap – having issues with dry skin on your baby's scalp? Coconut oil will not only nourish your baby's skin, it also helps eliminate cradle cap
Lotion – rub it all over that baby's body!
COOKING
Use 1 cup to 1 cup ratio when replacing other oils/butter in recipes with coconut oil.
Replacement for butter/lard/crisco in it's solid form – greasing pans, pie crusts, etc.
Nutritional supplement – melt and add to smoothies
Replacement for various oils in liquid form – baking, cooking, sauteing, etc.
Read more about using coconut oil as a main oil in cooking here. I use coconut oil primarily now for all my cooking and baking. I have found olive oil to be superior for greasing pans and for homemade dressings, but other than that, it is all coconut oil!
Have any to add to the list? I would love to hear your ideas!
Where to buy this all-in-one product?
Mountain Rose Herbs is a superior source for organic, extra-virgin, and unrefined coconut oil at an excellent price. Nutivia, Tropical Traditions and Wilderness Family Natural are other recommended brands.