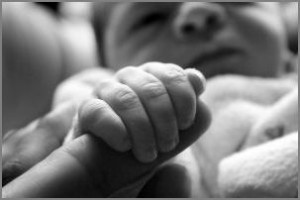 Who likes to see their baby suffering with a diaper rash? We have been plagued with frequent diaper rashes on my little Karis' bottom for a long time. I have been determined to find a natural solution to this issue. I have tried a lot of various natural cremes (Weleda, Burt's Bees, etc) without too much success…
UPDATE: Why look for a natural alternative in the first place? Your traditional Desitin and other store brands (including dusting powders) contains methylparaben, talc and fragrance (which is a friendly alternative word for phthalates). Studies link these ingredients with bioaccumulation in humans and wildlife, cancer, endocrine disruption and hormone mimicry, allergies and skin toxicity, tissue irritation, and toxicity to various organs, to name a few. Talc especially is known for being commonly contaminated with asbestos, a known carcinogen.
Two keys I have found to avoiding and dealing with rashes is to change diapers frequently, and making sure the bottom is dry completely after changing. I recommend having a hair dryer near your changing table to speed up this process!
Coconut Oil
Coconut oil wins again! If you have been following my blog for any length of time, you will be aware of what a huge fan I am of coconut oil. This product fulfills so many of my needs in one single item (from a nutritional oil used in the majority of my cooking and baking, to various wonderful homemade body products). Just recently, we have discovered how wonderful this oil is for your baby's bottom! It is anti-fungal and anti-bacterial, and thus a superior working agent against both yeast infections (in combination with shea butter) and regular diaper rashes. I simply rub some on the baby's bottom after each diaper change to keep it away.
It may cost more up front to buy a large container of coconut oil, but with it's multipurpose use, it covers many needs and thus will save you money ultimately. Find superior organic cold-pressed extra virgin coconut oil through Mountain Rose Herbs. They have the best price around for the highest quality!
Comfrey Root Ointment
Comfrey is a wonder at producing rapid regeneration of skin cells and is a reputable healer for all wounds, irritations, and rashes. Excellent solution for minor burns as well as it soothes, heals, and strengthens the skin so it is less susceptible to irritation. Comfrey leaves are less effective against diaper rash, so stick with the ointments made from the root or oil.
I have been applying a layer of both coconut oil and comfrey ointment with great results! These are perfectly safe for cloth diapers – no staining on my BumGenius!
I recommend: Country Comfort Herbal Savvy as a natural comfrey ointment, which is available through Azure Standard and Vitacost. Mountain Rose Herbs also sells a organic comfrey oil.
Plantain
Wise Woman Herbal for the Childbearing Year recommended the use of plantain oil to relieve the pain of diaper rashes. You can crush clean fresh leaves and put them next to your baby's skin with each diaper change or apply plantain oil directly to their bottoms. Plantain oil is available through Mountain Rose Herbs as well. I have not tried this method yet, but it looks like another viable alternative.
For those dealing with yeast infections, try the coconut oil and raw shea butter combination! While participating in a discussion on this topic, I had several ladies share that this is the key to naturally solving yeast infections.
Further Reading on Coconut Oil
Natural Body Products on A Budget – Coconut Oil
The World of Oils – Using Coconut Oil in Cooking
Q & A: Coconut Oil