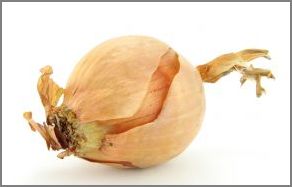 I don't have a recipe to share today, but I do have a little kitchen tip to share!

How can you avoid the teary eyed syndrome every time you chop up one of those lovely onions? Try this: refrigerate your onions at least 30 minutes before use! I keep several in the refrigerator at a time so I don't have to think about it. When refrigerated, the sulfur compounds (which cause the tears) will react more slowly and reduce your tears. Use a sharp knife too; a dull one will break more cell walls causing more tears. Lastly, try cutting off the top and peel the outer layers leaving the root end intact. (The root end has the largest concentration of supluric compounds). Refrigeration will also preserve their freshness. No more issues with tearing up in my kitchen.
Why eat onions in the first place? According to an article titled Fewer Tears in the Kitchen in Naturally Preferred, "Quercetin, a flavonoid in onions, has many well-documented health benefits, including antiviral properties. In one study, quercetin was found to boost immunity and protect against flue in people who exercise strenuously…Quercetin has been linked to lower blood pressure and cholesterol levels too. Onions also contain fructans, a source of soluble fiber shown to reduce certain kinds types of cancer, and other flavonoids with antioxident properties. They're an excellent source of vitamin C, offer dietary fiber, and contain no cholestrol or fat. Enjoy them raw, marinated, carmalized, stuffed, grilled, or baked."
So now you have no more excuses to avoid the onion!