Are you overwhelmed with the thought of yet another holiday season? Do you desire a peaceful holiday season and yet purposefully Christ centered? How can you begin now to pray and plan how God might have you and your family invest in making this a profitable and God-glorifying time of the year?
It might seem a little early to start thinking of the upcoming holidays, but what better way to keep the holidays simple but through a little planning and foresight! I am looking forward to sharing a few ideas that I have been blessed with over the next few weeks in our Simple Living Series, but for now, I would like to kick it off with a little giveaway!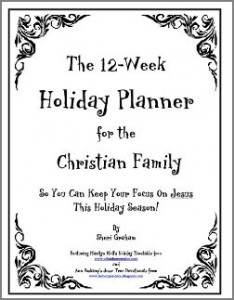 The 12 Week Holiday Planner for Christian Families by Sheri Graham (mother of five) is a great tool for any family desiring to keep the Christ-centered focus in the holidays without being overwhelmed. Filled with practical and useful charts, planner pages, the Jesse Tree Devotional and other useful information, you will be equipped to keep your light shining this season!
Sheri says, "My desire in putting together this eBook is to provide a tangible way for you to plan out your holidays so they are enjoyable, less stressful, and more filled with the things that really matter."
This 146 page e-book includes:
*Weekly plans for the 12 weeks prior to Christmas
*"Sheri's Tips"- tips to make your holidays meaningful, shared throughout the ebook
*Thanksgiving Ideas
*Christmas Craft, Gift, Decorations and Menu Ideas
*Memory Making Ideas for the Family
*Ideas for Baked Items to Share/Give Away
*Ideas for Meals to Freeze for Use during the busy weeks
*Supplies to stock up on ahead of time or when on sale
*Ideas for a Holiday Baking Schedule
*Kids' Gift Idea List
PLUS!!! "The Glorious Coming: A Jesse Tree Celebration of Advent" – Jesse Tree devotionals which include devotionals, ornaments, and instructions to make your own Jesse Tree!
I am so thrilled to share this resource with you all and am finding it very helpful already as I start taking simple steps with the use of these materials for planning our purposeful Christ-centered holidays!
Click here to view more details!
To join in on the giveaway, please leave a comment below and feel free to share one idea you have found helpful for simplifying the holidays.
Giveaway ends: Tuesday, October 14th 5:00pm PST. Winner will be randomly draw Tuesday evening and announced next Wednesday.