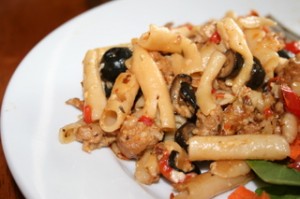 This is one of our all time favorite special dinners! It works especially good for guests when you want to make something simple and yet delicious and appealing to all tastes. I would not consider it to be the most frugal of dishes, but it is one that you can definitely cut back on the amount of meat to suit your tastes and budget!

My sister-in-law sent me the original recipe a long while ago and it has been passed around so much since among family and friends. At every event I have served it there are more requests for the recipe.
1 package (16 ounces) brown rice penne pasta (preferred due to the low amount of phytates over other whole grain pastas, unless sprouted)
2 teaspoon olive or coconut oil (coconut is best over high heat)
4-5 cups (1/4 inch thick) sliced red bell pepper (approx. 4 large bell peppers), each cut in half crosswise (I have also used various colored bell peppers in combination together with great results!)
1 teaspoon sea salt, divided
16 ounces Italian sausage (I love this with chicken Italian sausage from our local Trader Joe's – delicious! I usually get by just fine with 1/2 pound)
2 teaspoons dried oregano
2 garlic cloves, minced
1 cup (about 1, 5-6 oz small container) crumbled feta cheese
1 (15 oz can) black olives, sliced (or kalamata, if desired)
1/2 teaspoon black pepper
Cook the pasta according to the package directions. Undercooking is best, as it will continue cooking when you add to the other ingredients.
Saute the bell peppers and 1/2 teaspoon salt for 2 minutes in olive or coconut oil. Remove casings, if necessary, from the sausage. Add sausage, oregano, and garlic to pan; cook for 4 minutes until sausage is done; stirring to crumble. Add pasta, 1/2 teaspoon salt, cheese, olives, and black pepper; cook for 2 minutes or until thoroughly heated, stirring frequently.
Yield: 6-8 servings
Enjoy! Especially great as leftovers!
Adapted originally from a Cooking Light recipe.