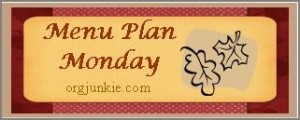 We are praising the Lord for a wonderful weekend spent up in Seattle at the Mission Fest gathering. We enjoyed manning the LightSys display and talking with people about the exciting opportunities we look forward to (Lord willing) in providing technology, computer and web services for both missionary organizations and missionaries alike. I enjoyed visiting a few sessions and get stirred up afresh on the importance of incorporating the Great Commission in every aspect of life. We will be sharing a little bit more this week on what God has been stirring in our hearts…
I am also thanking the Lord for the arrival of my blender! It has been disfunctional for the past two months as I have been waiting a back ordered part on warranty. I honestly had given up hope and yet it arrived this weekend safe and sound. We enjoyed smoothies this morning and what a treat! They are back on the menu!
Monday
Prep: soak oatmeal, thaw chicken, soak biscuits, make kefir
Breakfast: fruit salad, Hard boiled eggs, toast
Lunch:  Tomato Soup & Grilled Cheese sandwiches, fresh fruit
Dinner: Chicken Caesar Wraps
Tuesday
Breakfast: Oatmeal, apples, raisins, bananas
Lunch: Hot dogs, baked beans
Dinner: Vegetable Soup, spelt biscuits
Wednesday
Prep: soak oatmeal, soak lentils
Breakfast: Kefir Smoothies, Blueberry Crumb Muffins
Lunch:  Egg Salad Sandwiches
Dinner: Chicken Enchiladas w/Homemade Enchilada sauce, refried beans, Salad
Thursday
Breakfast: Oatmeal, apples, raisins, bananas
Lunch:  Salmon Melts
Dinner: Sloppy Lentils

Friday
Prep: soak pancake batter
Breakfast: Omelets, kefir smoothies
Lunch: Peanut Butter & Jelly Sandwiches, applesauce
Dinner: Hamburgers, Stir Fried Veggies (corn, green beans, zucchini)
Saturday
Breakfast: Pancakes, oranges
Dinner: Spaghetti, salad
Sunday
Shared Meal: Crockpot Ragout
For more menu plans, visit Organizing Junkie.