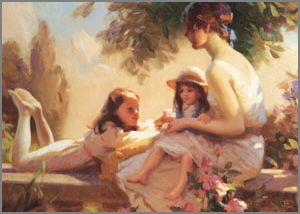 "I don't just want my kids to be moral. I don't just want them to know all the biblical rules for behavior…I want them to leave my home with a hunger and passion to know God personally and to be used by him to accomplish great things for his kingdom. I want them to personally hear God's voice and have his Spirit's gentle touch and impression on their hearts as they read the Scriptures and struggle with the issues of their lives."
Thus begins chapter 5 of The Mission of Motherhood by Sally Clarkson. The call is prominent throughout this chapter to guard ourselves against focusing on trying to meet external standards while the most important deep spiritual needs of our children go unmet.
I love the new light given on Jeremiah 9:23-24, "Let not a wise man boast of his wisdom, and let not the mighty man boast of his might, let not a rich man boast of his riches; but let him who boasts boast of this, that he understands and knows Me, that I am the Lord who exercises lovingkindness, justice and righteousness on earth; for I delight in these things,' declares the Lord.""
We must ask ourselves: What is my focus? Is it on developing intellectual success (boasting in wisdom) in making sure they get the best grades, getting into the best university, mastering all forms of skills in writing, artistry, sports, or musicians? Am I giving over attention to social status (boasting in might) in helping them achieve high-status positions? Finally, am I consumed with measuring up financially (boasting in riches) by comparing our financial status with other families, or by giving too much attention to purchasing toys and items that will make our children happy?
Even with having just a young child myself, I have found it very easy to dwell frequently upon the future, considering that if I plan it all out now she will go even further with such a great head start!
While all these things very well can be worthy goals, yet "we must constantly keep in mind that, in God's eyes, the issues of intellectual prowess, social success, and financial development are peripheral at best." We are incapable of controlling these areas perfectly in the long run anyway…we will fall short! But "any parent in any station of life has the ability to reach his or her child's heart for Christ and his purposes. All that God requires from us is a desire to serve him and a trust that he can make up the difference for the things we lack."
The challenge for us mothers today is to focus on the heart! All the going in the world from sports events, to AWANA, to any form of lessons will not make our children spiritually deep or alive. It is about coming to the Savior and spending time with him on our own as mothers and together with our children. Rather than dwelling on the future, I can actively cultivate the important things now!
More practical suggestions and ideas in chapters to come…the question today is: are our priorities in balance?
Did anything stand out to you in a unique way from this chapter? Please share how you were blessed or challenged!