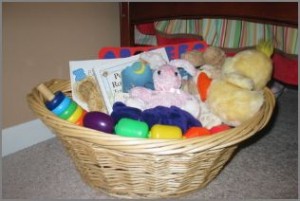 One of Karis' toy baskets
I have been bombarded on many occasions by the overwhelming amount of toys I have come across at different homes I have visited over the years. Shelves and shelves of toys, a whole toy room dedicated to toy play. What a lovely mess they make! How many dolls does your daughter really need? How many cars does your son really have time to play with? Considering it has been shown time and time again how contented a child can be while playing with the box that his Christmas present came in, totally oblivious to the gift. I have been pleasantly surprised how my little girl can find more lasting entertainment with a little recycled container.
*My number 1 recommendation: if all possible, avoid plastic, battery operated toys and your life will be so much more peaceful! Replace these toys with wooden toys that will last and don't need the extra money to replace the batteries. If you can start when you children are young or before they are born in keeping the collection small you will make things a whole lot easier for yourself (even if you get rid of toys when they are young, they most likely will not even notice!). Starting early in building contentment and allowing children to develop creativity and exploration skills will go a long way.
As my little one is pretty young still, we haven't been overwhelmed with too many toys, but rather have been deliberate in carefully selecting items for her. As I have been seeking out the input of some well-seasoned mothers, here are some tips to keeping the toy collection simple.
1. Rotate your toys
I have had many experienced mothers recommend to me the benefit of rotating toys for variety, to increase creativity, contentment and simplicity. I remember my mother using this tip growing up. Only a small amount of toys were taken out for a period of a month or so. The remaining toys were stored in boxes in the garage. One mother only allowed her boys to select five cars at a time for a designated period. I was so impressed by how content they were and how delighted they were with each "new" set of cars. They were "new" to them! This increased their creativity and delight in such simplicity. Children do not really multiple gadgets.
- If a new toy comes in, recycle or give away an old one (this is the way we have slowly weeded out our plastic toys). This also keeps the collection small and fresh. When we first were married, a family cleared out some of their old toys and gave them to us. It was perfect for company and as we started our family. These have slowly been weaned out (as many had lost pieces, broken, etc), and been replaced with our current selection. Karis currently has three small baskets of toys including books (most of which are library books), cloth toys (Lamaze brand is great!), wooden blocks for stacking (these were found in the $1 bins at Target), a cloth baby doll, her snuggly blanket, a wooden drum, a drawing board, and a tin tea set. The only larger toy she has is a wooden rocking horse (a $4 garage sale find!).
2. Storage
Rather than having a room overflowing with toys, we store a small collection of books, wooden or cloth toys and stuffed animals in the main rooms of our house. These are stored in a small basket, thus making them easily accessible, and providing a simple clean up. As she grows older, and the toys be possibly increasing, we will implement more of a rotation system. Or try using stackable storage bins and label them (legos, blocks, etc). This also makes for an easy cleanup.
3. The relative challenge
If you have an issue with relatives giving an abundance of toys, first kindly ask them to purchase toys that will be educational and beneficial (avoiding the plastic battery operated materials out there, if possible). If this does not work, graciously accept the toys and allow the child to play with them for a day or two and then distract them with something else and store it away or pass it on. For relatives that want to see the toys they give when they come for a visit, just store them away and only bring them out on such an occasion, or explain your system of rotating the toys so as not to overwhelm them with everything all at once.
4. Take advantage of nature's gift of toys
While I attended a Sustainable Living class last fall, I was blessed to see the instructor's children's room. The majority of toys found there were from the great outdoors. She had homemade wooden blocks, baskets of various rocks, stones, nuts, and waldorf dolls. What creativity this inspires! For more reading on this topic, follow the link below.
Further Reading
Simplifying Your Child's Playroom- some helpful tips for clearing out toys
The Issue of Toys, Children & Materialism – an excellent insightful article on getting rid of toys and replacing with simple, natural, and educational toys. Excellent list of recommended toys for different age groups. Many ideas for toys found in nature. I don't necessarily agree with everything in this article, but did find it a fascinating read on child development and some great recommendations.
A few local sources – these are local stores in the Vancouver, WA area that I have found excellent education toys and resources.
Learning Palace (they have many locations throughout Oregon as well and you can order online!)
Punky Doodlebugs (safe PVC-free toys for all ages, cloth diapers, books, wooden toys, etc)
I am all ears for any other simplifying tips for the toy collection!