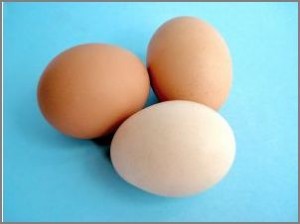 I always wondered why my lemon meringue pie never fluffed up the way it was supposed to…but I love lemon meringue and have been on a quest to solve this problem! Well, I think I finally figured out the trick (at least I think, help me out if I am wrong!). It is all in separating the egg – careful and complete separation of the whites from the yolks. I always used the egg shell approach by passing the yolk back and forth in the shell and letting the whites drain out. I have learned this is not the best method for separation and is more susceptible for mixing of the yolk and white. I have learned that if even a tiny bit of the yolks get into the whites they will not foam.
So for all your egg separating needs, here are a few ideas. Thanks to WikiHow for the help in developing my egg handling skills!
1. Crack eggs on a curved surface
Apparently, you are ten times more likely to break the yolk of an egg on a flat surface as opposed to a curved surface.
2. Crack your egg over a funnel or slotted spoon

Hold a small funnel over a bowl, or let rest standing up in the bottom of the bowl. Allow the funnel to collect the egg yolk while the bowl collects the whites. Another choice is to crack your egg in a slotted spoon over a bowl, allowing the whites to drain into the bowl. Shake gently.
3. How to catch a shell
To remove any shell that may fall into the bowl, instead of fumbling around like me using my fingers to try to carefully scoop it out, follow this tip: use another piece of the egg shell. It acts like a magnet and will take 1/10 of the time as the finger route!
4. How to peel an egg
This was my second pursuit…how to successfully peel a hard boiled egg without destroying the egg or losing half of it in the shell while trying to peel. Check out these other suggestions. It's all about getting rid of the air bubbles in the end of the egg first!
Further Resources
For all the wonderful health benefits of quality eggs, check out Kimi's post on the powerhouse of eggs. Which eggs to choice? Choice free range!
That's what I have been learning lately! Hope you enjoyed my silly kitchen tips for the day!