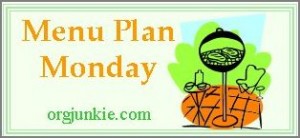 We had a lovely and HOT weekend here in Vancouver, WA! And as Monday begins, the rain and thunderstorms have hit! It has been pretty wild. I spent Friday morning picking yummy organic blueberries in the area. They are delicious and I have been craving blueberry muffins and blueberry pancakes since, so they are on the menu this week! Last night we topped vanilla ice cream with fresh blueberries and sliced peaches…I love fresh fruit! It was fabulous. Great little treat! Blackberries are on to here…and our backyard is full of them. Made a delicious berry crisp with some for dinner guests the other night. Will have to get out there for more picking while the weather is a bit more milder.

Keeping a simple menu plan and loving it!I am way behind on my baking, so I am going to complete some monthly baking here while the weather is not so hot as well. Homemade bread, blueberry crumb muffins (substituting the bananas for blueberries), homemade crackers for Karis, and kamut tortillas (using kamut flour for more variety in our grains), here we come!
Monday
Prep: Soak bread, muffins, crackers & tortillas, soak oatmeal for Tuesday
Breakfast: Egg & Salsa Wraps (with green peppers from the garden, onions, bacon and grated potatoes)
Lunch: Tomato Soup, grilled cheese sandwiches (going to try this one with the apples -sounded interesting!)
Dinner: Grilled Veggie Sandwiches (can't get enough of these!), fresh corn on the cob
Tuesday – baking day!
Breakfast: Baked Oatmeal
Lunch: Leftovers
Dinner: Burritos (refried beans, and all the fixings) – this didn't happen last week, so it is on the menu again!
Wednesday
Prep: soak oatmeal, thaw ground turkey for dinner, soak and cook rice for dinner
Breakfast: Kefir Smoothies, blueberry muffins
Lunch: Quesadillas with Tues leftovers
Dinner: Crock Pot Ragout- an easy meal with lots of veggies (adding rice, fresh green beans, corn, peas)!
Thursday
Prep: soak pancakes
Breakfast: Oatmeal, apples, raisins
Lunch: Egg Salad Sandwiches, raw veggie tray (carrots, celery & peanut butter)
Dinner: Dinner at friends house
Friday
Breakfast: Blueberry pancakes, oranges
Lunch: Hmm…peanut butter and jelly anyone?
Dinner: Spaghetti Sauce over brown rice pasta, stemmed veggies (green beans, corn, zucchini)
Saturday
Breakfast: fruit salad, yogurt & granola, muffins
Lunch/Dinner: Hot Dogs, green salad or veggie tray
For more menu planning ideas, visit Organizing Junkie.
Baked Oatmeal
-Submitted by a anonymous reader – thanks!
6 cups of rolled oats
3 very ripe bananas
3 or 4 cups of buttermilk/kefir/yogurt (reader recommended a combination of buttermilk
and full fat balkan style yogurt)
2 eggs
1/4 cup of honey
1/4 cup of chopped walnuts
2tsp of baking powder
1/2 cup of coconut oil
Soak oats in 2-3 cups of yogurt/buttermilk/kefir of your choice overnight or as long as it takes to get rid of the phytates. Then mix in the rest of the ingredients.  Place in a greased baking dish, bake at 350 for an hour.